Military Spouses, Entrepreneurs, Best Friends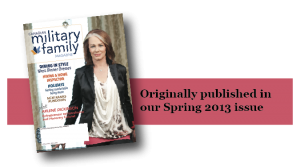 One thing those of us in the military community have learned is the importance of relationships in our lives. Whether it be with your family, spouse, children or friends, the lifestyle of a military spouse is made easier when you have people you can lean on. The some-what nomadic life of a military family means new towns, new jobs, new schools and, unfortunately, we sometimes have to leave our loved ones behind. But, if we're lucky, we hold onto the people in our lives who can offer support, understanding and a sympathetic ear.
Jacki Hollywood Brown and Audrey Prenzel are two such women. They were first introduced to each other through a mutual friend, online. They were both self-employed professionals, military spouses, the same age and lived in the same community. "Our first phone call was February 8, 2010," says Jacki. "We've been friends ever since."
Transition Expert
Audrey is a Career Transition Expert who offers resume, CV and bio writing assistance along with interview and job search training. "I was hungry for a new challenge. I assessed my skill-set and decided to launch my company from my home. That was 12 years ago."
She is also the author of Military to Civie Street: The Complete Job Transition Guide for Those Leaving the Canadian Air Force, Army and Navy. She speaks throughout Canada and the US about career topics, in particular to share her insight at CF Second Career Assistance Network (SCAN) seminars.
Having a friend who also runs her own business comes in handy as well. "Because Jacki is a whiz with technology and all things organizational, I value her insight for honing my in-house systems and for sharing the best productivity and tracking tools."
Jacki Hollywood Brown is a professional organizer and productivity consultant helping small business owners do better work in less time. She enjoys bringing effective organizational solutions to military families so they can better cope with the stresses of military life. "Starting my own (business) was an easy decision as I could set my own rules and standards of operation. The biggest challenge is moving from province to province."
Fortunately, having a close friendship has helped these two professionals overcome the challenges of running businesses.
Busy Military Spouses
Like most busy spouses, though, it can be difficult to balance friendships with family and professional life. Jacki and Audrey have managed it. "Since Jacki and I are pretty direct communicators, it's not uncommon for us to send very brief messages via various online channels throughout the day," says Audrey. "Because we both have businesses and family commitments, we get it when we don't hear from each other in a few days."
Jackie agrees. "You can't take it personally if your friend doesn't get in touch with you for a while because chances are they are just too busy with their own families or businesses."

Social Media
One of the biggest obstacles with being part of the military community is the possible separation from friends and family.
"Social media and other online applications like Skype are wonderful," says Audrey. "As much as you need to keep in touch with friends and family from afar, it is healthy and wise to get out into your new community and meet as many people as you can. I'd also suggest tapping into your network before your next move so you can already have a few names of people to connect with before you relocate."
Source of Comfort
For both of these friends being part of the military community can also be a source of comfort for them.
"It's always nice to talk to someone who understands what life as a CF spouse is like and it's always nice to talk to someone who understands what being a business owner is like. Not everyone is able to understand both at the same time," says Jacki. "I'm thankful for Audrey's unique perspective on things. Her advice is great."
"Both of us being part of the CF community has been a very strong and natural connection," adds Audrey. "The lingo, lifestyle and all the ups and downs associated with the military. I'm grateful to have a friend of who can relate to self, home-based employment, life with children, living apart from family, and having a spouse in the military."
You can visit Jacki's website, Canadian Army Wife . For more information on assistance with resume writing, interview and job search training, you can contact Audrey through her website.