Deb's Book Picks about Puberty
Books about Puberty… 
Books about what, you say? Yes, you read correctly – this is a post on good books for kids about puberty. 
This post was inspired by my son, who recently came home from school and informed us that they had the "puberty talk" at school that day. I, of course, followed it up with, "do you have any questions?" I figure you might as well face it head on, and in today's world with the wonderful internet, I would much rather my kids come to me for information. 
So, to that end, this post is dedicated to books that can help educate your little ones on where they came from, and what happens in puberty.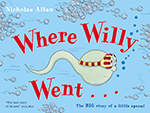 The first book I would like to mention is Where Willy Went…, by Nicholas Allen, as it is geared for a very young audience, say children aged 4-6 or so. It is a picture book about Willy, his main rival Butch, and the big swimming competition for which they are practising. And for the record, Willy isn't a tadpole…
This book is a great, basic introduction on where babies come from, giving just enough information to give understanding, but not overcomplicating anything – and all done with a gentle sense of humour. It's a great spot to begin when your little one asks where babies come from.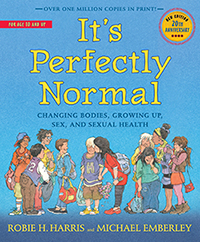 It's Perfectly Normal: Changing Bodies, Growing Up, Sex, and Sexual Health, by Robie H, Harris and Michael Emberley is my go-to suggestion for anyone looking for a book on puberty for their children. Geared for children aged 10 and over, this book discusses everything – and I mean everything! It is thorough, and, to be honest, detailed. There are cartoon drawings to illustrate what they discuss. 
What I really like about this book is that it is so well researched and vetted. The authors consulted a wide variety of specialists when writing this book, including professors of paediatrics, clinical psychologists, paediatricians, child psychiatrists. 
They even talked to experts you wouldn't expect, like a professor of journalism and paediatrics; children's book authors; the director of US Legal Program at the Center or Reproductive Rights in New York;  a child advocate from the Children's Research and Education Institute in New York, and even parents. 
What is really impressive is that after the book was written, they turned to even more experts to have them review it. The list is long and impressive, including some who you would expect, like paediatricians and child psychiatrists, but also educators of all sorts, neurosurgeons; the Executive Director of Children's Charter Trauma Clinic; professors of law; Planned Parenthood; counsellors; and again, parents. 
This book is one of the best books out there for general information on puberty for children, but do be aware, it leaves nothing out.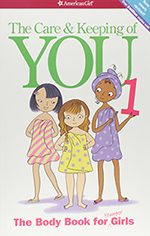 General books are great, but it is also nice to have books that are focused on either boys or girls, too. The Care & Keeping of You 1: The Body Book for Younger Girls, by American Girl, is a great place to begin for the young girls in your life. It is geared for girls aged 8-10, who are on the cusp of puberty. It covers everything they will soon be facing, from pimples to nutrition to getting your period.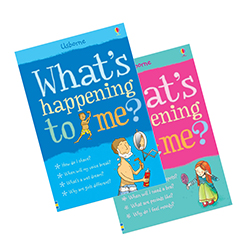 For boys, Usborne's What's Happening to Me? is a great choice. Like the one above mentioned for girls, it goes into all the basics of boys and puberty, discussing everything from hygiene to voice changes, shaving and more. This book is also geared to boys who are facing puberty, about the 8-10-year-olds. 
Both of these books are very approachable for both child and parent. They are supportive and informative and broach the information in a way that isn't embarrassing and is easy to understand. They both have illustrations to help clarify the topics, and both books are thorough in their coverage. 
The puberty talk can be awkward, that's for certain, but it so important for the health and safety of our children that they know and understand what's going on. Besides, with the internet, they can easily search anything they want, or – even worse – they can ask other kids. It's better by far for your children to learn about this from you, their parent. What's more, they will also learn that you are a good source of information, and will be more likely to come to you when they have a serious question. 
So, hang in there – you can do this!
Happy Reading!