What to Stream this Weekend
Are you planning on a snug, feel-good night-in this weekend? Well, never fear, we have got all the best binges for this weekend mapped out for you. So, just grab your favourite snacks, a cozy blanket, and snuggle in for a weekend TV-show bender.
Cobra Kai – Comedy

If you're a fan of the cult classic Karate Kid franchise, then this show is a must-see. Cobra Kai follows Johnny Lawrence and Daniel LaRusso and their reignited rivalry some 30 years after the 1984 All Valley Karate Tournament. Netflix released season 4 on Dec. 31, 2021, and spoiler alert: this season's said to have a "mind-blowing" finale. Watch Cobra Kai on Netflix.
Wheel of Time – Fantasy

Based on the novels of the same name by Robert Jordan, Wheel of Time is an epic television series that aired its first season in the fall of 2021. The show's central character is Moraine, a woman who belongs to the Aes Sedai, a group of powerful women who can channel unmatched powers. They are looking to find the Dragon Reborn, a being that can save the world from the evil Dark One. Watch Wheel of Time on Prime.
Welcome to Earth – Nature

Everyone loves nature and Will Smith. So, what happens when you bring these two together? Pure entertainment, that's for sure! Created by National Geographic, the series follows Will Smith as he travels to uncharted and remote locations around the world, led by a team of National Geographic Explorers. Watch Welcome to Earth on Disney+.
The Expanse – Sci-Fi

If sci-fi is your cup of tea, then turn your TV to Prime and binge-watch The Expanse, another book-turned TV series. Based on the novels by James S.A. Corey, The Expanse is set hundreds of years into the future when humanity has colonized the Solar System. The show follows a group of individuals who find themselves at the centre of a conspiracy that can threaten the fragile peace of the Solar System. The Expanse just aired its final season just a few weeks ago. Watch The Expanse on Prime.
Reacher – Thriller Action

Reacher is another book series brought to the small screen. This crime thriller sees Jack Reacher, a former U.S. Army military policeman, get caught up in a violent clash with a brutal criminal conspiracy while visiting the fictitious town of Margrave, Georgia. Reacher is based on Lee Child's book series Jack Reacher. This month, the first eight-episode dropped on Amazon Prime Video and is renewed for a second season.

The Newsroom – Political Drama

Created and written by Aaron Sorkin, creator of the West Wing, this political drama chronicles the behind-the-scenes events as a team of journalists covers them. Originally aired from 2012 to 2014, the series focuses on real-life events, revealing the struggle to put on a news show in the face of corporate and advertising issues. The series focuses on anchor Will McAvoy, played by Jeff Daniels. Other cast members include Emily Mortimer, John Gallagher Jr., Alison Pill, Thomas Sadoski, Dev Patel, Olivia Munn, and Sam Waterson. You can catch The Newsroom on Crave.
Ozark – Crime Drama

After a money-laundering scheme for a Mexican drug cartel goes wrong,
Mary Byrde, played by Jason Bateman, offers to make amends by setting up a bigger and better money laundering operation in central Missouri's Lake of the Ozarks region. Under protest from his family, Marty relocates his spouse Wendy, played by Laura Linney, and their two kids and sets out to launder the $500 million he promised to the cartel. The Emmy award-winning drama can be found on Netflix, where you can find seasons 1 – 3 and the first half of season 4.
Sweet Magnolias – Netflix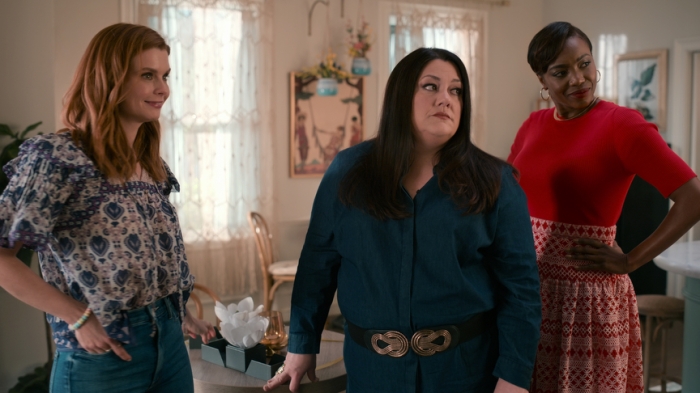 Pour it out with the Sweet Magnolias. Three lifelong friends finding their way in the small South Carolina town of Serenity. Described as "TV comfort food," Sweet Magnolias is heartwarming and focuses on women, their careers, and family. You can catch the first two seasons of this feel-good show on Netflix, with a season three ordered.
Happy Streaming!