Maritime Forces Pacific Formation Chief Petty Officer relieved of duties
Above Image: Left, Maritime Forces Pacific badge, right, VAdm. Angus Tosphee.
The Formation Chief Petty Officer of Maritime Forces Pacific has been relieved of his duties after investigations revealed he made inappropriate comments at a social event earlier this year.
Chief Petty Officer 1st Class Timothy Blonde has been stripped of his duties after an investigation revealed he made inappropriate comments about a junior sailor's appearance during a social event at Canadian Forces Base Esquimalt on May 6, 2022.
"Today, in line with this expectation, I have relieved Chief Petty Officer 1st Class (CPO 1) Timothy Blonde of his appointment as Formation Chief Petty Officer of Maritime Forces Pacific. I no longer have confidence in CPO 1 Blonde's ability to carry out his leadership duties, maintain discipline, and ensure the highest standards of ethics and values of the Royal Canadian Navy and the Canadian Armed Forces (CAF)," said VAdm. Angus Tosphee, Commander of the Royal Canadian Navy, in a statement released Monday.
No Charges Made
The statement does, however, express that the investigation did not reveal evidence to support the laying of charges under either the Code of Service Discipline or the Criminal Code of Canada.
However, VAdm. Topshee states that "the evidence clearly showed that his conduct was unacceptable, and incompatible with his duties and responsibilities as Formation Chief Petty Officer; eroding the credibility necessary to execute the duties associated with this appointment."
Since no charges have been made, CPO 1 Blonde will continue to serve in the RCN, according to the statement. However, he will not be appointed to positions of senior leadership or influence.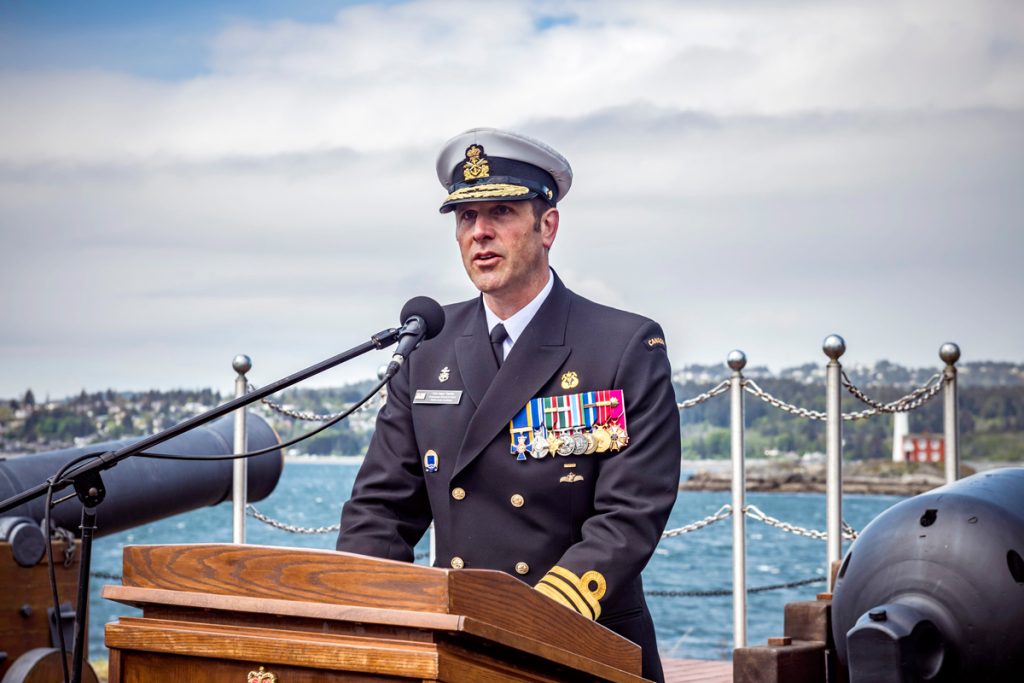 Continued Change in Culture
This recent decision to strip a member in a position of leadership is evidence of the RCN, and CAF at large, attempt to make a culture change and reverse the rampant sexual harassment found within Canada's military.
"The Royal Canadian Navy (RCN) has been clear that any form of misconduct within its ranks is unacceptable. It harms our people, jeopardizes our operational effectiveness, and is inconsistent with our values and ethics. Accordingly, the RCN expects all of its members to exercise institutionally appropriate judgment at all times, especially when in senior leadership or command roles," noted the RCN's Commander.
Additionally, because the role of Formation Chief Petty Officer is the most senior non-commissioned member appointment within Maritime Forces Pacific, the decision was considered especially necessary.
"Working alongside a network of other Chief Petty Officers, the Formation Chief Petty Officer is required to maintain discipline and promote CAF ethics and values at all times. A Formation Chief Petty Officer cannot effectively carry out their duties without the trust of both leadership and the sailors of the Formation.
"RCN sailors are amongst the very best in the world and the vast majority of them conduct themselves in a responsible and highly professional manner. The RCN leadership owes it to these professionals to enforce our policies, ethics, and values at all levels, and take swift action when institutional leaders violate the trust placed in them by Canadians, and by sailors of all ranks," said VAdm. Topshee.