COVID-19 Rundown May 7, 2020
Today, May 7, 2020, Canada surpassed 64,800 COVID-19 cases and registered 4,404 deaths, with almost 29,000 recovered patients. 
At the daily briefing, Prime Minister Justin Trudeau talked about the repatriation ceremony of the six Canadian Armed Forces members killed in a helicopter crash off of Greece during the Operation Reassurance, that took place yesterday at C.F.B. Trenton, Ontario. 
Reflecting on the ceremony, he stated, "I was grateful to have an opportunity to pay my respects (…) We will never forget their service. They will live on in our hearts."
The Prime Minister also thanked all the Canadian military personnel that have stepped up to lend a hand during the pandemic and recognized the incredible work of the frontline workers since the beginning of the crisis. 
He added that he reached a $4 billion agreement with all the provinces and territories to provide a wage top-up for essential workers. The plans to cost-share wage top-ups were confirmed, but the decisions about who qualifies will rest with the provinces and territories.
Members of 3 Battalion, Royal 22e Régiment, are starting their work day at Grace Dart Extended Care Centre, in Montréal, Quebec, during operation LASER, on May 2, 2020. Photo Corporal (Cpl) Genevieve Beaulieu, Imagery Technician. Images courtesy of Canadian Armed Forces, worldometer.com, and canada.ca/cornavirus.ca
You can find below the provincial COVID-19 rundown:
British Columbia
As of today, 2,288 COVID-19 cases have been confirmed in the province, with 33 new infected patients in the last 24 hours.
As of today, a total of 126 people have died due to the virus.
76 COVID-19 patients are in hospital, including 20 in intensive care.
1,512 people have recovered from the disease.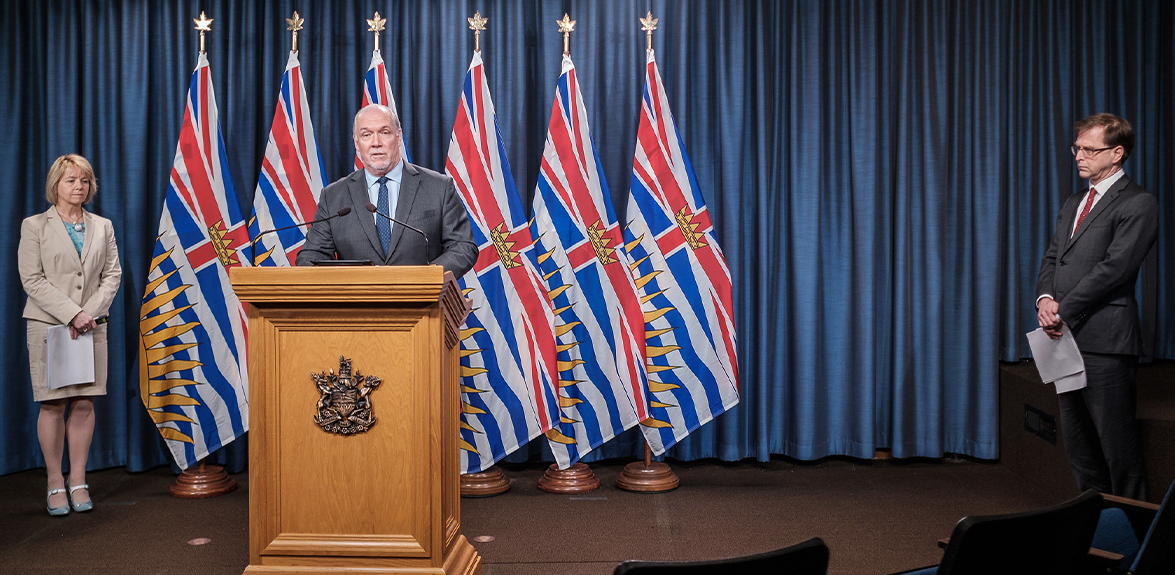 The latest big news in B.C. is that Premier John Horgan announced the province would relax guidelines on small gatherings up to six people by next weekend.
"This is not a return to normal," said Horgan, joined by B.C.'s top doctor Bonnie Henry and Health Minister Adrian Dix at a Wednesday news conference. "This is a new normal."
The province estimates 30,000 non-urgent scheduled surgeries were either postponed or not scheduled in B.C. due to the COVID-19 crisis, and 24,000 people could be without a referral to get on a waitlist.
The postponed elective surgery patients will be contacted over the next eight days, and surgeries could resume by May 18th.
Alberta
Alberta registered 54 new COVID-19 cases in the last 24 hours. There are now a total of 6,017 infected patients, but more than half of them, 3,809, have already recovered. The total number of deaths due to the virus is 114.
Leela Sharon Aheer, minister of culture, multiculturalism and status of women, issued a statement on Vesak celebration, also known as Wesak or Buddha Day. 
"Publicly recognizing and sharing important dates such as Vesak helps us understand each other better and work together to build a better province for all," she said.
Today it was announced that the Yellowhead County is receiving $300,000 through the government's Mountain Pine Beetle Municipal Grant Program.
Also, today we found out that the Government is getting nearly 500 Albertans back to work by funding maintenance to highways, bridges, pothole repairs, and other safety measures throughout the Central Region of the province. These projects are part of the $2 billion that the government announced on April 9 in response to the COVID-19 recession.
For the third day in a row, today, organizations representing Alberta workers demonstrated at the Cargill meat processing plant near High River, opposing the reopening of the site and saying that safety concerns persist.
The government is accelerating the procurement process for construction of the Red Deer Justice Centre to get Albertans back to work. The construction of this major project is expected to support 750 jobs.
Saskatchewan
Saskatchewan has 19 new confirmed cases of COVID-19, bringing the provincial total to 531.
Fifteen of the new cases are in the Far North with 12 of those being in the La Loche area, while the remaining four are in the North region. Of the 531 reported cases, 196 are considered active.
Seventeen more people have recovered, bringing the provincial total to 329. There are currently 12 people in hospital – eight are receiving inpatient care (two in the North and six in Saskatoon), and four are in intensive care (three in Saskatoon and one in the North).
Forty-three cases are health care workers. However, the source of the infections may not be related to health care in all instances. Six deaths related to COVID-19 have been reported to date.
To date, 34,361 COVID-19 tests have been performed in the province.  
With the outbreak in the Lloydminster Hospital stable, Lloydminster may proceed with plans to open services and businesses as described in Phase One of the Re-Open Saskatchewan plan starting Monday, May 11. 
The gatherings in Saskatchewan must be limited to no more than 10 people – inside and outside – within an extended household group only.
With extreme caution and under the following conditions, one or two close families may form an extended household group. 
For more information regarding the extended household groups, visit saskatchewan.ca/government/news
More vulnerable people may still want to be cautious in engaging in activities where physical distancing cannot be reliably maintained, and masking is not in effect—for example, shopping for non-essential supplies.
Also, today, Government Relations Minister Lori Carr announced that as part of the Government of Saskatchewan's response to the COVID-19 pandemic, Municipal Revenue Sharing (M.R.S.) would be fast-tracked for the 2020-21 year.
All M.R.S. funds will be paid in full directly to all compliant Saskatchewan municipalities in June, rather than in instalments throughout the year.
Manitoba
The Public health officials advise no new cases of COVID-19 have been identified as of this morning. In addition, one case that had been considered probable has been ruled as negative, so the total number of lab-confirmed positive and probable positive cases in Manitoba is 283.
The data also shows:
Five individuals are currently hospitalized, with no individuals in intensive care;

33 active cases and 243 individuals who have recovered from COVID-19; and

The number of deaths due to COVID-19 remains at seven.
Restoring Safe Services Together, Manitoba's pandemic and economic roadmap for recovery is available at www.manitoba.ca/restoringsafeservices. 
Ontario
Today, Ontario health officials reported 399 new COVID-19 cases, along with 48 more deaths, bringing the province's total count, including recoveries to more than 19,000.
May 7th data represents a slight drop from yesterday's 412 cases and 68 deaths but is still higher than counts reported earlier in the week.
Ontario will allow retail stores with a street entrance to provide curbside pickup and delivery starting as early as Monday, May 11. https://t.co/RvnQZIRiL1 #COVID19 pic.twitter.com/rzrTOrG6nE

— Ontario Economy (@ONeconomy) May 6, 2020
The province says 347 more people recovered from COVID-19, bringing the provincial total to 13,569 or 71 per cent of all known cases.
More than 1,000 of Ontario's deaths have occurred in residents of long-term care homes.
Today, the Ontario government has developed a comprehensive framework to help hospitals assess their readiness and begin planning for the gradual resumption of scheduled surgeries and procedures while maintaining the capacity to respond to COVID-19.
The framework, "A Measured Approach to Planning for Surgeries and Procedures During the COVID-19 Pandemic", contains clear criteria that must be met before hospitals can resume scheduled surgeries, including ensuring that the hospital and its region have the following:
A stable number of COVID-19 cases;

A stable supply of personal protective equipment;

A stable supply of medications;

An adequate capacity of inpatient and intensive care unit beds;

An adequate capacity of health human resources; and

The availability of post-acute care outside the hospital would be required to support patients after discharge.
Read the plan here for more details.
As Victoria Day approaches, Ontario Premier Doug Ford is telling seasonal residents heading to the cottage country to be careful and any would-be visitors to stay home.
Also, the garden centres in Ontario can start welcoming customers inside as of Friday, then hardware stores on Saturday and other retailers for curbside pickup starting Monday, as long as they have a street entrance and follow other rules.
Quebec
Today, Quebec reported an additional 121 deaths, bringing the province's death toll to 2,631. The province's total number of cases is now 35,238, an increase of 911 infections from the previous day. 
Sixty per cent of all Canadian deaths linked to COVID-19 have occurred in Quebec, including more than one-third in Montreal alone. Montreal has more than 17,000 cases.

Quebec is one of the provinces where long-term care homes have been the largest driver of COVID-19 related deaths. Approximately 80 per cent of deaths in Quebec are believed to be linked to these facilities.
Also, today Premier François Legault said that schools and day-cares in the city and surrounding areas would open on May 25th, one week later than previously announced. Businesses will also open on that day.
The Snowbirds planes took-off from Quebec City today, flew over Trois-Rivières, then to Drummondville, flying over Granby, then via Saint-Jean-sur-Richelieu, to circle over Montreal and then landed there by approximately 1:45 p.m.
Quebec plans to allow manufacturing businesses to start back up as of this coming Monday.
New Brunswick
Public Health reported no new cases of COVID-19 today.
The number of confirmed cases in New Brunswick remains at 120; the number of active cases is two, and 118 people have recovered. None of the active cases are in the hospital. As of today, 16,625 tests have been conducted.
We have all been using different coping strategies to move through the COVID-19 crisis. Which ones are working best for you? Take this 5-min COVID-19 Impact on Mental Health Pulse Check Survey to find out. https://t.co/Hvck2PGYyn #mentalhealth #COVIDpulsecheck #copingstrategies pic.twitter.com/ayvDAfZYZy

— MHFA Canada (@MHFA_PSSMCanada) May 5, 2020
The provincial government is recognizing National Mental Health Week, May 4-10.
"I know the past couple of months have been challenging for everyone," said Premier Blaine Higgs. 
He continued, "We must take care of ourselves and each other. I encourage everyone to stay connected with friends and family, whether by phone or FaceTime. Those connections are crucial to maintaining our mental health".
A list of provincial addiction and mental health centres is available online, on gnb.ca.
Nova Scotia
Nova Scotia reported three additional deaths related to COVID-19, bringing the total to 44. The deaths occurred at the Northwood long-term care home in Halifax Regional Municipality.
As of today, Nova Scotia has 1,007 confirmed cases of COVID-19. Nine new cases were identified Wednesday, May 6.
"We're doing everything we can to bring the situation at Northwood under control," said Dr. Robert Strang, Nova Scotia's chief medical officer of health. 
The QEII Health Sciences Centre's microbiology lab completed 875 Nova Scotia tests on May 6 and is operating 24-hours.
There are three licensed long-term care homes and unlicensed seniors' facilities in Nova Scotia with active cases of COVID-19. Northwood in Halifax currently has 156 residents and 44 staff with active cases. Two other facilities each have one staff member with an active case of COVID-19.
To date, Nova Scotia has 32,289 negative test results, 1,007 positive COVID-19 test results, and 44 deaths.
Today, Nova Scotia has signed on to provide a cash bonus for those in the health-care sector supporting the COVID-19 response.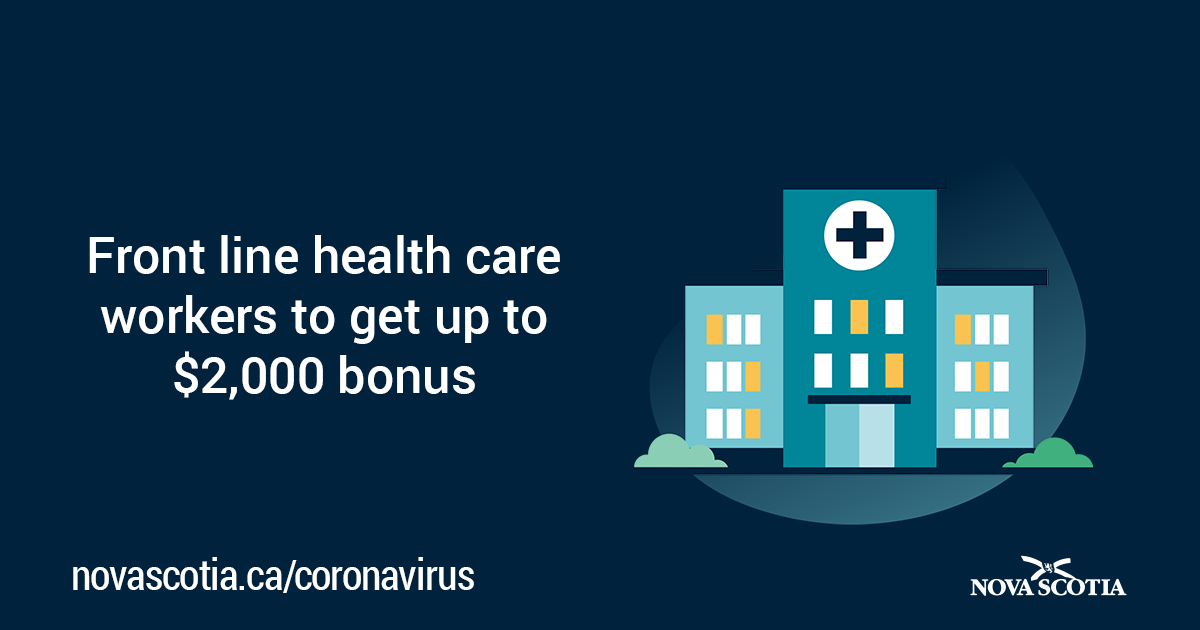 The Essential Health Care Workers Program will see health-care workers receive a bonus of up to $2,000 after a four-month period, beginning March 13. It includes eligible employees at the Nova Scotia Health Authority, I.W.K. Health Centre and in long-term care, home care and in-home support, and emergency health services. 
Employees who volunteered to be redeployed to work at a facility experiencing a COVID-19 outbreak will also receive this benefit.
The program is expected to benefit up to 43,000 health-care workers in the province.
Prince Edward Island
As of today, there are no new confirmed cases of COVID-19 to report.
All but one of the Island's 27 cases of COVID-19 are considered recovered. 
Today it was announced that every employee who is deemed an essential worker and is making under $3,000 over a four-week period, will receive a one-time payment of $1000 that will be paid through their employer. P.E.I. expects that it will help 17,000 eligible essential workers.
All of P.E.I.'s provincial parks will open on June 5 for the season. Playgrounds at provincial parks will remain closed until otherwise directed.
The provincial campgrounds are set to open on June 26, only for Islanders who have previously booked their seasonal campsite prior to March 31, 2020.
It was also announced a new 'COVID-19 workplace adaption assistance fund' that will cover 75 per cent of costs up to $2,000 for small businesses, to purchase items including plexiglass dividers, masks, gloves, hand sanitizer and handwashing stations for their businesses.
P.E.I.'s fisheries and aquaculture sectors are set to reopen soon, with the spring lobster fishery to open May 15, and commercial oyster and clam fisheries to open May 18.
P.E.I. fish emergency loan program will allow operators yo borrow up to $25,000 at a rate of 4 per cent. The Department of Fisheries and Communities will cover interest expense and defer principal for the first 18 months.
Newfoundland and Labrador
Newfoundland and Labrador registered two new COVID-19 cases in the last 24 hours, 261 is now the total number of patients by date.
Two hundred forty-four people have recovered from the virus, and there are registered three deaths with four people currently in the hospital due to COVID-19, two being in I.C.U.
The Information and Privacy Commissioner for Newfoundland and Labrador, Michael Harvey, was proud to announce the issuance of a joint statement by Canada's Federal, Provincial, and Territorial Privacy Commissioners regarding the development of smartphone-based digital contact tracing apps. For more information, visit gov.nl.ca.
Yukon
By date, Yukon registered 11 COVID-19 recovered patients, out of the same total number confirmed until now.
More coronavirus information as of today, 7th of May, 2020 in Yukon:
Total people tested: 1,054

Negative results: 1.010;

Pending results: 33
Northwest Territories
By date, Northwest Territories' all 5 COVID-19 cases were recovered.
The territory's last confirmed case was announced on April 5, related to an individual who had recently travelled to Latin America and immediately self-isolated upon return.
There are, so far, 1,855 completed tests, with 1850 negative results.
Nunavut
No cases of COVID-19 in Nunavut.
Around the World
U.S. COVID-19 cases rose 2.4 per cent from yesterday to 1.25 million, according to data compiled by Johns Hopkins University. That was above Wednesday's growth rate of 1.9 per cent and matched the average daily increase of 2.4 per cent over the past week. Deaths rose 3.9 per cent to 75,054.
Brazil, the hardest-hit country in Latin America, registered a record number of 127,655 COVID-19 cases and 8,609 deaths, forcing the health minister to raise the possibility of strict lockdowns in hotspots.
In the last 24 hours, 660 new infections were diagnosed in South Africa, bringing the total to 8,232, Health Minister Zweli Mkhize said. The rise in COVID-19 cases coincided with a relaxation of lockdown rules that let some categories of employees return to work. The number of deaths climbed by eight to 161, Mkhize said.
As many as 190,000 people in Africa could die of Covid-19 in the first year of the pandemic if containment measures fail, the World Health Organization said in a report.
…
We must continue to take measures to stop the spread of COVID-19. 
Working together to maintain social distancing and follow Public Health orders are the only ways to flatten the curve of the virus. 
Stay safe!
For more information, access worldometer.com, canada.ca/coronavirus, and don't miss Prime Minister Justin Trudeau's daily briefing at 11.15 ET.