COVID-19 Rundown April 15, 2020
As of today, 15th of April, 2020, the total number of COVID-19 cases in Canada is 28,205 with 1,006 deaths, many of them at long-term care homes.
Prime Minister Justin Trudeau says Canadians earning less than $1,000 a month will now be eligible for the Canada Emergency Response Benefit (CERB).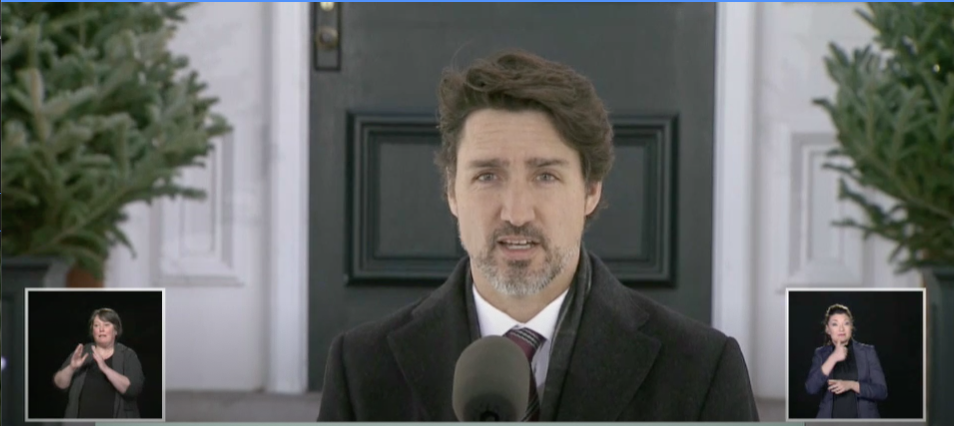 There are over 6 million applicants for CERB, which will expand to include people who are earning a smaller income, seasonal workers, and those who've recently run out of Employment Insurance.
Also, he announced the shutdown of the Canada-U.S. border to all non-essential travel would remain in place for weeks, and strict mandatory quarantine measures will be imposed for returning travellers.
The Bank of Canada has predictably maintained the current low overnight interest-rate target of 0.25 per cent, and today announced it is preparing a program to purchase $50 billion in provincial bonds to help provincial governments finance their current deficits.
You can find below the provincial COVID-19 rundown:
British Columbia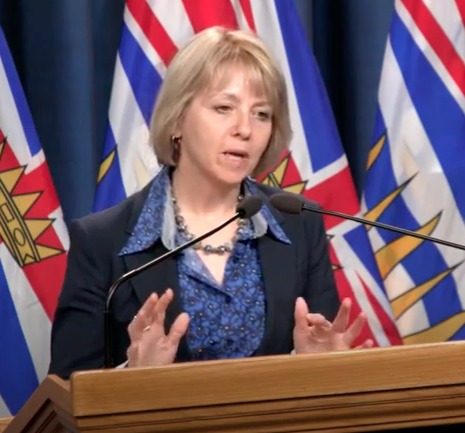 The total number of coronavirus cases in British Columbia was 1,561 as of April 15th, 2020, as there are 44 new cases, three deaths registered in the last 24 hours.
Hospitalized cases: 131
Intensive care: 59
COVID-19 related deaths: 75
The B.C. government has formally extended the provincial state of emergency, allowing Mike Farnworth, Minister of Public Safety and Solicitor General, to continue to use extraordinary powers under the Emergency Program Act to support the Province's COVID-19 pandemic response. It is extended through the end of the day on April 28, 2020, allowing the government to continue to take the necessary steps to keep British Columbians safe.
To improve travel for commercial truck drivers, the Government of B.C. is funding the installation of portable toilets at several commercial vehicle pull-outs, inspection stations, and chain-up locations throughout the province. By today, approximately 20 portable toilets have been installed, and the Province will look at adding additional ones in the coming weeks.
In order to provide access to the goods, the Province has created a new Provincial Supply Chain Coordination Unit. The Province has also launched the COVID-19 Supply Hub, a made-in-B.C. online platform to co-ordinate, find and speed up the delivery of medical supplies and personal protective equipment for provincial health authorities to support front-line health workers.
Private industry is also stepping up to provide support.
While highways and roads remain open, the provincial health officer recommends people stay close to home and avoid any non-essential travel.
The parks stay close until at least 31st of May,2020. The closures are for all national parks, national historic sites, heritage canals, and national marine conservation areas.
Liquor retailers, such as wine stores or private liquor stores, throughout the province, are now allowed to operate between 7 a.m. and 11 p.m. daily temporarily if they choose to do so. The new policies are effective immediately and will remain in effect until July 15, 2020.
Alberta
The number of COVID-19 total cases in Alberta was 1,870 as of April 15th, 2020.
There are now 914 confirmed recovered cases of COVID-19 in the province, with 138 new cases reported. Two Albertans have died since the last report, bringing the total deaths in the province to 48.
Confirmed cases continue to rise, particularly in Calgary.
Nursing students are being fast-tracked into service to handle pandemic in Alberta.
Alberta Health Services has started collecting and cleaning N95 masks for possible reuse.
Saskatchewan
As of April 15, 2020, Saskatchewan has three new, confirmed cases of COVID-19, bringing the provincial total to 304. Ninety-five of the cases are considered active.
Currently, there are eight people in hospitals across the province receiving inpatient care. No one is in intensive care.
Manitoba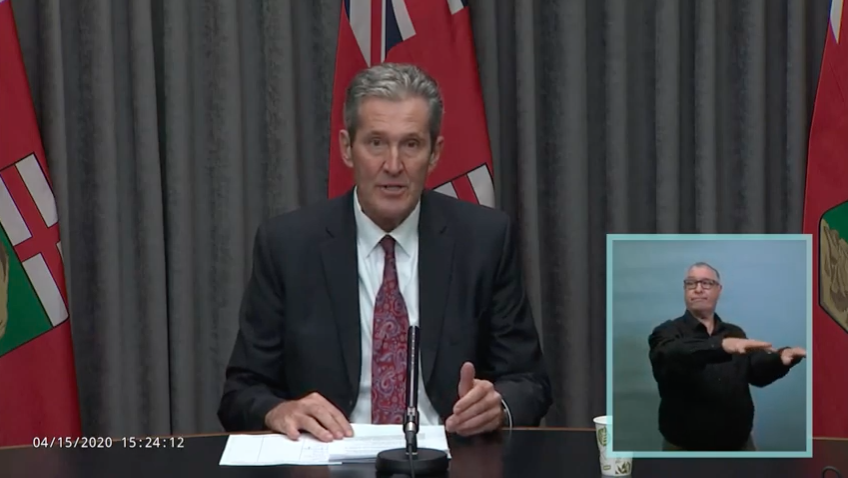 Public health officials advise two new cases of COVID-19 were identified today. In addition, two cases that had been considered probable have been ruled as negative, so the total number of lab-confirmed positive and probable positive cases in Manitoba remains at 246. Also, a fifth death has been reported.
The Manitoba legislature is being recalled for an emergency sitting today to help expedite up to$1 billion in assistance to fight COVID-19 and protect Manitoba's most vulnerable through the Manitoba Protection Plan.
"We are taking concrete steps to move forward the Manitoba Protection Plan to help ensure we are doing everything we can to support Manitobans during this unprecedented and difficult time," said Premier Brian Pallister.
According to the Estimates of Expenditure documents tabled today, additional spending authority of up to $1 billion of COIVD-19 pandemic-related spending is requested to be allocated as follows:
$500 million for the Health Services Insurance Fund,
$400 million for the internal service adjustments appropriations of government, and
$100 million for emergency expenditures.
Ontario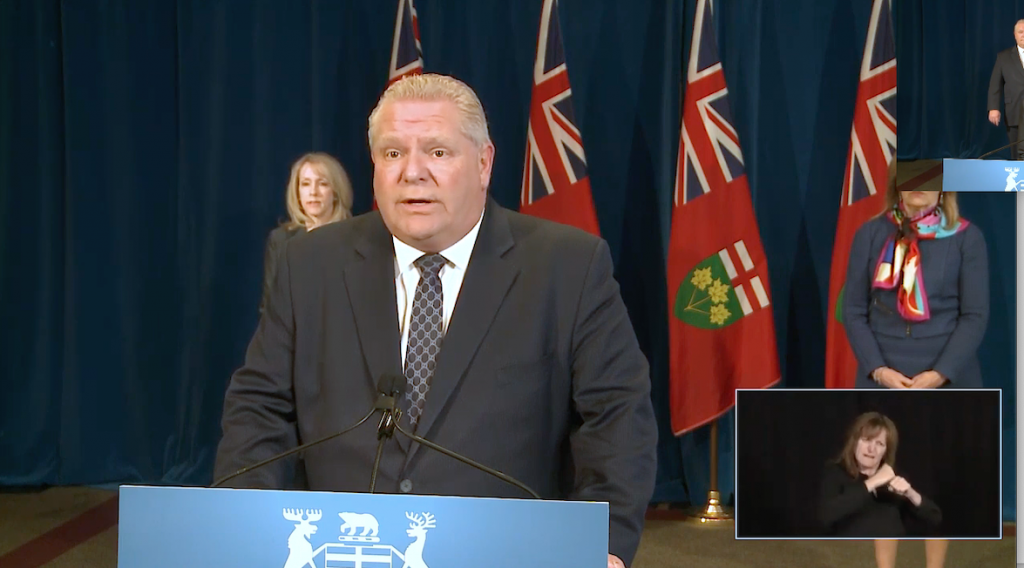 Per today's government report, there are 8,447 cases in Ontario, an increase of 494 from yesterday; 795 people are in hospital, 254 of them in intensive care, and 188 on ventilators. To date, 385 people have died. In total, 98 outbreaks have been reported in long-term-care homes.
Toronto's medical officer of health said, there are 2,543 cases of COVID-19 in Toronto, 223 of them in hospital, and 90 in intensive care. In total, 115 people have died.
Minister of Long-Term Care Merrilee Fullerton said, over the next two days, an action plan for long-term-care homes would start with more aggressive testing, screening, and surveillance by screening all symptomatic staff and residents. The asymptomatic will be tested in select homes.
"We will do everything we can to protect our seniors and most vulnerable citizens because we all know they are most at risk during this pandemic," said Premier Ford.
All long-term care staff continue to be subject to rigorous screening procedures and must follow personal protective equipment guidelines, including wearing surgical masks, gowns, gloves, and eye protection while in homes.
An investment of $243 million in COVID-19 emergency funding is available to homes to cover the costs associated with securing the staffing, supplies, and capacity they need at this unprecedented time.
Quebec
As of 15th of April, 2020, there are 14.860 confirmed cases of coronavirus in Quebec, the number of deaths reaches 487.
Quebec's Health Department has begun publishing a list of the seniors' homes hit by COVID-19.
It says that 41 facilities are struggling to respond to novel coronavirus outbreaks, but the province's public health director cautioned the situation is evolving rapidly.

According to the list first published on Tuesday evening, the seven hardest-hit homes are long-term care facilities in Laval, Montreal, and Shawinigan.
Of the 41 in difficulty, 25 have the most critical red classification, meaning more than a quarter of residents are infected with the novel coronavirus. Another 16 were identified as orange, which means an infection rate of between 15 and 25 per cent of residents.
New Brunswick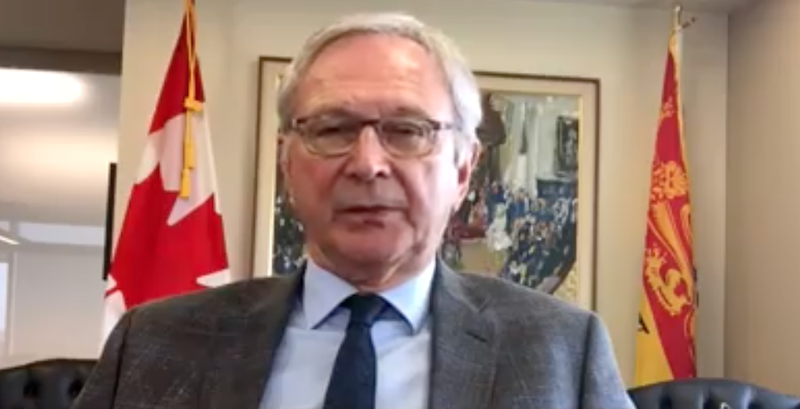 As of April 15, 2020, Public Health identified one new case of COVID-19, bringing the total number of confirmed cases in New Brunswick to 117.
Of the 117 cases, 66 are travel-related, 42 are close contacts of previously confirmed cases, and nine are the result of community transmission.
To date, 77 people have recovered.
The Extra-Mural Program provides a unique benefit to the province by offering at-home care to people who might otherwise require hospitalization. Dr. Jennifer Russell, chief medical officer of health, said the program is taking steps to reduce the risk of spreading the virus through its work by providing care remotely, when possible, and screening patients and employees.
Premier Blaine Higgs said he would be exploring further an announcement by the federal government to supplement the salaries of essential workers, including those employed at long-term care facilities, who earn less than $2,500 per month.
Nova Scotia
As of today, April 15, Nova Scotia has 549 confirmed cases of COVID-19. Thirty-two new cases were identified in the last 24 hours, and the total number of deaths by now is three.
The QEII Health Sciences Centre's microbiology lab completed 885 Nova Scotia tests on Tuesday, April 14, and is operating 24-hours.
While most cases in Nova Scotia have been connected to travel or a known case, there is now community spread. That is why travel has been removed as a requirement for testing for COVID-19.
The Government released COVID-19 projections that show how COVID-19 could progress through the province through to June 30th. They show that if Nova Scotians continue to follow public health orders, there could be 1,453 cases, but with poor compliance, cases could grow to 6,269 over that period of time.
It is important to note the numbers are only modelling estimates.
The projections show a flattened peak in total cases in May that continues into June if public health measures continue.
The CEO of Northwood Nursing home in Halifax, Janet Simm says the long-term care facility took many measures, from screening staff to extensive testing, yet now finds itself having to open a second quarantine area at a complex with 485 people, as 31 residents and some staff members had tested positive as of Tuesday afternoon.
Prince Edward Island
Chief Public Health Officer, Dr. Heather Morrison, says Prince Edward Island now has one more confirmed positive case of COVID-19. The person had returned from international travel.
PEI's total number of positive cases of COVID-19 is now 26, of which 23 are considered recovered. There have also been 92 new negative results received.
Yukon
As of today, April 15th, 2020, the number of cases of COVID-19 in Yukon is eight, with six recovered cases and pending 18 results.
Four of the eight people who have contracted COVID-19 in Yukon have now recovered. To date, no one has had to go to the hospital.
Total people tested 832.
Newfoundland and Labrador
Today, Newfoundland and Labrador has registered three more cases with a total of 247 coronavirus-positive confirmed cases (including three deaths, 159 recovered).
Contact tracing by public health officials is underway. Everyone considered a close contact would be advised to quarantine.
To date, 5,166 people have been tested.
Northwest Territories
By date, there are five confirmed cases of coronavirus (including two resolved) with 1,464 tests completed.
Nunavut
No cases of COVID-19 in Nunavut.
Around the World:
There are nearly 2 million COVID-19 cases worldwide, with the total number of deaths now surpassing 127,000.
The European Union condemned the U.S.'s decision to cut the funds to the World Health Organization, calling it unjustified during the coronavirus pandemic. The U.S. is the global health body's largest single funder, with more than $400m in 2019.
"Deeply regret U.S. decision to suspend funding to WHO. There is no reason justifying this move at a moment when their efforts are needed more than ever," EU Foreign Policy Chief Josep Borrell said.
One year ago, on April 15, 2019, a fire erupted in Notre-Dame Cathedral in Paris, partly destroying the nearly millennium-old building and its precious artworks visited by millions of people a year.
Despite the deadly threat of the coronavirus, it seems Europe's main concern is focused on the restart of the economies, rather than the health.
Following Germany's statement, 300,000 workers for the 2020 harvest are needed, Eastern European countries decided to allow seasonal harvest workers to travel for this purpose.
In the last few days, thousands of workers have already flown to German farms, with many others are still registered on the next flight list. 'The demand is increasing rapidly," said a spokeswoman for EuroWings – the air travel company that organizes flights from Romania. The costs are covered entirely by employers.
…
Working together to maintain social distancing and staying at home, are the only ways to slow the spread and flatten the curve of COVID-19.
Stay safe!
For more information, access worldometer.com, canada.ca, and don't miss Prime Minister Justin Trudeau's daily briefing at 11.15 ET.