Remembering Cpl Nathan Cirillo and Warrant Officer Patrice
It was a somber day across the country and in the nation's capital as 2,000 dignitaries, soldiers and citizens gathered at the National War Memorial to commemorate last year's tragic Parliament Hill shootings and honour the two men who lost their lives last fall.
The public ceremony began at 11 a.m. with a 21-gun salute fired by 30th Field Artillery Regiment, Royal Canadian Artillery followed by the anthem and the Last Post as Prime Minister Stephen Harper, prime minister-designate Justin Trudeau and Gov. Gen. David Johnston stood beside the families of Corporal Nathan Cirillo and Warrant Officer Patrice Vincent. This was followed by two minutes of silence. Officials then laid wreaths. The ceremony was also marked by a CF-18 flyby in the 'missing man' formation.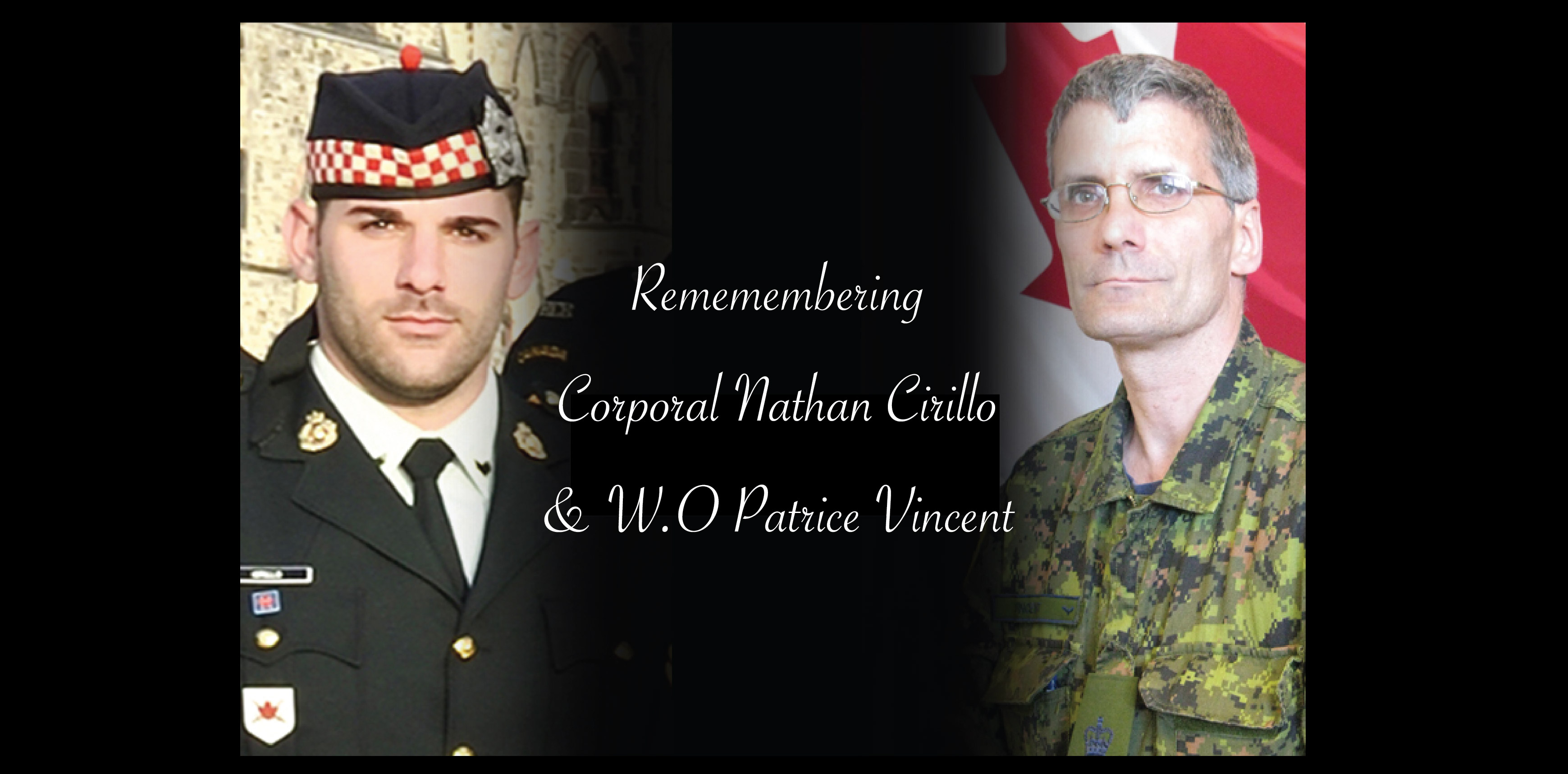 A plaque was unveiled in a private ceremony to commemorate Cirillo.
"Let us pause on this date to remember Corporal Nathan Cirillo who fell while standing guard at the National War Memorial as well as those injured on Parliament Hill. Let us also remember the deadly assault on Warrant Officer Patrice Vincent, who was targeted simply for wearing his uniform two days earlier in Saint-Jean-sur-Richelieu, Quebec. Canadians continue to honour and remember these proud members of our Canadian Armed Forces.
"On this day let us also pay tribute to all the security forces, medical personnel and brave citizens who risked their safety to stop the attackers and help those injured.
"It was inspiring to see how Canadians came together in the aftermath of these attacks, offering each other support, condemning terrorism, and showing the courage and resolve that make our country great.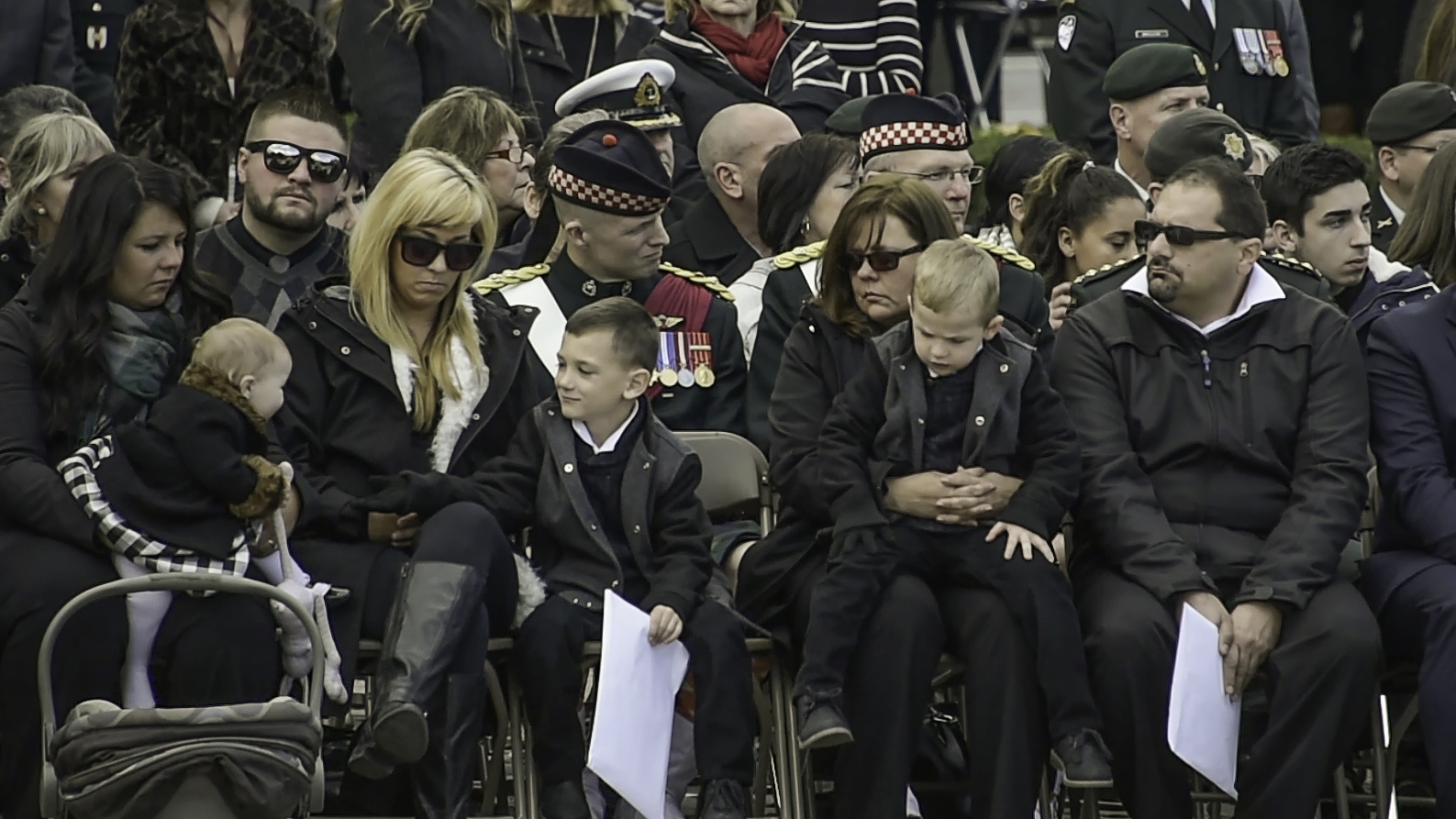 "As we remember the victims and heroes on this sombre anniversary, let us be thankful for the freedom and peace we continue to enjoy in Canada," said Prime Minister Stephan Harper in a statement released today.

The ceremony took place exactly one year after Cirillo, 24, was fatally shot while standing guard at the memorial just minutes before the shooter stormed into the Parliament buildings. It also recognized WO Vincent, who was killed just days before Cpl. Cirillo after being struck by Martin Rouleau in a hit and run targeted incident, in Saint-Jean-sur-Richelieu.
The Minister of National Defence, Jason Kenney, and the Minister of Veterans Affairs, Erin O'Toole, issued the following statement to commemorate last year's attacks, "One year ago this week, Canada's ideals of freedom and democracy came under attack when radicalized individuals killed two members of the Canadian Armed Forces in separate assaults in Quebec and Ontario, followed by a further assault on Parliament Hill.
"In Saint-Jean-sur-Richelieu, Warrant Officer Patrice Vincent was deliberately struck down because he was wearing his uniform. In Ottawa, Corporal Nathan Cirillo was killed as he stood sentry at the Tomb of the Unknown Soldier at the National War Memorial. On those days our country and the world witnessed the courage of brave Canadians who responded to the attacks.
"We were shocked and saddened by these assaults and reminded that no country is immune to terrorism. Today, we commemorate the tragic events of October 2014 by honouring our Fallen and our heroes.
"Today we pay tribute to those who gave their lives so that we can live in a free, democratic and safe society. We have pulled together as a country through many challenges and together we stand in solidarity as we remain vigilant against those at home and abroad who wish to harm us."
Top Photo: The Right Honourable Stephen Harper, Prime Minister of Canada and Mr. Justin Trudeau, Prime Minister Designate attend the Commemoration of the events of October 2014 ceremony in Ottawa, Ontario on October 22, 2015.
Photo: Corporal Darcy Lefebvre, Canadian Forces Combat Camera
IS20-2015-0021v-037