Queens Own Rifles commemorate regiment garrisoned in Gander and Botwood
At the start of the Second World War, the Queen's Own Rifles Regiment in Toronto was tasked to help with the war effort in Europe. They moved to Gander and Botwood, Newfoundland at the start of 1940 for training, eventually shipping off to England.
In an effort to commemorate the regiment garrisoned at Gander and Botwood, regiment representatives erected a memorial for both cities in 2015. The event was a great success and attended by both serving and retired members of the longest serving Infantry Regiment in Canada.
Warrant Officer Renay Groves was tasked with caring for the portable Afghanistan Memorial. Jacques De Winter had become friends with her, through mutual connections to the military, about four years ago. De Winter invited WO Groves and her team to join their event and asked if they could put the memorial and the Book of Remembrance on display.
"It was a real honour to have this memorial shown at the QOR's unveiling of the two markers, along with the Afghanistan Book of Remembrance, which is normally displayed in Ottawa's Peace Tower," said De Winter.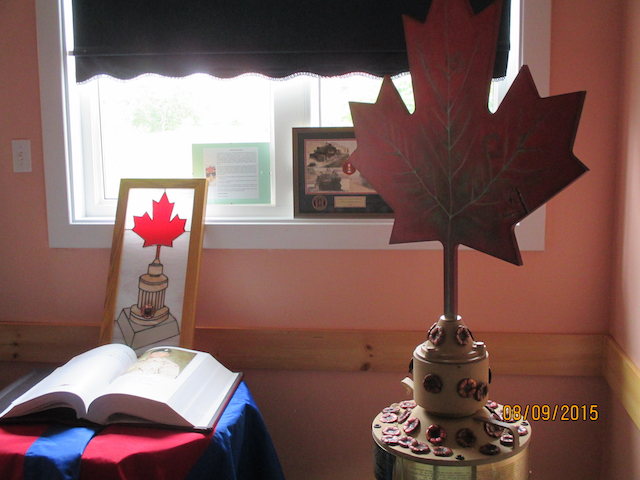 The Afghanistan Memorial was built from parts of a tank that was destroyed in Afghanistan and the poppies on it are also from Afghanistan. The poppies were bronzed and affixed to the memorial.

"The poppies were removed from the memorial of 'the fallen' in Afghanistan on the last day of operations and brought home. The names of the 158 Afghanistan fallen are inscribed on the Memorial as well," said De Winter.
The event was concluded with a memorial gathering at the Gander Legion where the Afghanistan Memorial was put on display once again. General Rick Hillier (ret.) was featured as their keynote speaker.
**Story written by Jacques De Winter***