Flags of Remembrance honours current and retired Canadian Armed Forces personnel
Annual Flags of Remembrance aiming to grow tribute to 128 communities. The founder of Veterans Voices of Canada, Al Cameron, spearheaded the first Flags of Remembrance tribute in 2014 in Sylvan Lake, AB.
"I believed we needed to have another very visual reminder of those who serve sacrifice for us and for our freedoms. In this way, people don't have a choice but to know what the Flags of Remembrance are all about. If they don't know, they ask around, and once informed, they spread the word," says Cameron.
"Each flag represents 1000 souls, with the sponsored Plaque of Honour naming a hero acting as the 'Guardian of those 1000 souls,'" says Cameron.
In early September of each year, 128 full-sized flags fly in parks, communities, and other highly visible areas to honour and tribute to the approximately 128,000 Canadian killed and missing in action from the Boer War to current missions.
Through the 128 available Plaques of Honour, anyone can also give tribute to past or present Veterans of the military and RCMP, as well as First Responders.
"Each flag represents 1000 souls, with the sponsored Plaque of Honour naming a hero acting as the 'Guardian of those 1000 souls'," says Cameron.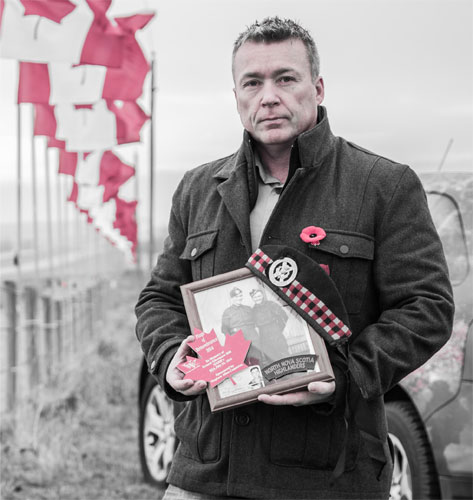 The idea is to extend remembrance by allowing those who visit to read the honourees' names on each plaque. People are encouraged to walk the flag line, read the names of people they may not know, and remember them in that way. They can do this from early September until November 12th when the tribute comes down.
In terms of COVID-19, there was no general public callout, and the event had to be downsized. At their Sylvan Lake tribute site, normally 500-1000 participants, sponsors, and those who wanted to witness the ceremony attend.
Cameron says, "This year was a specific callout to those who sponsored plaques in tribute to the honourees named on their plaque. We had many spectators who were in the park watch our flags fly and listen to our young bagpiper play Amazing Grace."

To sponsor, go to vetvoicecan.org and fill out the sponsorship form, along with the minimum donation ask.
The money raised goes towards the daily running of Veterans Voices of Canada throughout the year. This includes the costs of travelling to document veterans for history and education, historical and educational tributes and displays across Canada throughout the year, as well as building the Veterans Voices of Canada organization in a visible way in the community.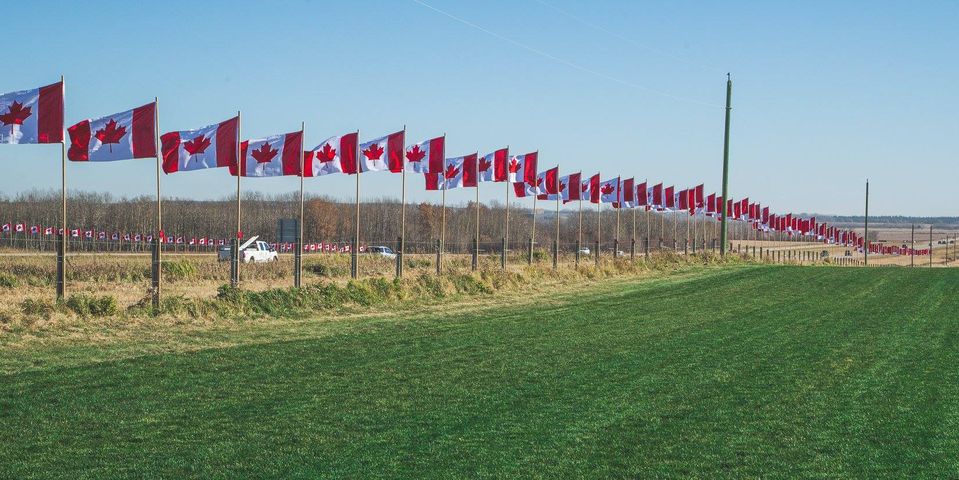 "If we have all 128 Plaques of Honour sponsored in each community site, we donate a portion to a local small charity in thanks to the community for supporting our tribute in that community," Cameron explained.
In 2020, the current tribute sites are in Sydney, NS, Windsor, ON, and Sylvan Lake, AB. They are trying to solidify a Halifax, NS site to finalize the four tribute sites this year.
Cameron says he plans to eventually have 128 communities across Canada be a part of their cross Canada Flags of Remembrance team.
He says he's proud to be a part of this initiative.
"Seeing the flags flying, the family sponsors coming forward to see the name of their loved ones on the palate and tears form in their eyes, as well as seeing the many thousands of visitors each year coming to see our tribute is truly amazing and it proves to me that this tribute was and is needed. For the future, I want to see our tribute be a household name as well as become a National Institution," he added.
Cameron highlighted the importance of remembrance in saying, "Many of these people, if not all of them, give of their lives on a daily basis for our freedoms and our safety. They leave their families for days, weeks, and months to serve their country and us Canadians. They should be applauded in every way possible for giving selflessly. Without them, we'd be living in a world of chaos and upheaval. They are our true heroes."