Above image: Left, Mr. Murphy while working with the Commissionaires, and right, when he enlisted during the Second World War. Images provided. 
On October 26, 2020, Commissionaires Northern Alberta, Northwest Territories and Nunavut Division dedicated a building to Second World War Veteran Donald Stewart Murphy.
Located in Edmonton, the Don Murphy Memorial Building underwent a total renovation and expansion three years ago. It is the headquarters building for the Canadian Corps of Commissionaires, Northern Alberta, Northwest Territories and Nunavut Division, where they look after 1,900 employees spread from Ponoka in central Alberta to Iqaluit.
"We were looking for a way to pay tribute to commissionaire Don Murphy, and this is what we decided upon. Incidentally, this was decided before Don passed. However, because of COVID, he left us before we could arrange it," explained John D. Slater, chief executive officer Canadian Corps of Commissionaires, Northern Alberta Division.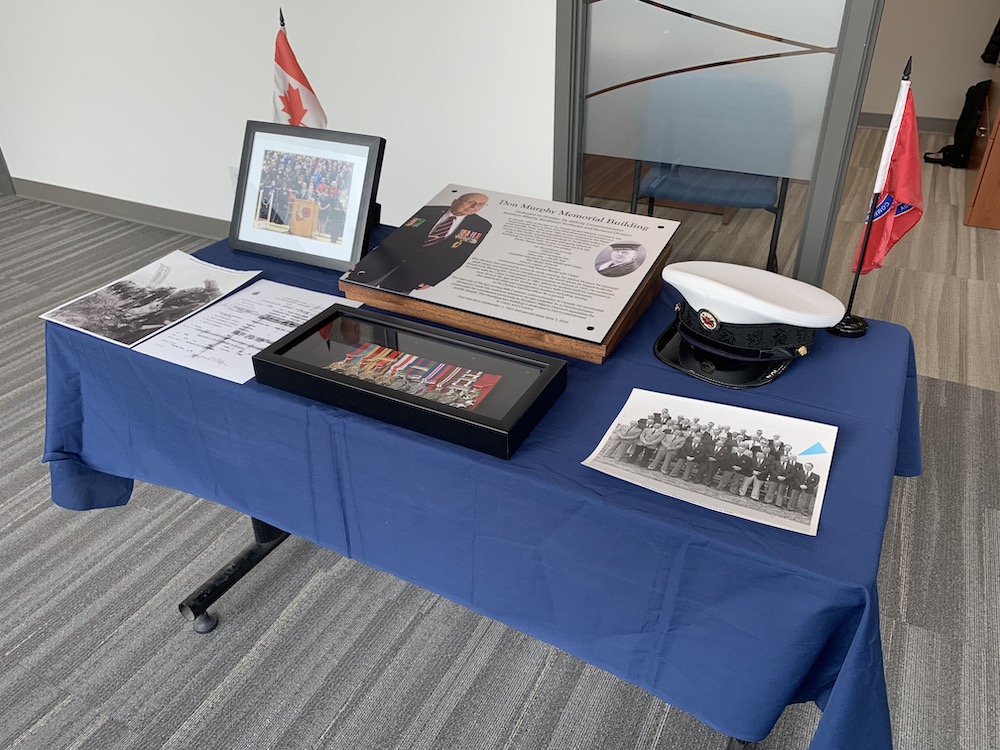 Donald Stewart Murphy was the last Second World War veteran commissionaire in Western Canada. Murphy was born on September 1, 1923, and passed away on June 3, 2020. He was with the commissionaires for 33 years and finally retired at the age of 91. Slater commented that his wartime service was extraordinary in that he served in three different Theatres and went ashore in Normandy on D-Day, 6 June 1944.
In January 1942, when he was 18, Donald Stewart Murphy enlisted in the Royal Canadian Navy in Saint John, New Brunswick, and trained as a naval signaller. From 1942 until 1945, he was assigned to the Royal Marine Commandos.

His distinguished service included action in Burma in the Pacific, amphibious landings in North Africa, and Sicily, a submarine raid on Norway, and going ashore at Normandy on June 6, 1944. He was en route back to the Pacific Theatre when the war ended.
After the war, Murphy returned to school to study catering. For nearly 30 years, he operated work camps and hotels across Canada and into the north, where he helped build the Distant Early Warning line. Murphy then joined Commissionaires in Victoria in 1975.
He continued his career with the Corps in Edmonton in 1981, where he worked until his retirement in June 2014 at the age of 91. During his 33 years with Commissionaires, Murphy held both field and management positions, including serving as the Division training officer for a period.
Slater noted Murphy was one of the last serving Second World War veteran commissionaires in Canada. His personable demeanour made him welcome wherever he was assigned. As a Commissionaires Ambassador, he contributed immensely to the Northern Alberta Division's reputation for quality people. This Headquarters building is dedicated to Murphy's commitment to Corps and Country.