BC/Yukon Command of the Royal Canadian Legion Foundation has just made a $60,000 donation
The BC/Yukon Command of the Royal Canadian Legion Foundation has just made a $60,000 donation to the Vancouver Island Compassion Dogs (VICD) Service Dog program. This will allow six more dogs for Veterans to graduate from the Service Dog program.
"Obviously, it is a great honour, privilege, and large responsibility to receive such a generous donation. This level of support will directly help improve the lives of our Veterans and their families. This represents the BC/Yukon Command of the Royal Canadian Legion's commitment to helping our injured Veterans and the ongoing support of the VICD/BC Guide Dogs PTSD Service Dog program," said Mike Annan, executive director and co-founder of VICD.
VICD started in 2014, and it is the first program of its kind to achieve international accreditation under the Assistance Dogs International (ADI) PTSD Service Dog standards. Since 2014, VICD has trained and paired 35 dogs with Veterans. As of Dec. 31, 2018, VICD amalgamated with BC Guide Dogs.
"All dogs are born into our in-house breeding program and then placed in homes where they are puppy trained and raised. Because Veterans' PTSD symptoms can include fear, flashbacks, disassociating, avoidance, and aversion to social contact, our adult dogs then enter an advanced PTSD training program with professional instructors. This is when our PTSD service dogs learn specific tasks to mitigate Veterans' PTSD symptoms," said Annan.
The service dogs' training does not stop there. In fact, once the dog has completed advanced training and is paired with a Veteran, the two complete a healthy community living program.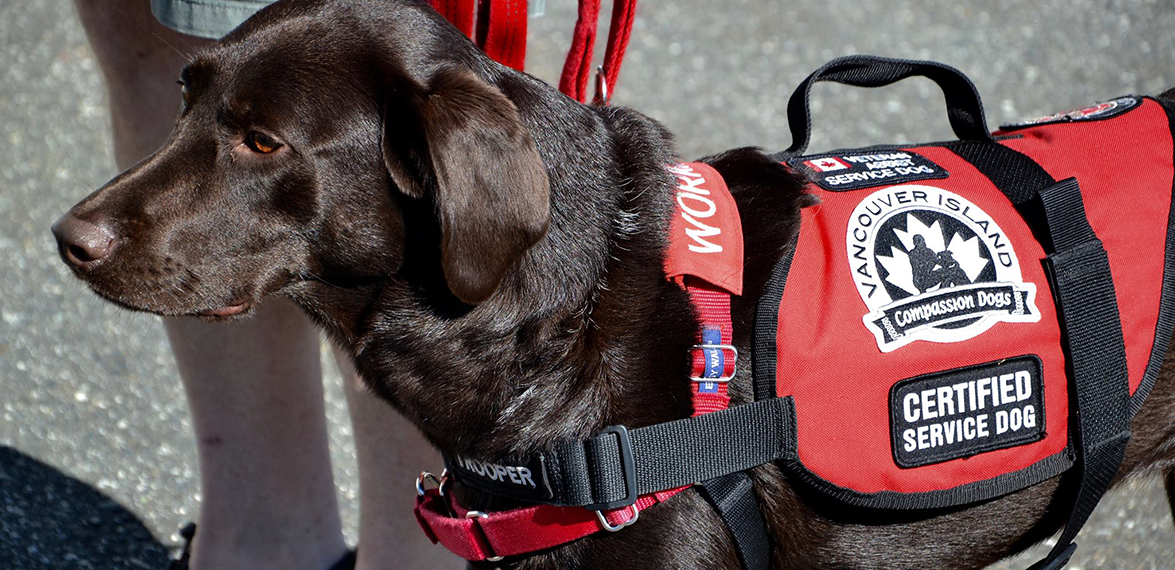 "This training provides Veterans with a renewed purpose and unconditional support as they work on the skills needed to re-enter their communities. Graduates say their dogs give them the confidence to re-integrate into society, and more importantly, to interact in healthy ways with family, friends and their communities," said Annan.
Not only does this program provide motivation and support to the Veteran, it also makes the dog eligible for certification under BC Guide Dogs and Service Dog Act, as well as with ADI.

Pairing veterans with service dogs is a lengthy process done with VICD's professional client service team. It is designed to connect the client, in this case, the Veteran, with the dog, while factoring in both the dogs' and clients' unique needs and personalities.
According to Veterans Affairs Canada (VAC), by the end of 2017, the rate of Veterans with PTSD who received benefits increased by 71.1%, and for RCMP Veterans it was even more – 80.7.
In 2018, VAC released the results of a pilot study evaluating the effectiveness of psychiatric service dogs in assisting Veterans with PTSD. The pilot study showed that the service dogs made a significant impact on the lives of the service members, including improving their sleep and nightmare mitigation; reduction in PTSD symptoms; a moderate, long-lasting reduction in depressive symptoms; and more.
Annan comments, "Communities are stronger when all its members can participate and contribute. The trauma of Military service and policing leaves Veterans with deep scars that make regular life challenging, if not impossible. Our programs give Veterans and their families back their independence and lives."