HMCS Toronto returns from six-month deployment
After six months of sailing in Eastern European seas, Her Majesty's Canadian Ship (HMCS) Toronto returned to its homeport of Halifax earlier this month.
For Leading Seaman Nathan Durette, the return home did not just mean a chance to see his girlfriend Alexandria Levesque once again, it gave him the opportunity to ask her the most important question of his life.
After winning the ship's first kiss lottery, Durette proposed to his girlfriend and she said yes.
"I almost passed out. I don't even know what to say," Levesque told CBC News.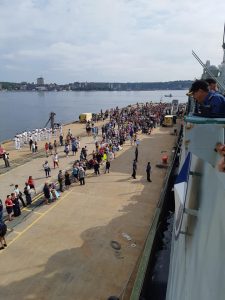 Durette and his fellow crew returned on August 5 from their deployment on Operation REASSURANCE, which took the ship and crew to the Adriatic, Black and Mediterranean Seas. The Operation is in support of security and international cooperation efforts, in the central and eastern European region.

During the course of the deployment, HMCS Toronto's crew visited nine countries and interacted with more than 13 nations to successfully carry out Operation REASSURANCE.
"We patrolled twice in the Black Sea, off the coast of Crimea. We patrolled in the east Med off the coast of Syria and as well as Libya. We've participated in seven major exercises and six minor ones. We've done defence diplomacy, hosting two presidents, minister of defence, heads of nations and really successful with the mission," said Commander Martin Fluet, Commanding Officer of HMCS Toronto.
HMCS Toronto also consisted of 12 Wing's Helicopter Air Detachment. This six-month deployment marked the completion of the CH-148 Cyclone's second operational deployment.