His Majesty's Canadian Ship Vancouver deploys on Operation NEON
Above image: A CH-124 Sea King helicopter flies above Her Majesty's Canadian Ship (HMCS) Vancouver near Kaikoura, New Zealand during Operation RENAISSANCE on November 14, 2016.
Photo: New Zealand Defence Force.
For the seventh time in just four years, a Royal Canadian Navy (RCN) ship has deployed on Operation NEON, monitoring United Nations Security Council (UNSC) sanctions against North Korea.
The sanctions are designed to pressure North Korea to give up its weapons of mass destruction.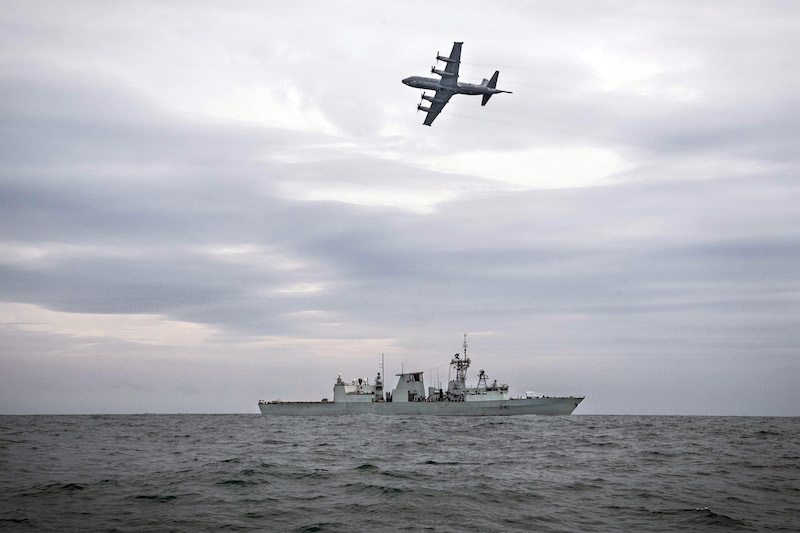 History Operation NEON
His Majesty's Canadian Ship (HMCS) Vancouver deployed on Operation NEON on Sept. 20. According to a Department of National Defence (DND) press release, during this mission, the CAF hopes to pinpoint particular activities North Korea is undertaking to evade maritime sanctions. Specifically, ship-to-ship transfers of fuel and other commodities banned by the UNSC resolutions.
"A key objective of the Canadian Armed Forces is a stable, free, open and inclusive Indo-Pacific, which North Korea's pursuit of ballistic and nuclear weapons technology puts at risk. This is why United Nations Security Council Resolutions were put in place and why Canada supports them regularly through Operation NEON. Our presence here shows our dedication to the preservation of peace and security in this region and across the globe," said VAdm. Bob Auchterlonie, Commander Canadian Joint Operations Command.
Away From Home Since June
HMCS Vancouver first left Canadian shores on June 14 to participate in Exercise Rim of the Pacific 2022. This exercise brought together more than 25,000 personnel from 26 nations in and around the Hawaiian Islands.
HMCS Vancouver was then deployed on Operation PROJECTION alongside HMCS Winnipeg since August. Op PROJECTION is a naval forward operating presence to ensure peace and security in the Indo-Pacific region. Op PROJECTION consists of multiple training opportunities, exercises, and bilateral engagements.
"Following our successes on Op PROJECTION, the crew of HMCS Vancouver are proud to begin our duties on Op NEON. We look forward to working with our partners and allies in the region in support of the UN Security Council's sanctions. This contribution bolsters the integrity of the global sanctions regime against North Korea, enhances regional peace and stability, and supports the rules-based international order," said Commander Kevin Whiteside, Commanding Officer, HMCS Vancouver.

After making port visits in Jakarta, Indonesia, and Manila, Philippines, HMCS Vancouver sailed through the Taiwan Strait to Operation NEON's area of operation. According to the DND press release, the sail was "done in full accordance with international law, including high seas navigation rights as outlined in the UN Convention on the Law of the Sea."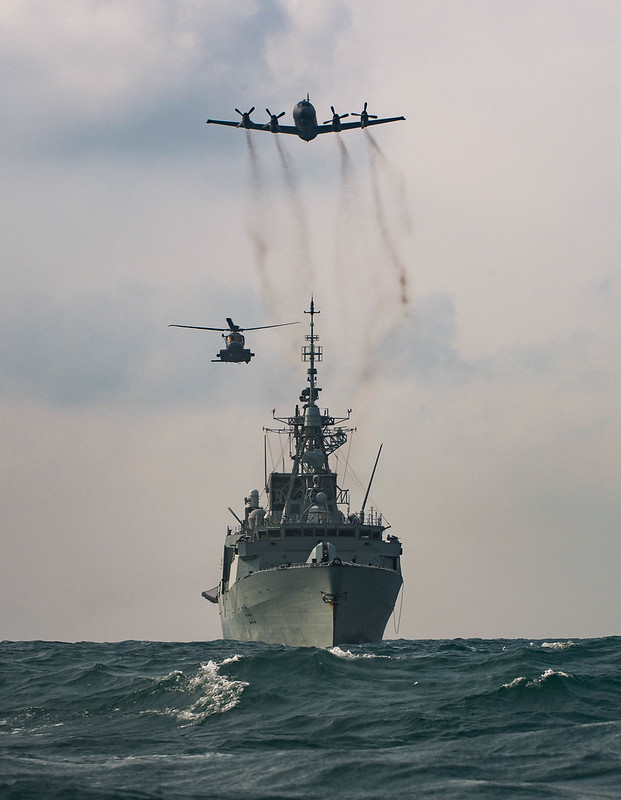 Op NEON 2022
While on Operation NEON, HMCS Vancouver will participate in exercises KEEN SWORD with the United States military and Japan Self-Defense Force and KAEDEX with the Japan Maritime Self-Defense Force.
Exercise Keen Sword is a biennial exercise designed to "increase combat readiness and interoperability of U.S. forces and the JSDF."
Exercise KADEX is a bilateral Canadian-Japanese exercise that focuses on "interoperability, which includes an anti-submarine warfare exercise, tactical manoeuvres, replenishments at sea, and overnight screen exercises."
"As a Pacific nation, Canada is deeply committed to upholding global stability and prosperity in the Indo-Pacific region. Today's routine Taiwan Strait transit demonstrates our commitment to a free, open and inclusive Indo-Pacific. I thank members of the Royal Canadian Navy and Royal Canadian Air Force involved in bolstering the rules-based international order with allies and partners," said Anita Anand, Minister of National Defence.
HMCS Vancouver travels with a CH-148 Cyclone helicopter. In addition, an RCAF CP-140 Aurora long-range patrol aircraft with crew and supporting personnel to deploy next month on Op NEON. The aircraft will operate out of Kadena Air Base in Okinawa, Japan.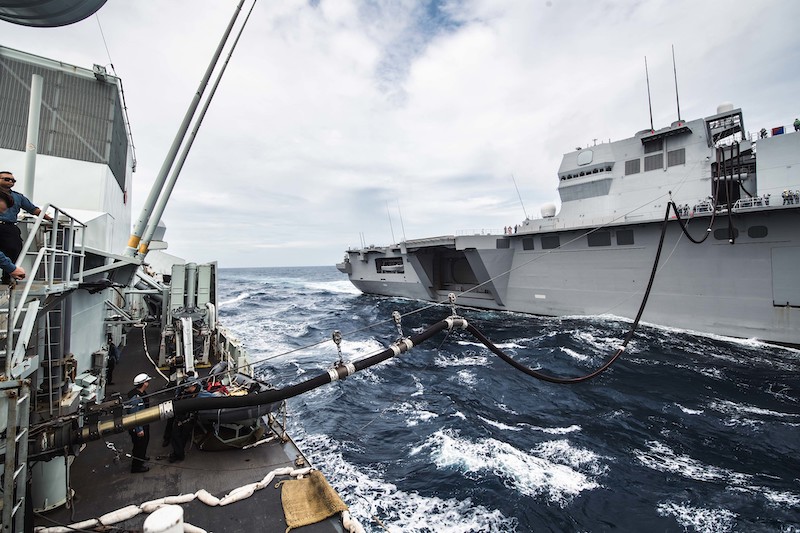 HMCS Winnipeg
HMCS Winnipeg is currently deployed on Op Projection. Both HMCS Vancouver and Winnipeg, plus the crew, are due to return home to Canada in December.