Canadian Armed Forces' response to COVID-19 Pandemic
At the end of March 2020, Prime Minister Justin Trudeau stated at a daily press briefing that 24,000 members of the Canadian Armed Forces stand ready to support provinces in the event that they request their assistance in fighting the COVID-19 pandemic.
"Our women and men in uniform have always been there for Canadians in their time of need, and this pandemic is no exception," he said.
Chief of the Defence Staff Jonathan Vance also mentioned the troops were sequestered and stayed healthy so they can be ready in the event of being asked to support communities.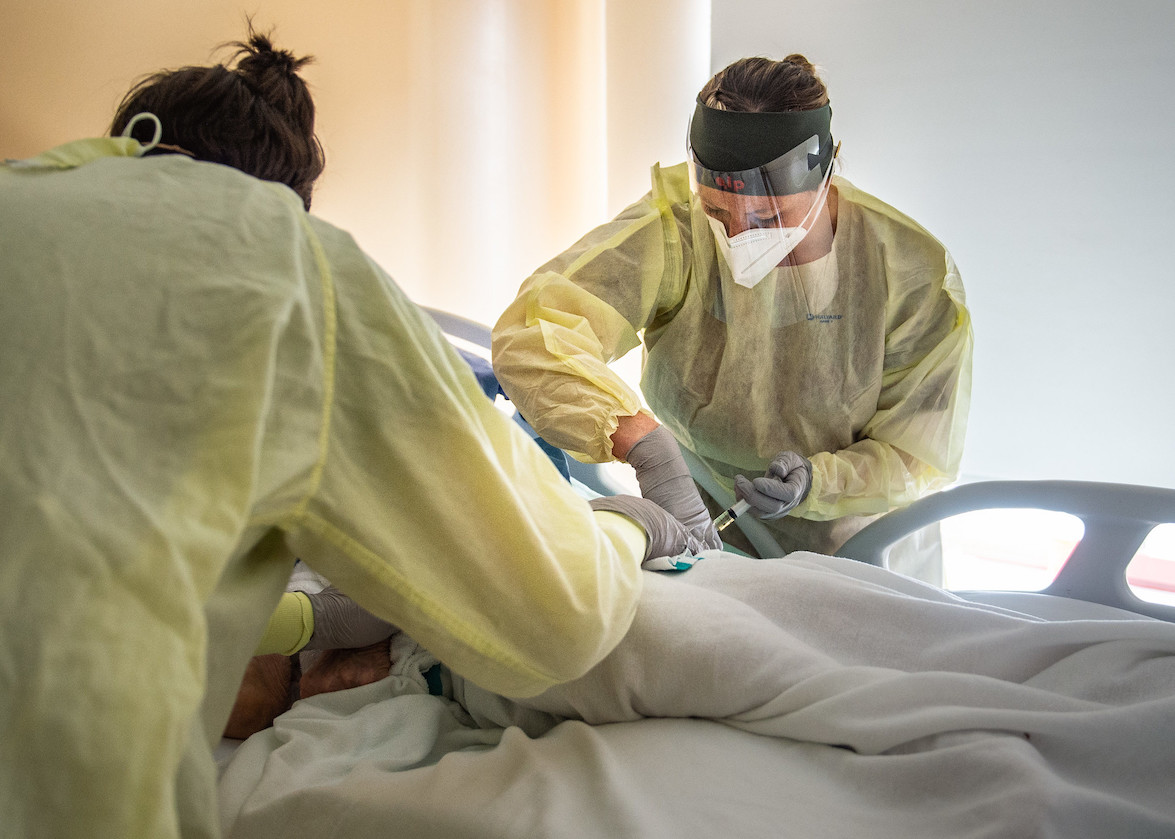 CAF's presence in Long-Term Care Homes
Less than one month later, on April 20th, 2020, the first appeal for help came from Quebec's Premier François Legault and Ontario's Premier Doug Ford, asking for teams of military personnel to assist with the novel coronavirus outbreak in long-term care homes, which emerged as especially deadly sites in this pandemic.
Ontario's request came after an online health staffing portal failed to find enough health-care workers for the nursing homes, where more than 1,000 staff were infected with COVID-19, and many were off in self-isolation. 
"Every set of boots on the ground will make a difference in this fight," Premier Ford said.
In Quebec, as well, Premier François Legault stated the long-term-care homes were short-staffed and struggling to cope with the virus. 
Therefore, as a response, Canadian Armed Forces (CAF) have been supporting Quebec's civilian authorities since April 20, 2020, and in Ontario since April 28, 2020, as agreed between the provincial and federal governments.
The CAF personnel are currently active in Long Term Care Facilities, where they collaborate with the medical staff for helping with the COVID-19 infection control and prevention.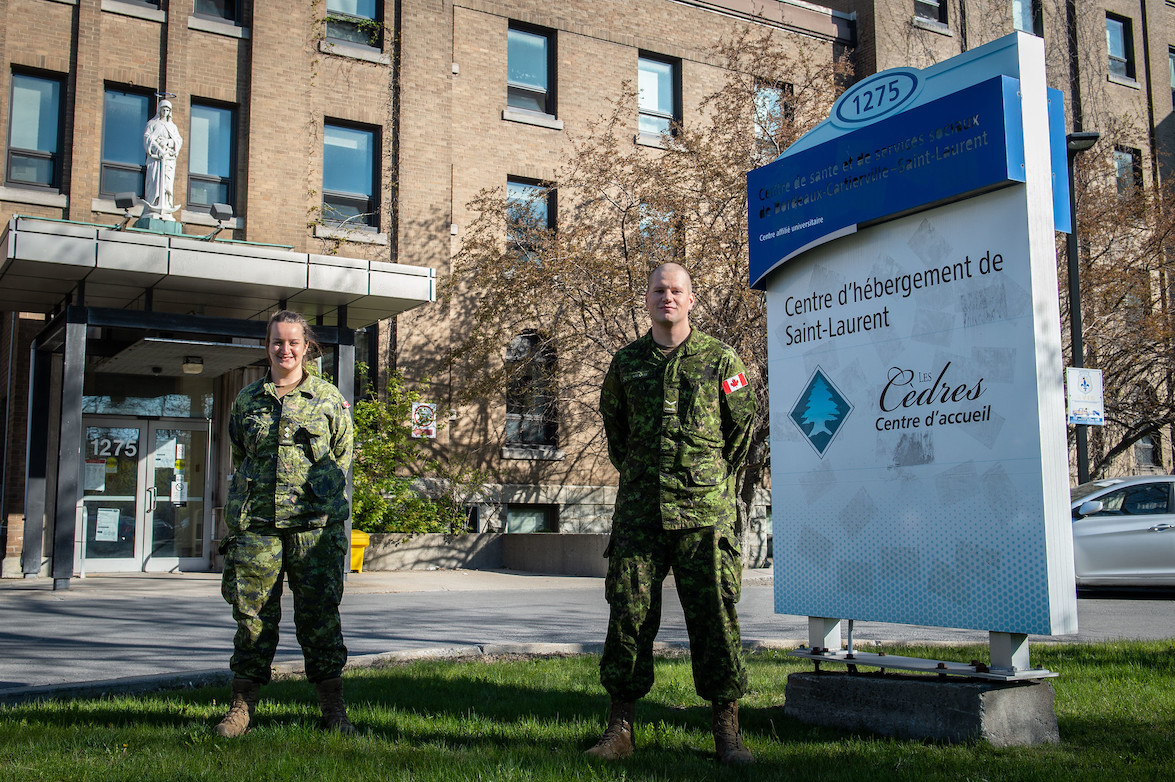 Situation in Quebec
Starting with April 20th, 2020, following the request for assistance, the CAF has sent more than 1,020 personnel committed to support twenty long-term care facilities in Quebec. 
Of this number, over 670 medical and support personnel are contributing inside the facilities, while nearly 350 individuals are providing essential day-to-day support. 

In the coming period, additional CAF members will be deployed to support Quebec's most vulnerable residents. 
Approximately 1,350 CAF members are expected to be dedicated to supporting up to twenty-five facilities when the deployment is complete.
 As requested by Quebec, the Canadian Armed Forces are currently serving in the following long-term care facilities:
Grace Dart Extended Care Centre (Montreal),

CHSLD Vigi Reine-Elizabeth (Montreal),

Résidence Berthiaume-Du Tremblay (Montreal),

CHSLD Vigi Mont-Royal (Ville Mont-Royal),

CHSLD Floralies-De-Lasalle (Lasalle),

Centre d'hébergement de Saint-Laurent (Saint-Laurent),

CHSLD Argyle (Saint-Lambert),

CHSLD Benjamin-Victor-Rousselot (Montreal),

Manoir de Verdun (Montreal),

Centre d'hébergement Yvon-Brunet (Montreal),

CHSLD Hôpital Sainte-Anne (Sainte-Anne-de-Bellevue),

CHSLD Valéo (Saint-Lambert),

CHSLD Villa Val des Arbres (Laval),

CHSLD Auclair

CHSLD de la Rive

CHSLD Eloria-Lepage (Montréal)

Centre d'Hébergement Jean-De-La-Lande (Montréal)

Centre d'Hébergement Saint-Andrew (Montréal)

CHSLD Denis-Benjamin Viger (L'île-Bizard)

Le Bellagio (Longueuil)

 
These teams were generated by the CAF from military bases across the country. 
They previously received instruction on how to integrate with health services staff, trained on the use of medical-grade personal protective equipment, and received a mandatory long-term care facility orientation facilitated by Quebec.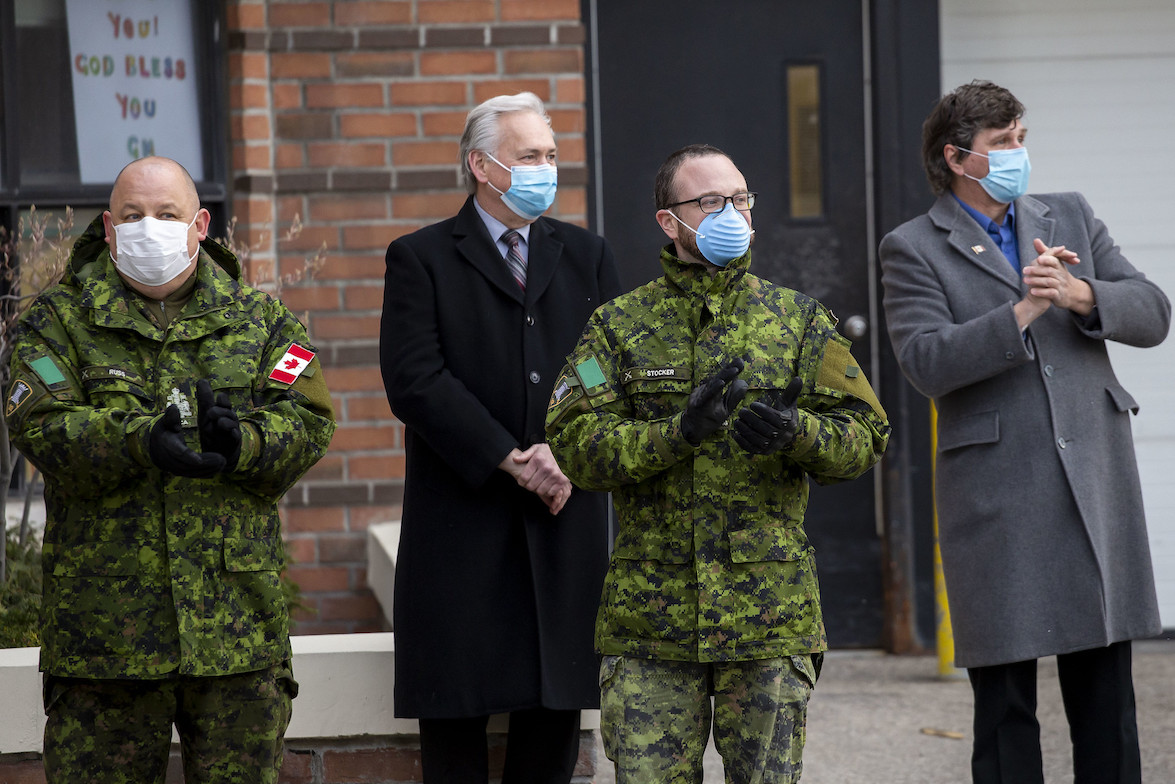 Situation in Ontario
In response to the Request for Assistance from the Province of Ontario, starting with April 28th, 2020, the CAF started to assist in five Long Term Care Facilities across the Greater Toronto Area.
While the exact number of deployed personnel fluctuates, the CAF is employing approximately 265 medical and support personnel.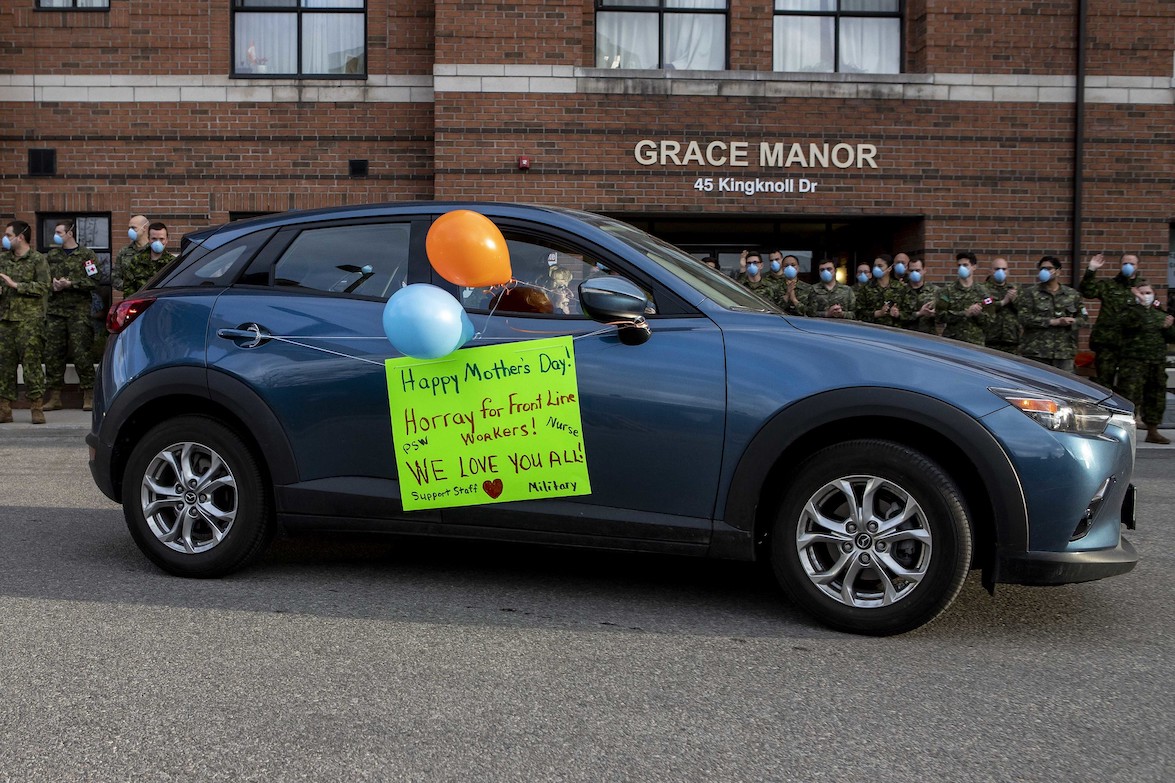 As requested by Ontario, CAF members are now serving in the following long-term care facilities: 
Orchard Villa (Pickering),

Altamont Care Community (Scarborough),

Eatonville (Etobicoke),

Hawthorne Place (North York), and

Holland Christian Homes Grace Manor (Brampton)
The conditions at these LTCFs and others across the country are being monitored by the provinces, and CAF support may be reassessed as required. 
Top Image: Members of 3rd Battalion, Royal 22e Régiment and 55 Field Ambulance help with meals and provide care to residents at the Grace Dart Extended Care Centre in Montreal, Quebec, as part of Operation LASER on May 8, 2020. Photo courtesy of Corporal (Cpl) Genevieve Beaulieu, Imagery Technician, Valcartier Imaging Section.