Can Praxis Runs First Ontario Program
Can Praxis' equine program has successfully broadened its reach into central Canada.
Recently several couples participated in a three-day equine session in rural southern Ontario.
"We would like to thank WindReach Farms for hosting Can Praxis for our Ontario programs.  WindReach Farms is located in the Whitby region and will be hosting our future Ontario programs as well," said Steve Critchly, co-founder, Can Praxis.
This was the first program run at their new Ontario location.
According to Critchly, the Ontario participants found new hope throughout the intense three-day experience They also discovered skills helpful in overcoming the looming challenges they face when PTSD introduces conflict and crisis into their daily lives.
The Can Praxis program uses horses to assist participants to address the ongoing challenges of relationship conflict and crisis brought on by operational stress injuries (OSI), like Post Traumatic Stress Disorder (PTSD).
Horses are used for three reasons, the first because horses are social animals. They thrive and crave social interaction. Secondly, horses have a built-in chain of command. They naturally know who is the leader and who is the follower. Finally, horses have evolved as 'flight' animals. They are hyper-vigilant and very sensitive to their surroundings.
Those attending the Can Praxis equine program do interact with the horses while learning skills in relationship-communication and conflict-resolution, however, there is other work involved.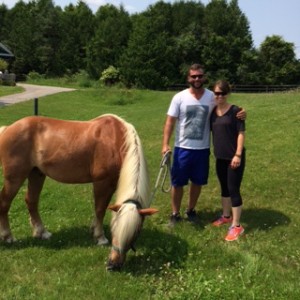 "We are not horse trainers trying to train people. We are people trainers using horses. Fifty per cent of phase one is spent in the classroom, and 50 per cent is spent with the horses," said Critchly.
As participants hone their communication skills in the classroom, they transfer those new behaviours into the arena with the horses. The horses then provide honest and open feedback around the body language, tone of voice, and posture of the participant.
Using the feedback from the horses communication concerns are addressed, helping participants to gain new understanding and take-away skills necessary to improving their relationships with others.
"The Whitby participants now have the means to start recovering from their injuries. The couples are regaining their balance. Now, as equals they will be better able to live as a husband and wife team. Thanks to Wounded Warriors Canada we can make these programs a reality for over 100 couples from all across Canada," said Critchly.
Can Praxis is managed by licensed and certified facilitators and funded by Wounded Warriors Canada. All costs to attend the programs are covered by the organization. Veterans OSI including PTSD and their spouse, significant other, friend or family member are welcome to attend.
It's all in the name. 'Can' signifies Canada's can-do attitude and 'Praxis' means putting theory into practice.
To learn more about Can Praxis and their equine-assisted programs visit their website.
Get More! Receive six issues of Canadian Military Family Magazine in your mail box for only $17.95! Click here to subscribe NOW!