Apply Now For Entrepreneur Bootcamp
Applications are now being accepted for the 2015 Based in Business Seven-Day Bootcamps offered across Canada by The Prince's Charities.
Not for the faint of heart, these intense boot camps teach transitioning Canadian Armed Forces (CAF) members, veterans, and their spouses how to start a business from the ground up.
"In May we'll be offering a French boot camp in Quebec City at the Université Laval. In June we're excited to take the program all the way to the East Coast, to Dalhousie University in Halifax, Nova Scotia," said Astrid-Maria Ciarallo, associate, The Prince's Charities.
Summer boot camps will run at Memorial University in St. John's, Newfoundland in July and at the University of Regina in Saskatchewan in August.
"There are deadlines for applications, so we encourage people to register on-line early," said Ciarallo.
At the seven-day business boot camps, future business owners attend a series of lectures and workshops with university professors on business topics including marketing, social media, finance, ethics and human resources.
There are three components including one-day workshops, seven-day boot camps, and access to mentoring and business financing for former CAF members.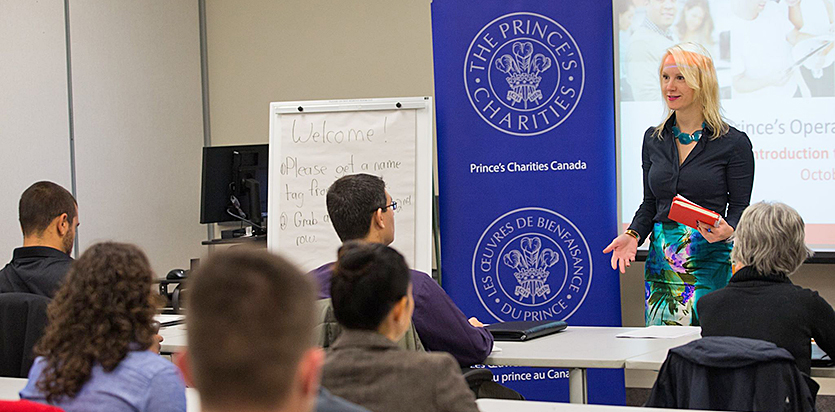 Be Your Own Boss one-day workshops are designed to help transitioning personnel, and their partners learn more about starting their own business. Open to any personnel thinking of transitioning from the military, their families, and recent veterans the workshops take place throughout the year in various locations across Canada.

During the one day workshop attendees learn how their military skills can be transferred to successful business ownership, how to write a viable business plan, how to access no-cost business resources, and gain a more in-depth knowledge of key topics in marketing, market research, social media and accounting.
A seasoned business coach leads the classes. Another integral part of these one-day sessions is that the workshops always have local participation, including business hubs and successful business owners, including former CAF members when available.
Finally, according to Ciarallo if candidates have confirmed their eligibility and have a viable business idea or draft plan, they may apply for financing. Candidates who receive financing from PCC will be matched with a mentor for two years.
For individuals or businesses that do not require or qualify for financing, PCC created a special six-month Military Mentoring Program. Mentors can provide business advice, useful advice on negotiation, people management, conflict resolution and work-life balance.
Guided by The Prince's lifetime of charitable work in Canada, the United Kingdom and around the world, PCC supports and develops initiatives focused on The Prince of Wales's own core interests. These include responsible business, education and young people, the built environment, and global sustainability. The Prince's Operation Entrepreneur is a made-in-Canada program that combines two of His Royal Highness The Prince of Wales' lifelong interests of encouraging entrepreneurship and support for the Canadian Armed Forces.
To register for a Based in Business Bootcamp or to learn more about Be Your Own Boss workshop dates and locations please visit The Prince's Charities website.
Get More! Receive six issues of Canadian Military Family Magazine in your mail box for only $17.95! Click here to subscribe NOW!