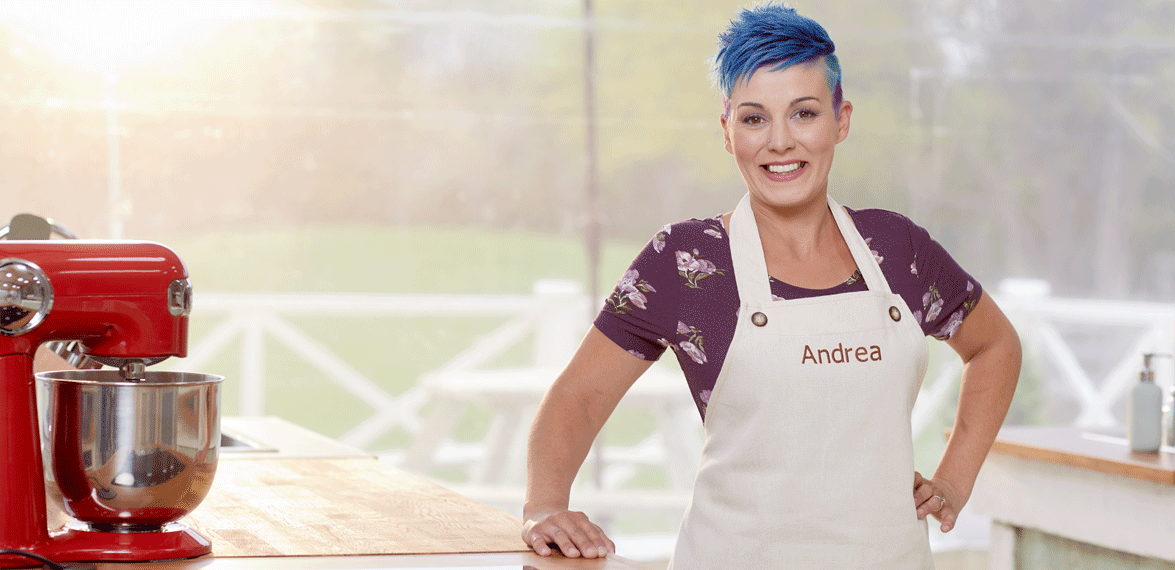 The Canadian Military Family Magazine had a chance to sit down with Great Canadian Baking Show finalist Andrea Nauta, to chat about all things sweet! 
Being a military spouse herself, Andrea has used baking as a way to channel her creativity and handle the challenges of military family life. 
"My husband is a MCpl in Air Force, and he's been in the military now since 2008, so going on almost 12 years. He has always been away [deployed for the CAF]. Before we had kids, it was always a question of 'what can I do to fill my spare time?'. I would always go to baking and bake for my co-workers or my friends," Nauta explained. 
"[Baking] is my wind-down, my relaxing – it has definitely been my outlet throughout stressful times. It's been my zen, my happy place."
When asked about how her passion for baking began, Nauta told us how it all started from a very young age. 
"It came from when I was a kid. I used to watch all the baking shows, and I started making the boxed mixes," said Nauta. "It wasn't until about seven years ago that I thought to make things from scratch, and so I watched a few videos and taught myself." 
As one of ten finalists for The Great Canadian Baking Show, Nauta went on to explain how she decided to audition for the new season. 
"I first auditioned in Ontario, as my husband and I were posted to Petawawa. I submitted my application thinking nothing was going to happen of it, but then I got called and did the interview. Then I got to audition in Toronto, which was a really cool experience – but I didn't make that season," said Nauta. 
"Then we got posted to Comox last summer, and I applied again. I got to go right to Vancouver to audition again. This time, I got the Mermaid Tail Macaron Challenge – all colour, all glam, all pizzaz. My outfit matched the macaron colour. My hair matched the macaron colour – everything matched, so it was really cool!" 
After the audition stage, Nauta received a call during her shift at Starbucks. It was to invite her to film for Season 3 of the show. "I just lost my mind, and it was hard to contain myself. It was pretty stressful leading up to it, but I flew to Toronto to film the season," she explained. 
Although Nauta was eliminated during Bread Week, she thoroughly enjoyed her time on the show. 

"It was an absolutely amazing experience – very stressful, but the coolest part was being around other bakers that I connected with so well – we became like this big group of friends that would talk to each other every day and have the best conversations." 
However, baking under pressure didn't come without challenges. 
"I'm used to being in my kitchen – but being in the tent – there's a timer, there's a new kitchen – you have cameras all over you, you have lots of people in the room with you, there were so many different factors that were overwhelming," Nauta added.
"I went home the third week during 'Bread' week – I knew going into it that this was going to be the most challenging episode, so I kind of set myself up for failure. I don't do bread – I guess it's just not fun enough for me!"
When asked how baking fits into her life after being on the show, Nauta explained. "It's just a passion, a love of mine, I don't do anything for making money." 
"I want to bake just for fun right now, and then we'll see where it takes me later on in life," she laughed.
Be sure to subscribe to receive the Holiday issue!
Andrea shared three scrumptious holiday bakes perfect for any holiday party!  
She shares how to make her famous 
Peanut Butter Chocolate Balls
Peppermint White Chocolate Cheesecake Holiday Swirl Bars

 

Holiday Shortbread Cookies (vegan & gluten free).