With the lazy, hazy days of summer upon us, it is once again time for maize, more commonly known as corn. An excellent source of iron and fibre, corn can be served in more ways than one. Below you will find recipes that are beyond the cob. If you are looking for tasty ways to serve maize this year, try one or more of these tried-and-tested corn recipes.
Mexican Grilled Corn
Ingredients:
8 cobs of corn, husked

 

¾ cup plain yogurt
¾ cup mayonnaise
5 tablespoons lime juice
1 cup Cotija cheese
4 teaspoons chili powder
2 teaspoons cayenne pepper
2 teaspoons ground cumin
2 tablespoons lime zest

 

Pinch of Salt

 
Directions;
1. Preheat your barbeque to high.
2. In a bowl, combine yogurt, mayo, and lime juice. In a separate bowl mix the cheese, chili powder, cayenne, cumin, lime zest, and salt. 
3. Grill the corn on high, turning every 2 minutes until it starts to soften, about 7 to 8 minutes.
4.  Remove the corn from the barbeque and brush with the mayonnaise mixture, then sprinkle with the spices. 
Serve immediately. 
Grilled Corn with Compound Butter
Directions for the corn
1. Pull down the outer layer of the husk. Remove the corn silks, and then pull the husk layer back over the corn. 
2. Place the cleaned corn in a sink of cold water for at least 15 minutes. 
3. While corn is soaking, heat your grill to medium.
4.  Place corn on grill and close the grill.
5. Cook for 15-20 minutes, turning every 5 minutes. Cook until the kernels are soft. 
6. Serve with any of the following compound butters. 
Parmesan-herb butter:
Ingredients;
1/2 cup (1 stick) salted butter, softened
3 1/2 tablespoons grated Parmesan
1 tablespoon minced oregano
1 tablespoon minced chives
2 teaspoons minced thyme
1 teaspoon minced rosemary
1/4 teaspoon cracked black pepper
Cajun Corn butter;
½ cup butter, softened
1/2 teaspoon chili powder
1/4 teaspoon onion powder
1/4 teaspoon ground cumin
1/4 teaspoon dried oregano
1/8 teaspoon paprika
1/8 teaspoon cayenne pepper
Sun-dried tomato butter:
Ingredients;
1/2 cup butter, softened
6 large sun-dried tomatoes, chopped
2 tablespoons Italian parsley, finely chopped
2 tablespoons fresh basil, finely chopped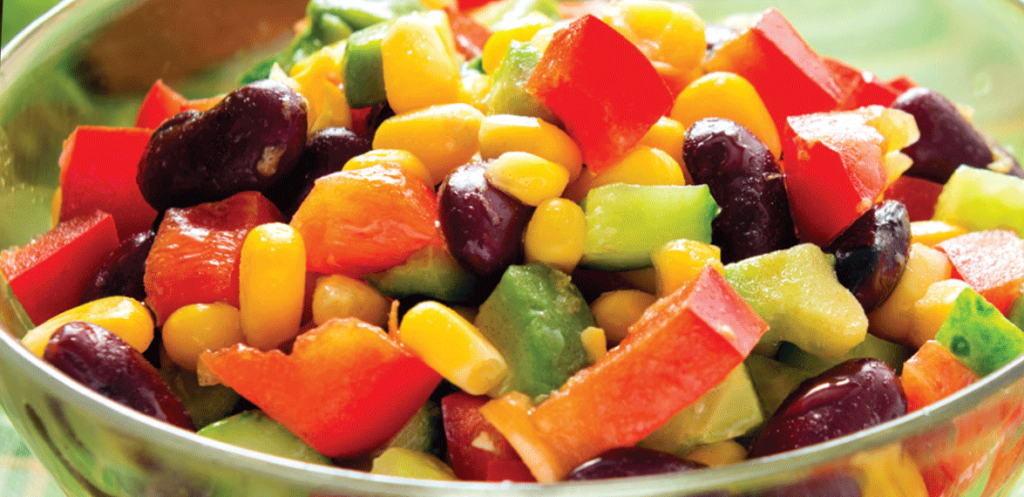 Sweet Corn Succotash
Ingredients:
1 Poblano pepper
3 ears fresh sweet corn, shucked
2 teaspoons vegetable oil
1 red bell pepper, chopped
1 green bell pepper, chopped
2 tablespoons minced fresh garlic
1 cup halved grape tomatoes
2 tablespoons fresh lime juice
3/4 teaspoon salt
1/4 teaspoon freshly ground black pepper
1/4 cup chopped cilantro
Directions:
1.    Husk the corn and remove from the cob.

2.     Removing the seeds, dice the Pablano pepper and set aside. 
3.    Heat the vegetable oil in a skillet over high heat. Once hot, add the onions and bell peppers. 
4.    Sauté for 5 minutes, then add the corn to the skillet. Sauté for another 5 minutes until onions are softened.
5.     Add the chopped Poblano pepper, tomato, and garlic; sauté 2 minutes until garlic is fragrant. 
6.    Turn off the heat. Stir in the cilantro, salt, pepper and lime juice. Serve warm or at room temperature.

Spicy Corn Chowder
Ingredients:
1 cup milk
1 cup vegetable broth
1 large knob butter
1/2 medium onion, diced
1 tablespoon all-purpose flour (or rice flour to make it gluten-free)
1 can corn, rinsed and drained

 

1/2 bell pepper

 

1 chili pepper, finely chopped
1 tsp cumin
2 tsp curry powder
Garnish:
1/2 cup cheddar cheese
Diced chives
Directions:
1. Heat milk and vegetable broth together in a separate pot on a low heat, but do not boil.
2. Dice the onion and let it simmer in the butter in a pot on the stove, then add the flour. Stir well.
3. Dice up the bell pepper and add it and the corn to the pot.
4. Cut the chili pepper into small pieces and add it to the pot.
5. Now add the milk and broth mix to the pot. Stir in the cumin and curry powder.
6. Stir well and let simmer for about 5 minutes on a low heat.
7. Top with cheese and chives.
Serve immediately.