True Patriot Love hosts best of Canada expeditions
To honour Canada's 150th birthday, True Patriot Love chose to mark its annual TPL Scotiabank Expedition with a Best of Canada Series this summer.
This Best of Canada Series took place in three distinct regions, with separate participants at different times throughout the summer.
A total of 49 business leaders and veterans took part in this year's expeditions.
The first expedition took place between June 9 and June 17 and was named after European explorer John Cabot. The Cabot Expedition took place off the coast of Newfoundland and took participants sea kayaking across the open waters of Bay of Exploits to Fogo Island.
The Mackenzie expedition, named after Sir Alexander Mackenzie, took place on the west coast of Canada from July 9 to July 23. Expedition participants recreated the final leg of Sir Mackenzie's journey across North America by hiking over the Coast Mountains of British Columbia, white-water rafting down the Bella Coola River and then paddling ocean canoes to reach his historic inscription: "First crossing of North America by land, July 22, 1793."
The third and final expedition of the summer took place in the north and was named after Canadian explorer George Douglas, who dedicated his life to discovering the remote northern areas of Canada. The Douglas Expedition, which took place between July 29 and Aug. 12, comprised of white water canoeing on the Keele and Mackenzie Rivers.
Along with various corporate Canada leaders and veterans, the Douglas Expedition was also attended by Bronwen Evans, CEO of the True Patriot Love Foundation.
"I think we underestimate the power of being able to completely disconnect," said Evans.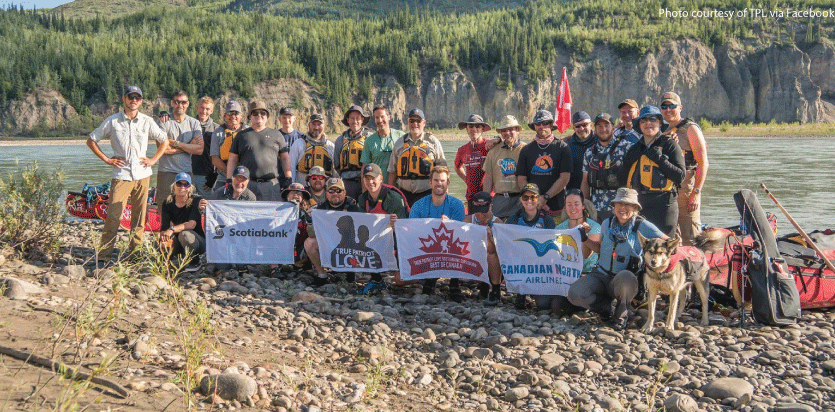 There was no cell service for two weeks for those on the Douglas Expedition Since many of the participants were novice paddlers, the group relied heavily on building trust to get through the challenges the rivers presented, leading them to create profound and long-lasting relationships.
"The team bonded throughout really well. We had some exceptional veterans on that trip who were very generous in terms of trusting us with their stories," commented Evans.

Many of these veterans had various Operational Stress Injuries, a major motivation behind the annual TPL Scotiabank Expeditions.
"For many, it's part of their journey to recovery. This trip, it's an opportunity to heal and really feel the support of Canadians perhaps in a way they haven't in the past," noted Evans.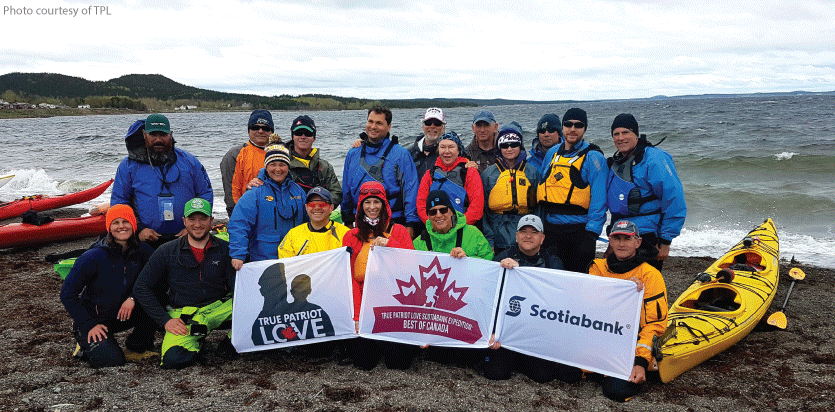 The expeditions also serve as an occasion to bridge the gap between corporate Canada and veterans.
"It's a great opportunity to introduce corporate Canada to our veterans.
"People who live in urban centres and have regular corporate jobs don't encounter veterans very often or encounter people in uniform very often. So, it's to make that introduction for them and see those skills in action," explained Evans.
This introduction can serve as the basis for Corporate Canada seeking out more veterans to hire, says Evans.
TPL's annual expeditions also have an important fundraising aspect. The funds raised from this year's expeditions will go towards Project Trauma Support, a five-day program for military members and veterans with Post Traumatic Stress Disorder (PTSD); Team Rubicon, veterans who take part in disaster relief; and the Canadian Institute for Military and Veteran Health Research.