Jody Mitic hits the road to promote Everyday Heroes
Stories of war, peace, domestic operations, and overseas deployments all come together as one moving and inspirational piece of work in the newly released book Everyday Heroes: Inspirational Stories from the Men and Women in the Canadian Armed Forces.
Released on Oct. 24, Everyday Heroes is a collection of 21 first-person accounts from Canadian military members of all walks of life.
"I was in tears on some of these stories. I was getting goosebumps with pride reading what these people accomplished. Often, to them, it's their everyday job, they don't want or expect recognition," said CAF veteran, MCpl. (ret'd) Jody Mitic.
After the highly successful publication of his book "Unflinching: The Making of a Canadian Sniper," Mitic was approached by the publishing company Simon & Schuster in 2016 with the idea for Everyday Heroes.
"I was so happy that they were willing to go out on a limb and try to tell Canadian people about the Canadian Armed Forces and what these volunteers really do for their country," recalled Mitic.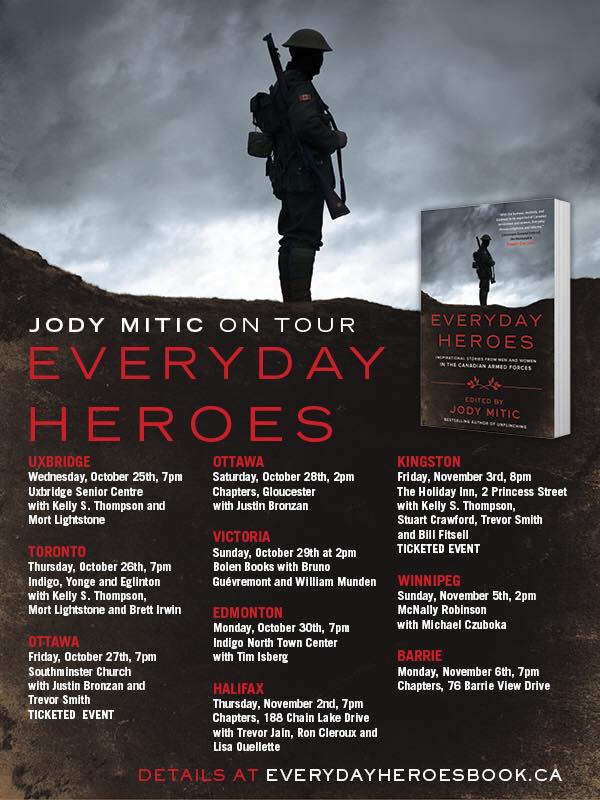 The book goes beyond combat operations to give the average Canadian an idea of the breadth of the work CAF members accomplish.
"The average Canadian Armed Forces member is a Canadian. They're in all shapes, sizes, colours, sexes, and orientations but the one thing they all have in common is that they volunteered to serve their country," explained Mitic.
Stories in the book include tales about basic training, a soldier's story of missing in action over the skies of Europe, personal accounts after domestic terror attacks, disaster relief missions in Haiti and peacekeeping missions in Bosnia and Somalia.
"Two of my favourite stories are about a leading seamen bomb disposal technician who disarmed a suicide bomber vest while the suicide bomber was still wearing it and changed his mind. Two [The second], a young captain, medical officer, who, when a plane went down on the east coast, was thrown in the position of being the number one medical officer on the ground and him and his team had to improvise being the coroner team to help identify the bodies," shared Mitic.

Although all of these stories have now come together, Mitic recalls it took some time before the stories even started trickling in.
"Soldiers, sailors, air personnel, are a modest bunch and I'm honoured and blessed to be trusted enough with their stories," state Mitic.
Mitic feels that, although public support for the CAF has visibly increased in recent years, Everyday Heroes will help to increase awareness across Canada about who the CAF really is.
"These [CAF members] are our citizens, they are our people that are willing to go out with a Canadian flag on their shoulder in every corner of the world and represent Canadian values, which are recognized the world over for being some of the best values in the world," said Mitic.
Everyday Heroes is now available at most major retailers including Chapters Indigo, Amazon, Walmart, and a number of local retailers.
Click here to find it at Chapters
Click here to find it on Amazon.ca