It is not too late to get your tickets for Horses for Heroes
An all-star country music lineup is set to perform at Horses for Heroes, a benefit concert for Can Praxis sponsored by the Alberta-based all-girl country band Nice Horse.
"When we first discovered Can Praxis, we were absolutely stunned by the amazing work they do.
"After learning more about the program, we really wanted to find a way to get involved," said Brandi Sidoryk, bassist for Nice Horse and Canadian Armed Forces (CAF) member.
Special guests performances for Oct. 14 include 2017 CCMA Award nominee Dan Davidson, CCMA winner and three-time JUNO nominee Aaron Pritchett, and the HMCS Tecumseh Military Band.
Based in Rocky Mountain House, AB, Can Praxis uses equine therapy to help military veterans and first responders combat Post Traumatic Stress Disorder (PTSD).
"We were just so impressed by how they use horses to help veterans and their families through the stresses of PTSD.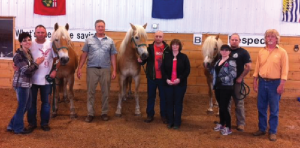 "We felt very personally connected to the organization in so many ways, and we are very proud to partner with Can Praxis and support the program however we can," said Krista Wodelet, drummer for Nice Horse.
Horses for Heroes will take place at the Webber Academy Performing Arts Centre.
For more information about Horses for Heroes click here
Click here for more information about Can Praxis.