Get festive this season as we celebrate during COVID-19
With Christmas around the corner, you may be searching for ways to get into the holiday spirit this year. We have collected a list of festive and fun events to enjoy online, with your friends and family, or on your own as the holidays approach.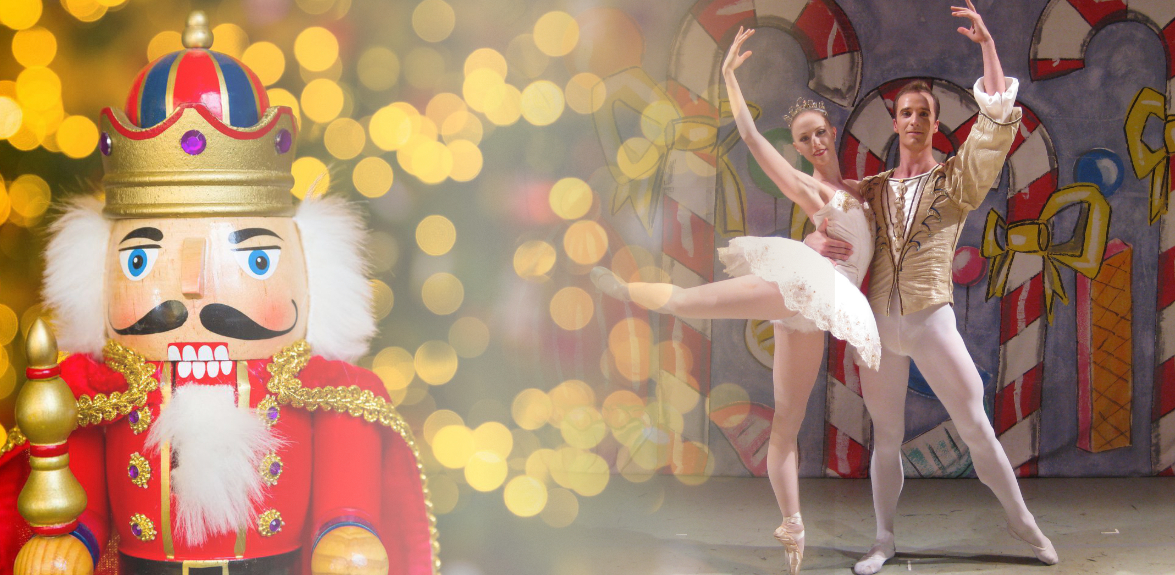 The Nutcracker – A Free Virtual Event
Presented by the New Paltz Ballet Theatre. Don't miss out on the performance filmed at the Bardavon in 2019.
This is the New Paltz Ballet Theatre's 22nd season presenting this classic holiday event featuring dancers from the New York City Ballet. Peter and Lisa Naumann, co-directors of the NPBT, have brought many fine regional artists together to create this beautiful production. 
Dancers, designers, and technicians have all contributed to make this Nutcracker a visual treat. Follow Marie as she dreams of a fierce battle between giant mice and toy soldiers, followed by a magical journey through the Land of Snow to the Kingdom of Sweets. This show is a great way to get into the holiday spirit while staying indoors.
Find updates and information here.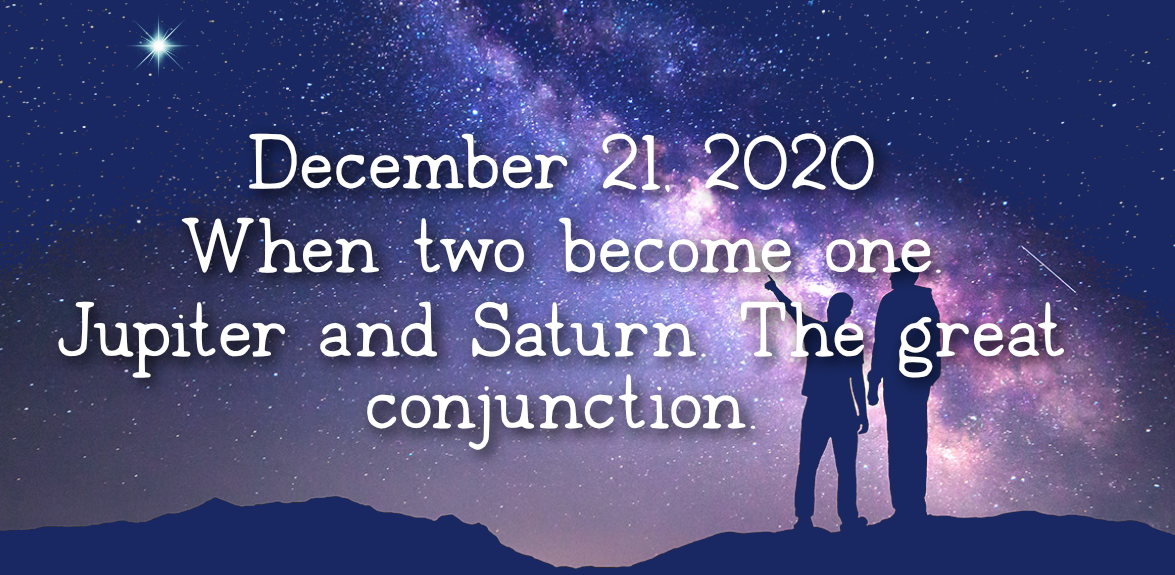 Jupiter and Saturn Will Align to Create the First "Christmas Star" in Nearly 800 Years
 Over months and years, the planets revolve around the sun at different speeds. On occasion, two planets will optically come close to each other in the sky, which is called a conjunction, says Gary Boyle, The Backyard Astronomer. 
"Brilliant Jupiter (887 million km away) and Saturn (1.6 billion km away) are now visible low in the southwestern sky, will appear extremely close on the night of December 21, which also happens to be the winter solstice."
He explained in a press release that a typical Jupiter-Saturn conjunction occurs every 20 years or so, but this year, they will appear as a double planet with a separation equal to 1/5 the width of the full moon. This will give telescope owners a rare opportunity to see these gas giants and their moons in the same field of view. This extreme close approach plays out every 397 years. 
"Many are associating this to the Star of the Magi, which was the close conjunction of the two brightest planets, namely Venus and Jupiter. On the night of June 17, 2 BC, they appeared to touch, which was deemed a sign. This is the closest astronomical event at the time as Halley's Comet was seen ten years prior in 12 BC as recorded by the Chinese," Boyle informed.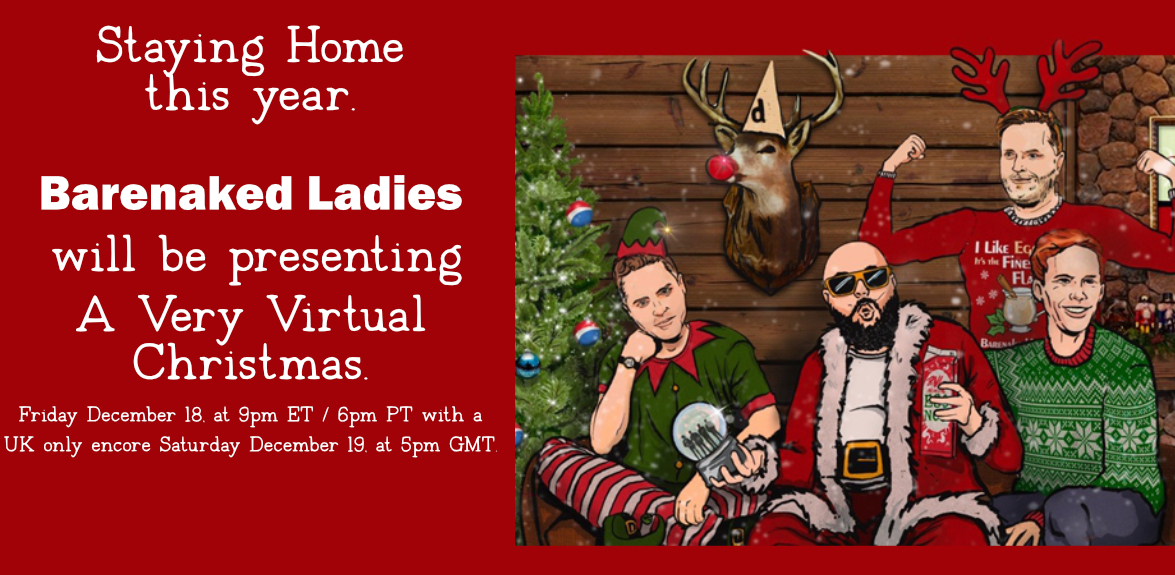 BARENAKED LADIES PRESENTS: A Very Virtual Christmas
On Friday, Dec. 18, the Barenaked Ladies are hosting a virtual event for all to watch. Shows start at 9 p.m. ET / 6 p.m. PT with a UK-only encore Saturday, Dec. 19, at 5 p.m. GMT. Paying homage to some of the fan favourite variety shows from holidays past, this event will feature sketch comedy written by the band, a few special surprises, and performances including holiday fan favourites from the popular Barenaked For The Holidays album. 
Tickets and seasonal merch bundles are available from Session: Live Music Streaming at the links below. Cost: US$15 to watch.
WORLDWIDE: https://sessionslive.com/bnl
 UK: https://sessionslive.com/bnluk

CP Holiday Train at Home Virtual Concert
The 22nd annual #CPHolidayTrain is back. And this year, it was virtual live on Facebook. Although the train looked a bit different this year, CP kept the spirit of Christmas alive with a virtual concert via Facebook Live on December 12 at 6 p.m. MST to raise money for food banks across North America. 
Celebrate the holidays and listen to music, including performances by Serena Ryder, The Trews, JoJo Mason, Logan Staats, and Kelly Prescott. Visit here to watch the concert as it was recorded. 

CP is encouraging people to donate to local food banks in this time of need. To find the local food bank in Canada visit here.

HENRI MATISSE ONLINE: Painting with Scissors
Francis Stanfield and London Drawing Group are hosting an online art class where tutor Frances Stanfield will guide you through Matisse's playful approach to art-making.
The event will be held online, and you can book your tickets here.
The event runs from 9 a.m. EST to 10 a.m. EST on Saturday, December 19th. If you cannot make the live event, they will send a recording out to everyone that books shortly after the live session so you can watch it once within three days, any time of day. This class is suitable for all levels. 
Henri Matisse is best known for his delightful fluid drawing style and exquisite use of colour, particularly in his simplistic cut-out works. 
Participants will be engaged in mimicking Matisse's expressive and restlessly experimental way of working to inspire them in their own creative endeavours.
More info at here.

An Irish Christmas Concert
On Wednesday, December 16 at 8 p.m. EST to 10 p.m. EST, join the Association of Irish and Celtic Festivals (AICF) for their inaugural Irish Christmas Concert, with generous support from the Irish Embassy and technical support from O'Neill Events and Marketing.
With performances by:
Aoife Scott

 Dervish

 High Kings

 Screaming Orphans

 Shane Hennessy

 Socks in the Frying Pan

 We Banjo 3
To view the concert visit here.

A Virtual Tour of The Canadian Rockies
Tour Director and travel writer Patrick Twomey will be taking viewers on a journey on Tuesday, December 29th, where they will explore the wonders and beauty of Canada's oldest National Parks. 
Banff & Lake Louise, Jasper, Yoho, Kootenay, and Waterton are considered among the most beautiful places on earth. This wild and protected landscape is arguably home to modern tourism. In the Rockies, they have snow for at least seven months a year, and when the ice melts in spring, the lakes reveal a deep turquoise that has attracted awe-inspired explorers since trains arrived in the 1880s.
During this virtual presentation, viewers will learn about the first inhabitants of the region, European settlement, how the mountains formed and living with wildlife.
Visit here for more information. 

NORAD Track Santa
NORAD, the North American Aerospace Defense Command, has once again launched its website to track Santa around the world.
Launched on December 3, Norad Track Santa has a Santa tracker countdown clock, games, and music for all to enjoy. Tune in on Christmas Eve, and watch as NORAD tracks Santa's whereabouts via Santa cams that will be live. Trackers can also call NORAD to check in and see where Santa and his reindeer are at 877-HI-NORAD.
Follow the festivities here.