Trending
Edmonton Salute Committee sponsoring tickets for military families 
The Edmonton Salute Committee once again sponsored tickets for Citadel Theater's, A Christmas Carol. 
Military families who were interested in seeing the show entered a draw for tickets for the November 30th show at the Edmonton Garrison MFRC.  
Kaetlyn Corbould, Military and Protocol Liaison for the City of Edmonton says the committee's goal and ongoing mission is to recognize the value of contributions made by military personnel and their families who reside within the city and surrounding areas.  
"The committee was created in 1997 when the then Mayor wanted the military to feel welcome as they moved from Calgary to Edmonton. Initially an administrative committee in 2007 it became a committee of Council along with which came a modest budget," said Corbould.  
The community impact of having the committee has increased awareness of the unique lifestyle. 
Corbould says this allows for greater funding opportunities for the MFRC which translated into better and increased programming and services. 
A Christmas Carol is just one of the many events they sponsor for military families in the Edmonton area.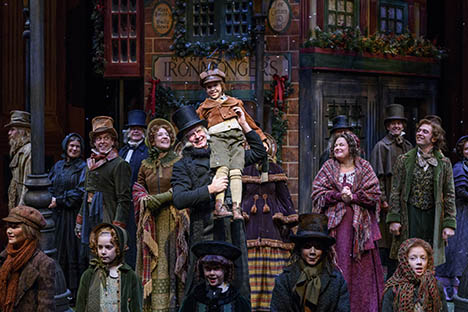 Celebrating its 19th year staging the same adaptation of A Christmas Carol, artistic director of Citadel Theatre, Daryl Cloran says the show has a positive impact on both the audience and the Edmonton food bank, which they donate to every year.
"Over the 19 years, we have produced A Christmas Carol we have raised over one million dollars." Just the spirit of community and generosity that's in the play, also part of our connection with the City of Edmonton, which is why the play has been such as success here," said Cloran.
This year, the 39-person cast is exclusively from Edmonton. Although this is the last year of this particular adaptation of A Christmas Carol, Cloran says next year will be new and exciting, and larger than the current show. 
The show runs from November 30 through December 23. Click here to purchase tickets.