Amazing Race military family style
On Sept. 19, 30 teams will race the streets of Hamilton, gathering clues and performing various tasks as part of the Amazing Race Hamilton in support of the London MFRC.
"It's just to support the military families in the area. There are lots of fabulous prizes. It's a fun day for family and friends to become a team," explained Donna Pickering of the London MFRC.
The scavenger hunt will begin with an opening ceremony at 10:30 a.m. and with their first clue in hand, the teams will be off to take on the city of Hamilton. The two-person teams will be staggered and on ten different routes will arrive at each location to perform a simple task such as answering a trivial pursuit question. Contestants will take on the scavenger hunt by car. Each leg has a military connection.
"It's not competitive it's a fun day for the participants, and we're stressing that," said Pickering.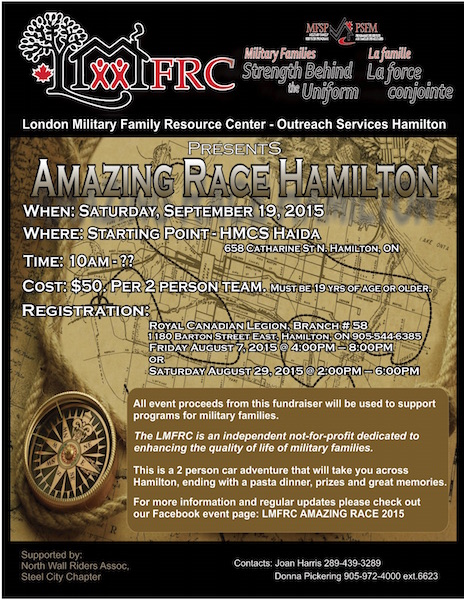 The race will round-off with all contestants gathering at the Royal Canadian Legion for a dinner party and karaoke. First, second and third place teams will be recognized, and all other teams will be given a chance to draw prizes.
The money raised from the race will be funnelled back into the MFRC to support various projects including the Children's Christmas Dinner and future workshops like portfolio development.
Participants don't need to worry about parking tickets while they race to the next activity because the MFRC contacted Hamilton Police to inform them of the race. Teams will be given parking decals to display.

Doug and Carol French are one of the teams participating in the Amazing Race to support the MFRC.
"If you don't continue to support the organization it may not be there when you need it," said French.
French believed the idea of a car race to be unique to the Hamilton area.
"I think this is a great idea for a fundraiser.  It's something different for the area. I don't think it's something any of the other organizations have ever thought to do. They do walk-a-thons, bike-a-thons, but this is definitely different, and I think people are going to learn a lot about the area that they didn't know," noted French.
Registration for Amazing Race Hamilton is open until Sep 18. Registration is $50 per person, and participants must be 19 years or older. Proof of insurance will be asked for on the day of the event. To register, you can go to the LMFRC Amazing Race Hamilton Facebook page.
Get More! Receive six issues of Canadian Military Family Magazine in your mail box for only $17.95! Click here to subscribe NOW!