Afghani wounded warriors to compete in Toronto at 2017 Invictus Games Canada
Michael Burns, CEO of the Invictus Games Toronto 2017, travelled to Afghanistan this week to meet with Afghani officials and potential competitors for the upcoming Invictus Games.
"I was very impressed with the preparations for Team Afghanistan. These wounded warriors are fierce competitors – they are going to be a force to be reckoned with at the Games," said Michael Burns, CEO of the Invictus Games Toronto 2017, following his three-day visit to Kabul.
During his first visit to the country, Burns witnessed the progress to ready the Afghan Team and met with the President of Afghanistan Ashraf Ghani, Chief Executive Abdullah Abdullah, and Gen. Jonathan Nicholson, the commander of the NATO Resolute Support mission.
"The Afghan National Defense and Security Forces are our valuable friends and partners," said General John Nicholson. "The fact that Afghanistan is once again fielding a team at the Invictus Games for wounded warriors, reminds us of the sacrifice and dedication by the ANDSF. I wish all competitors at the Games the very best and thank them for their service."
He also met with the Canadian Ambassador to Afghanistan Kenneth Neufeld.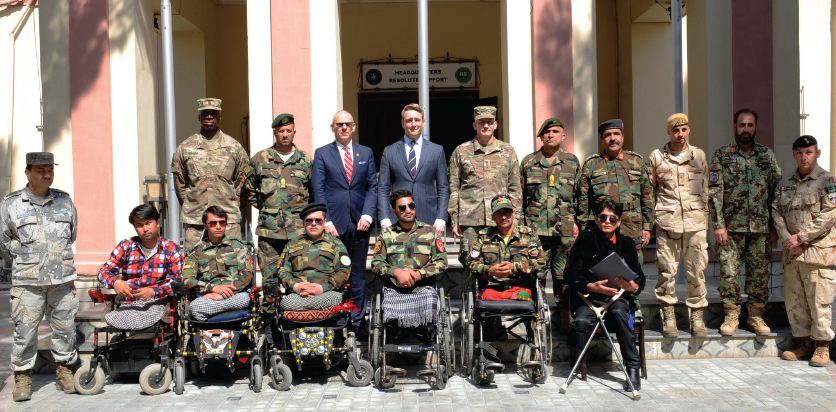 "The dedication and sacrifice of Canadian, Afghan, and International forces in service of a brighter future for Afghanistan lives on in the spirit of the Invictus Games," said Ambassador Neufeld. "These warriors' courage and strength, both during and after their service, is an inspiration to us all. We look forward to recognizing each of these servicemen and women this summer – In Kabul, Toronto, and around the world!"
Additionally, Burns met with Afghan Minister of Defence Abdullah Habibi, the Afghan Chief of the Army Qadam Shah, and several ambassadors based in Kabul from countries participating in the Games.
Afghanistan is expected to send a team of at least seven injured military service members to the Toronto Invictus Games.
"Afghanistan is a country that is indelibly woven into the national fabric of Canadian military history. Meeting Afghan soldiers who have become severely injured in battle, and learning more about the available rehabilitation services, was a powerful reminder of the strength of the Afghan people who have sacrificed so much to make Afghanistan a safer and more secure nation. There is a tremendous need, here and around the world, for programs like the Invictus Games that support the recovery of ill and injured service members," stated Burns.