RCAF Participating in Multinational live-fly Exercise in the United Kingdom
The Royal Canadian Air Force (RCAF) is currently in the United Kingdom for its first-ever participation in the Royal Air Force-hosted multinational live-fly Exercise COBRA WARRIOR 23-2.
The exercise, which is the largest exercise organized biannually by the Royal Air Force, is taking place at the Royal Air Force Station Waddington and the Royal Air Force Station Lossiemouth in the UK from Sept. 4 to 22, 2023.
"Ensuring the readiness of the Royal Canadian Air Force to counter air threats is one of our most important responsibilities. Exercises like COBRA WARRIOR provide highly valuable training not only for our members, but also those of our allies and partners, to practice working together in a wide variety of tactical combat scenarios that they could face on real world operations," said LGen. Eric Kenny, Commander of the RCAF.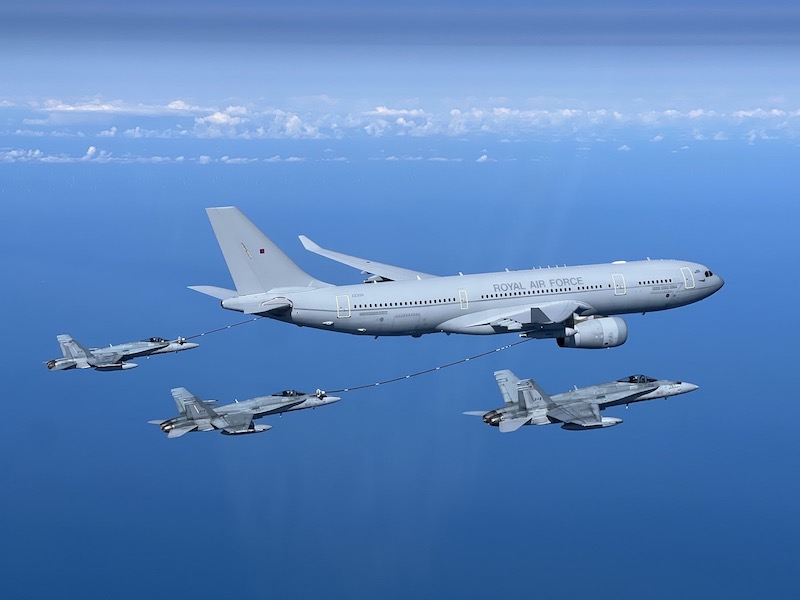 The RCAF's participation
The RCAF will participate in the exercise by supplying seven CF-188 Hornets from 433 Tactical Fighter Squadron, one CC-150T Polaris from 437 Transport Squadron, and more than 140 RCAF personnel noted in the press release.
The RCAF will also be contributing four Air battle managers. They will provide Command and Control capabilities to enable simulated air combat.
The Canadian Armed Forces (CAF) hopes that participation in the exercise will increase the RCAF's ability to operate in "high intensity, large force, tactical air war-fighting operations."
.@RCAF_ARC🇨🇦, @ItalianAirForce🇮🇹 and @NATOAWACS have arrived at @RAFWaddington for Exercise Cobra Warrior 23-2.

The @usairforce🇺🇸and @BritishArmy are also working alongside the RAF over the next two weeks as part of the largest military exercise in Europe. pic.twitter.com/D5zNlUZED3

— Royal Air Force (@RoyalAirForce) September 6, 2023
According to the press release, it will also give the RCAF the opportunity to work alongside allies and partners. Other nations taking part include Australia, the United Kingdom, the United States and Italy.
"Recognizing the current world security environment, this training is of particular importance for the Royal Canadian Air Force as we strive to safeguard North American airspace. Exercise COBRA WARRIOR will strengthen the interoperability between the participants and build on strong relationships with participating allied and partner-nation Air Forces," said MGen. Iain Huddleston, Commander 1 Canadian Air Division.