HMCS Regina deploys to the Asia Pacific and the Middle East
Her Majesty's Canadian Ship (HMCS) Regina, along with Naval Replenishment Unit (NRU), Asterix, departed their homeport of Esquimalt today. HMCS Regina is being deployed in the Asia Pacific and the Middle East Regions. 
"The crew of HMCS Regina has been preparing for this deployment for several months, and I have every confidence in their capabilities as they set out to operate with our international partners. HMCS Regina will carry on the great work of the ships which have previously deployed and will continue to demonstrate our commitment to maintaining a maritime presence in these highly strategic regions," said Rear-Admiral Craig Baines, Commander Maritime Component Command.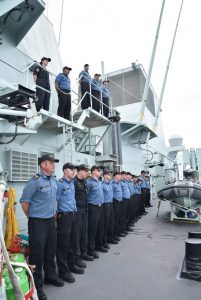 The ship will start its deployment with Operation PROJECTION. The Department of National Defence states that the ship will be "working with partner navies and conducting key leader engagements to enhance military cooperation and partnerships in support of Canada's diplomatic efforts in the Asia-Pacific region."
In March, HMCS Regina will move on to support Operation ARTEMIS, supporting Combined Task Force 150 (CTF 150), which is Canadian led. CTF 150 is a coalition of 33 partner nations, all of whom are working to promote security and stability in the international waters in the Middle East region. 
National Defence states, "CTF 150 works to deter and deny terrorist organizations from using the high seas for smuggling weapons, illicit cargo, and narcotics while ensuring the safe passage of merchant ships in some of the busiest shipping lanes in the world."
After that mission, HMCS Regina will rejoin Operation PROJECTION for the remainder of its deployment. HMCS Regina replaces HMCS Calgary, and it is the third deployment to the Asia-Pacific region under Operation PROJECTION. It is also the third time that the new CH-148 Cyclone helicopters have been deployed, and the first time they have been deployed with the Pacific Fleet.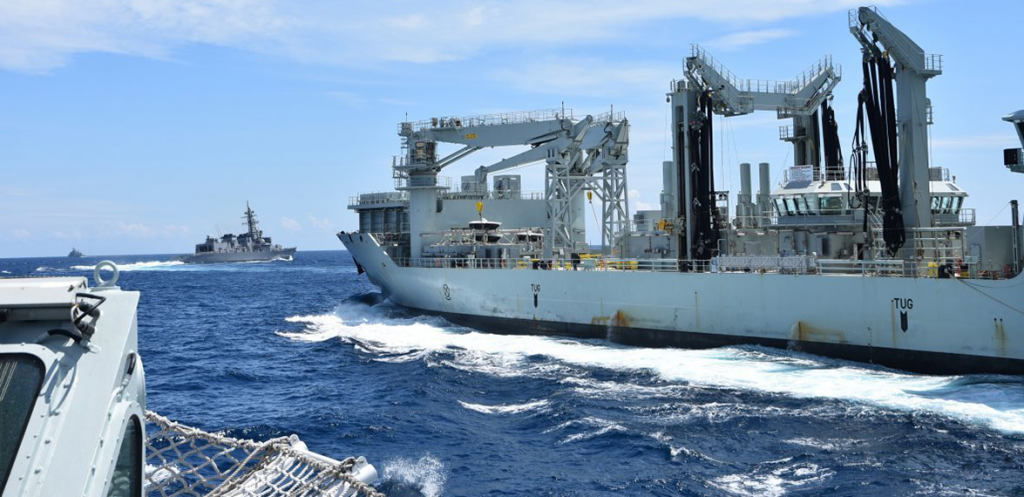 "HMCS Regina is looking forward to demonstrating our effectiveness at sea on Operation PROJECTION and Operation ARTEMIS. I am very proud of all the hard work the ship's company has put into preparing for our mission.  We also know that our success cannot be achieved without the support of our families, who have also been busy preparing for our departure.  I am very thankful for their efforts as we deploy to support Canada's presence in these regions," said Commander Jacob French, Commanding Officer HMCS Regina.
The HMCS Regina is a Halifax-class frigate, which is one of the most advanced warship designs in the world due to their extensive anti-submarine warfare and anti-surface warfare weapons and sensors, substantial anti-air warfare defences, and state-of-the-art damage control and machinery control systems.
The NRU Asterix, is an interim solution until the Royal Canadian Navy receive its two new Protecteur-class Joint Support Ships. The Asterix will provide essential at-sea replenishment support.