Crew members from Her Majesty's Canadian Ship Charlottetown bring Christmas cheer to children at Greek orphanage
During their six-month deployment on Operation REASSURANCE, more than 30 members of Her Majesty's Canadian Ship (HMCS) Charlottetown had the chance to make a difference in the lives of children at a Greek orphanage.
The visit was just before Christmas time, giving both the crew and the children the chance to experience the true spirit of the holiday season.
The initiative was led by the ship's Padre, Lt. (Navy) Haupi Tombing, who wanted to do something special for Christmas and began making inquiries.
"So, we found the orphanage and presented the idea to the Command, and next thing we had people filling up the sign-up sheet," said Tombing.
The orphanage chosen was part of an organization called Young People of Chania. The organization runs orphanages in Chania, Greece for boys and girls separately. The particular orphanage chosen was an-boys orphanage called Branch of Protecting Children.
Tombing says, although it had been a long deployment at that point, the sailors were more than willing to take part.
"At that point in the deployment, sailors were tired, but they were more than happy to give to the community. So, HMCS Charlottetown brought Christmas to Chania, Greece, in true Canadian spirit: Giving!" noted Tombing.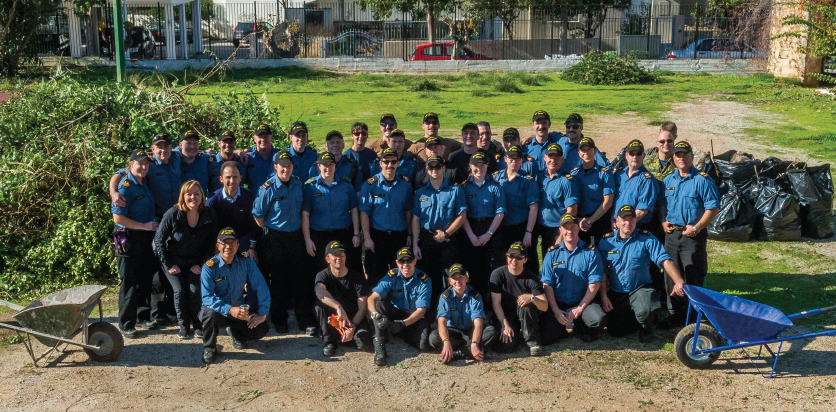 The busload of sailors visited the orphanage on Dec. 10 and helped to make repairs around the orphanage including painting, fixing up the boys' bikes, cleaning the yard, repainting the basketball net support structures and guard rails around the stairs, and doing some landscaping and gardening.

"That chance is for us and our crew, Charlottetown crew, to be able to say 'okay we are going to give of ourselves and bring the Christmas spirit to the orphanage in Greece.' So, it meant a lot," emphasized Tombing.
Though the children, understandably so says Tombing, were shy at first, they soon became excited about the visit as well.
"Once they knew what we were doing, they start joining us. They started giving us a hand," recalled Tombing.
Later, the children received gifts from a surprise visit from Santa.
Tombing says ultimately the crew received much more than they give, especially considering they were away from their families during the holiday season.
"It's a good thing because deep down in the heart of these men and women in uniform there is a spirit that is wanting to do something for the community, and they are doing their sailing on behalf of Canada, but especially at Christmas time, it was a morale lifter. It was a really good boost to the morale, and it also gave us a real sense of connection with Christmas time," said Tombing.