Ceremonial roll out of the last Standard Military Pattern vehicle
Earlier today, on behalf of Defence Minister, Brigadier-General Gervais Carpentier, Commander of 2 Division, attended a ceremony highlighting the roll-out of the last Standard Military Pattern vehicle. The ceremony marked a significant milestone for the Canadian Armed Forces, as this was the final vehicle needed to replace a fleet of medium logistics vehicles that are over 30 years old.
Replacing existing fleet 
The existing fleet of logistics vehicles were used to help Canadians during the 2019 floods, and 12 are currently deployed as part of Operation REASSURANCE in Latvia. 
"Today, we mark the roll-out of the 1587th Standard Military Pattern truck and more than 450 of them will be based here, in Quebec," said Carpentier. "Our new medium support vehicles are versatile and adaptable allowing support of operations for years to come. We will proudly continue to help Canadians during emergency situations and we will continue to distinguish ourselves during expeditionary operations internationally."
Logistics vehicles are developed to provide the Forces with agility, whether at home or abroad. They are designed to be able to travel in hundreds to help Canadian allies and move equipment. They are essential to almost all military operations.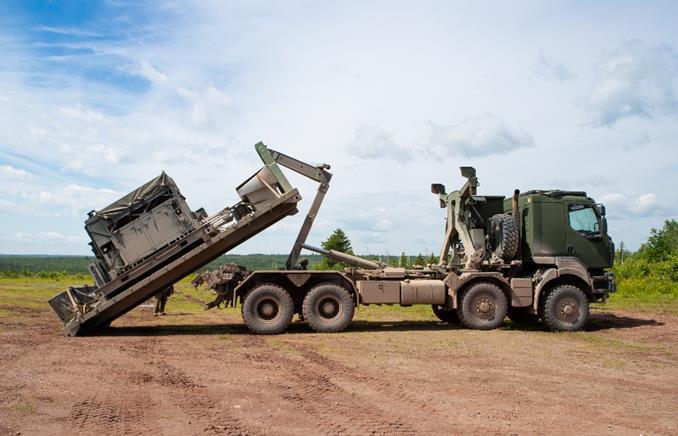 Increase Forces capacity
The new vehicles are thought to significantly increase the Forces' capacity to transport equipment, personnel, and supplies.
The major production project also delivered 322 trailers, 161 armoured protection systems, 1,300 militarized trucks in six variants for the Reserves, and 995 shelters. 

The portable shelters have already been used by the Canadian Armed Forces on several missions. The $1.5 billion cost of this project has resulted in economic benefits in Saskatchewan, Ontario, Quebec, and New Brunswick.
Strong, Secure, Engaged
"Strong, Secure, Engaged is delivering equipment that supports more agile, mobile, and effective Regular and Reserve Forces," said Minister of National Defence, Harjit S. Sajjan. "Today, we highlight the last medium support vehicle rolling off the production line. These vehicles have already proven a great improvement to the Canadian Armed Forces' ground transportation capability and flexibility at home during the flooding of 2019 and now abroad in support of Op REASSURANCE."
"This project is another example of our commitment to providing the members of our Forces with what they need to work effectively," he added.