1 CER meets for reunion 25 years after Gulf War
In April 1991, some three hundred members of 1 Combat Engineer Regiment (1 CER) deployed post-Gulf War, tasked with the hazardous job of cleaning up explosive remnants in extremely warm temperatures.
Now, 25 years later, 1 CER is coming together and putting on a reunion to commemorate the success of the people of this mission.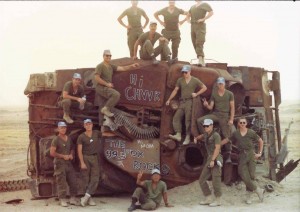 1 CER falls within 1 Canadian Mechanized Brigade Group (1 CMBG) of Western Canada, based out of Edmonton Garrison, and ensures that troops can "live, move and fight on the battlefield." They also conduct maintenance and construction tasks.
After the Golf War, the group was deployed on Operation RECORD for explosive ordnance disposal, route clearance, and maintenance; construction and refurbishment of observation posts, headquarters and logistics facilities; and other engineering projects in support of the United Nations Iraq-Kuwait Observation Mission, established after the Gulf War.
"What's important, also, to recognize is that at that time, 25 years ago, actually marked the start of an extremely high tempo of operations for the Canadian Army and the Combat Engineers Regiment. From that time on, starting in the early 1990s, right up to today the regiment has been almost constantly on deployed operations and conducting domestic operations in support of Canadians here at home," observed LCol. Ryan M.M. Smith, Commanding Officer 1 CER.
The idea for a reunion was put forward to recognize the 25th anniversary of Operation RECORD.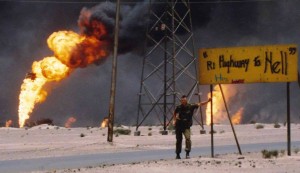 "We decided to take advantage of this opportunity celebrate this anniversary and at the same time it gave us something to look forward to before the summer starts and something to celebrate," said Smith.
The reunion is a two-day event starting on Friday, June 24. The day will start off with a commemorative parade at CFB Edmonton followed by a reception and meet and greet.

Day two, Saturday, June 25, is primarily focused on the Logger Sports Competition. A staple, annual sporting event of 1 CER, Smith says the Logger Sports Competition gives the regiment an opportunity "to practice some of our more traditional pioneering skills."
With the help of civilian experts, several competitions will be held including an axe throwing and chainsaw competition.
The remainder of the day will consist of equipment and vehicle displays and an open house.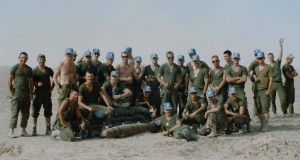 "The intent, of course, is to show the former members what the regiment is like now and the kind of equipment we have now so they can compare and contrast to what they had 25 years ago," explained Smith.
The reunion will round off with a dinner and dance Saturday night.
"This is an opportunity for 1 CER to celebrate and commemorate a significant event in our regimental history and the members of the regiment are looking forward to meeting and congratulating these members and celebrating their success," said Smith.