Trending
Homes for Heroes Foundation is laying the groundwork for its next village for veterans in Edmonton
With Calgary's first tiny homes village expected to open this summer, the Homes for Heroes Foundation is laying the groundwork for its next village for veterans in Edmonton, AB. 
Just this week, the Foundation received approval from Edmonton's City Council for a lease rate of $1 a year for 20 years for land in the Evansdale community of Edmonton. 
With the lease approval in hand, Homes for Heroes will now work on community engagement, rezoning and ultimately constructing the tiny homes project for homeless veterans. With a short turn around of the homes, it is expected Edmonton could open its first tiny home village sometime next year. 
The Edmonton village will include 15-20 barrack style homes that are only 200 to 300 square feet, similar to the homes currently being built in Calgary. These "micro" homes are designed to help homeless veterans get back on their feet by not overwhelming them with a traditionally sized apartment or home.
"We think we have something very successful here," said Dave Howard, President and Co-Founder of Homes for Heroes. 
The idea of the tiny homes village stems from Howard's Canadian Legacy Project, a charity for military veterans in need run entirely by volunteers. Through their work, Howard and his team realized there was an increase of homeless veterans and a greater need to support them. After careful consideration, focus groups with homeless veterans, and discussions with organizations who work with homeless individuals Howard and his team founded Homes for Heroes. 
Because the team chose to reach out to homeless veterans about their concerns, the program will not only provide homes for veterans but will also provide an entire program to help individuals reintegrate into society. The Foundation recognizes many individuals could also be battling mental illnesses such as Post Traumatic Stress Disorder. 
"They said you know what we'd like to get into a program. We need help. The house is great, thank you, but we need a program. We need to understand and learn the tools to help us reintegrate into civilian life and so that was crucial to this," said Howard about the feedback he received from veterans. 
Working in partnership with the Mustard Seed, an organization that serves homeless individuals, the village will consist of on-site counsellors.  Incoming veterans will start off with a needs analysis to determine the support they will require. Then, working in conjunction with Veterans Affairs Canada to leverage their programs, an individual plan will be created for each veteran. 
Community engagement will also be a critical component of the veterans' stay. As most veterans will not be working the first several months, they will be supporting the community they reside in whether it is by shovelling snow or mowing lawn.

"They're completely dedicated to volunteer for the community. And as they stood on guard for Canada I truly believe they're going to stand on guard for their community," commented Howard. 
Additionally, Howard hopes the villages can serve as an opportunity for Canadian youth to learn about Canada's Armed Forces and the sacrifices they make by visiting the site. Each house will be named after a fallen soldier.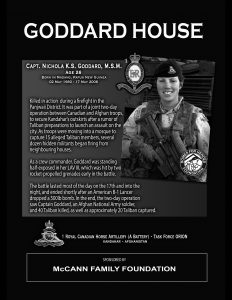 "The importance of that is not only to have that memory it is that we believe it's an educational process for the community and our kids," commented Howard. 
The site will also consist of a community garden.
It is expected the average stay of a veteran will be two years, although that can vary upon an individual says Howard. 
"They say to us we want to come in, get the support we need, get back on our feet and a job, be an active member of society, and then leave and make room for the next person," said Howard. 
Going forward the organization is currently in the process of working with the city of Halifax to secure land and has commitments from the province of Ontario for projects in Kingston and London. 
"We have the funds to build and we have the resources to run the facilities. What we are asking is that cities and provinces step up regarding the land and we don't think that's too much to ask," says Howard especially when considering the large sums of money cities have to pour into supporting homeless populations. Howard estimates Homes for Heroes can save cities close to $1.4 million. 
The goal is that villages similar to Calgary and Edmonton's are opened in all major cities across Canada.