Santa's elves flew into Toronto this week in a CH-146 Griffon helicopter rather than Santa's sleigh. As part of the Canadian Armed Forces (CAF) 11th Annual Operation HO HO HO they were dropped off at Billy Bishop Toronto City Airport on route to deliver presents at the Hospital for Sick Children.
Operation HO HO HO is run by the 400 Tactical Helicopter Squadron. Each year military personnel and elves load toys, books and donations received from communities in the Simcoe County Region into a Griffon helicopter, then spread their gifts and cheer to children spending Christmas at SickKids.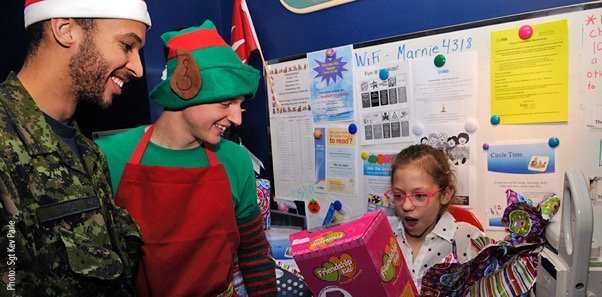 "The patients at SickKids truly enjoy meeting the CAF men, women and elves. The event gives the children the opportunity to leave their rooms and it really kick-starts the holiday season at the hospital," said Susie Petro, child life specialist in child and family-centred care programming, SickKids.
The Toronto Port Authority, with assistance from Porter Airlines, arranged for the safe landing and passage of uniformed CAF personnel and Santa's elves at the airport. After their arrival they transferred sacks of presents to vehicles escorted by the CAF, crossed the Western Channel via the airport's ferry, and drove up University Avenue to arrive at SickKids to deliver the presents.
"We had many patients asking the military members about what they do – one patient was even able to build a model helicopter with a Canadian Armed Forces member who fixes helicopters in real life. Some of our younger patients asked if Santa was missing the elves in the North Pole. A great mix of stories and fun came out of the event," said Petro.
The relationship between SickKids and CAF has strengthened over the years and Operation HO HO HO continues to raise spirits and make sick children happy. According to Petro the event has become a welcome tradition that SickKid's staff and patients look forward to every holiday season.

This year 400 THS gave out 574 toys, played bingo with kids, assisted with arts and crafts and whenever possible exchanged smiles and holiday warmth.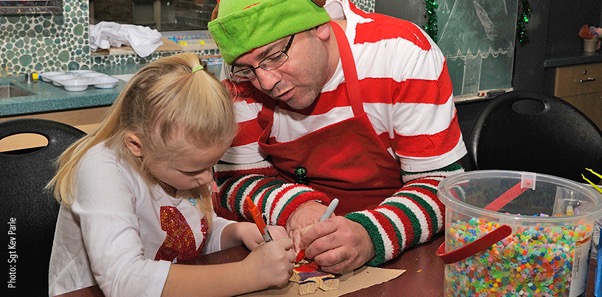 "It is life changing experience for military members involved in Operation HO HO HO because there is nothing more magical than children during the holidays, and this operation allows us to bring those smiles. 400 THS raised just under $5000 for SickKids with the help from the community," said Captain Karmen Hill, adjutant, 400 Tactical Helicopter Squadron.
A lodger unit of Canadian Forces Base Borden, 1 Wing, 400 Tactical Helicopter Squadron is based in Ontario. Equipped with CH-146 Griffons, 400 THS includes 237 personnel divided into six flights, three flying flights, a maintenance flight, an administrative support flight, and squadron headquarters. Headquarters flight includes the orderly room, finance section, medical section and the 400 Squadron pipes and drums band.
To learn more about SickKids or to make a donation please visit Hospital for Sick Children website.
Get More! Receive six issues of Canadian Military Family Magazine in your mail box for only $17.95! Click here to subscribe NOW.