Bonne Saint-Jean-Baptiste!
Put your dancing shoes on, light your bonfires and gather your friends and family together. It's time to celebrate all things Francophone.
Saint-Jean-Baptiste day is a statutory holiday in Quebec and a day of festivities for Francophones living all across Canada.
"It's a time for Francophones to celebrate our identity values and culture," explained Isabelle Gautier, executive director, Bagotville Military Family Resource Centre. "We share a common history and although, as military families, we are spread across Canada we can get together and share our history on this day."
The name Saint-Jean-Baptiste refers to St. John the Baptist, the Christian saint and prophet whose feast day is celebrated on June 24. The day is also known as la Saint-Jean, St John the Baptist Day, Fête nationale du Québec and Quebec's National Holiday.
The Baptist was named the patron saint of French-speaking Canadians in 1908, but festivities surrounding his feast go back centuries before that.
In ancient times, bonfires were lit to honour the summer solstice on or about June 21. With the spread of Christianity in ancient France in the fifth century, the focus shifted to honouring St. John the Baptist.
Bonfires in the saint's honour were traditionally lit on the eve of June 24. When French colonists came to Canada, they brought their traditions with them and by 1646, celebrations included a bonfire on the banks of the Saint Lawrence and the firing of cannon and muskets.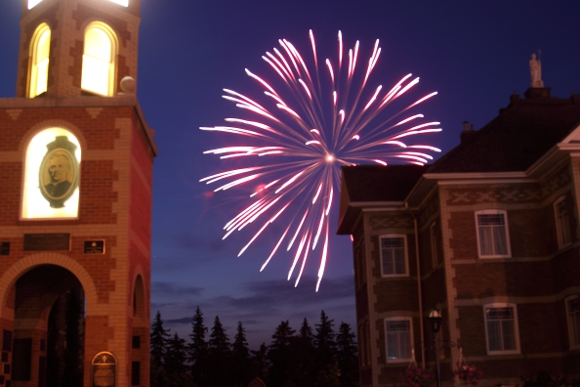 As time passed, the festival became less important until it was revived as a patriotic celebration for the people of Quebec in 1834.

"Today we still gather around bonfires and we light fireworks. Music is an important part of the Franco-Canadian heritage too. There are festivals in every community where people gather together and share their common experiences," explained Gautier.
According to the Government of Canada website (https://www.noslangues-ourlanguages.gc.ca/bien-well/fra-eng/vocabulaire-vocabulary/stjeanbaptiste-eng.htmlt) a banquet in Montréal organized by newspaper publisher Ludger Duvernay, a gathering of about sixty Francophones and Anglophones, decided to promote the feast day as a patriotic holiday.
Eventually, musicians wrote compositions specifically for the feast and celebrations became much more elaborate, with special religious celebrations, choirs, processions and parades, floats, bands, concerts and of course dancing.
In 1880, the Société Saint-Jean-Baptiste founded by Duvernay organized the first Congrès national des Canadiens français to coincide with the festivities. That event marked the first performance of a new song composed by Calixa Lavallée and Adolphe-Basile Routhier. The composition was "O Canada," which was to become our national anthem in 1980, almost exactly a century later.
Over time, Saint-Jean-Baptiste Day moved away from its religious beginnings. The day became a statutory holiday in Quebec in 1977; it is now officially the Fête nationale du Québec (Quebec national holiday), although informally it is still known as la Saint-Jean.
While it is an official holiday only in Quebec, Francophone military families in other provinces and OUTCAN families celebrate Francophone identity, culture, history and achievements.
So take in a rock or jazz concert, sports tournament, parade or fireworks display or attend a small family or neighbourhood gathering like a yard sale, picnic, barbecue or bonfire. Just don't forget to wish your French-speaking friends "Bonne Saint-Jean-Baptiste!"