Military Kid dons Wednesday Addams attire for Grade 12 portrait
Class pictures are a memorable keepsake that people look back at fondly decades after graduating. 
This past September, one military child made her class pictures extra memorable when she chose to dress up as Wednesday Addams from the pop-culture iconic goth family: the Addams Family. 
"I have a tall forehead and a widow's peak, so I kind of look like her. So, for picture day, the seniors dress funny. All of them were doing pigtails and funny glasses, and I just wanted to be different.
"I thought it was funny because a lot of people have called me that before," said Fredericton High School senior Megan Kruse, who has often been compared to Wednesday Addams. 
Tweets Photo
Kruse's friends also decided to get in on the fun and dressed goth for the picture, standing out from the other seniors who wore colourful tie-dye shirts.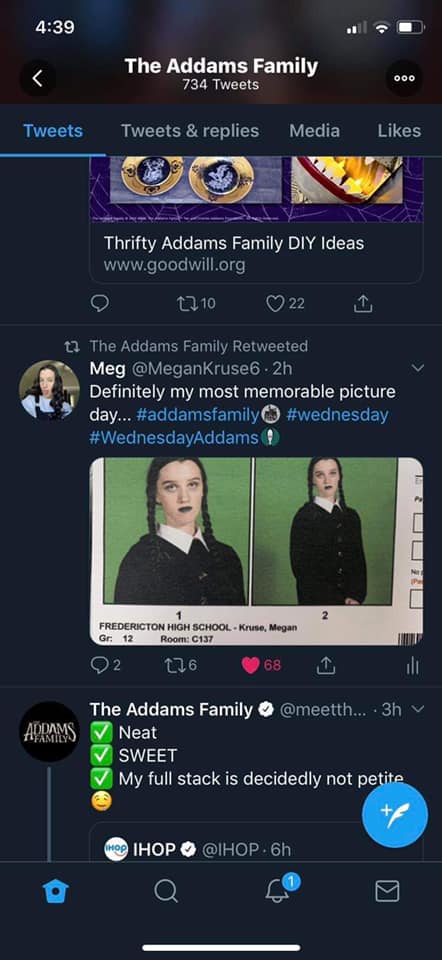 Kruse then posted her picture on Twitter, which gained a great deal of attention, including a particular retweet, like and comment from the official Addams Family Twitter account. 
"I didn't expect all this attention towards it. That [Addams Family retweet] brought a lot of attention to a lot of people, and I was like oh my gosh I'm famous," laughed Kruse. 
Let's Mom Know on Messenger
Kruse's mom, Jill had not idea what her daughter was up too, until she received a text from her.
"I didn't know until she sent me a text in messenger," said Jill.
Messenger Conversation (might not be able to view on mobile)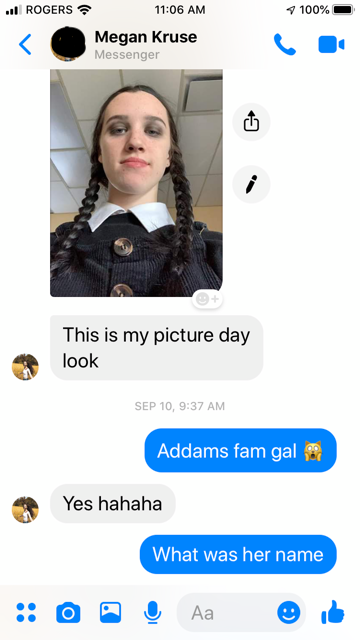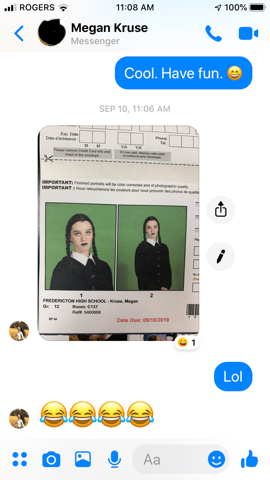 According to Kruse, her mom did get excited about her daughter's idea and shared the image on Facebook.
"She really loved the idea. I texted her in the morning and sent her a picture of myself, and she thought it was great. She asked me if she could share it on Facebook with her friends," said Kruse. 
During the correspondence Megan shared that she thought the photographer was scared.
Addams Family Releases New Flick Today
Coincidentally, and unbeknownst to Kruse at the time, Hollywood is releasing a rebooted version of The Addams Family today, Oct. 11.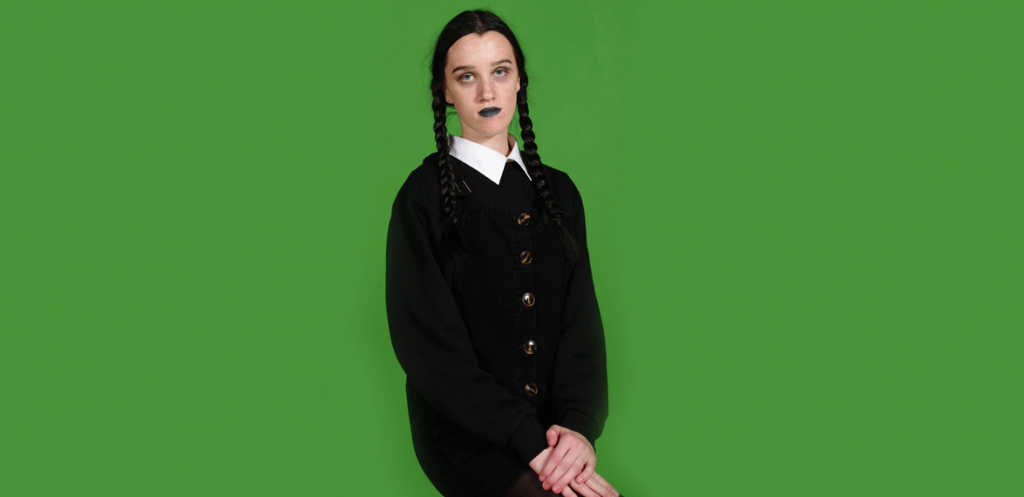 "I started seeing a bunch of ads, and I was like wow that's awesome and really good timing actually because I had no idea they were remaking it," said Kruse. 
As a senior in high school, Kruse, the daughter of Sgt. Gregory John Kruse, who heroically lost his life in Afghanistan, is focusing on her post-grade-school life. 
She is currently doing a co-op at an elementary school. Kruse's goal is to attend St. Thomas University in New Brunswick, where she hopes to study arts and get a Bachelor's in Education. 
As for her graduation pictures, which will be taken later this year, Kruse notes she will not be wearing the Wednesday Addams attire. However, the image of her dressed as Wednesday Addams in on her student identification card.