Military Brat competing in Track and Field Championships to qualify for Olympics
For military brat, Jen Cotten, years of hard work and training will all culminate on Thursday, July 7 as Cotten sets her eyes on making the Canadian National Track Team for the 2016 Olympics in Rio.
A well-accomplished track and field athlete, making the Olympic team will be the pinnacle of Cotten's career; however, the journey to the Olympics, the journey of track and field, all began as a tool for stability as she and her family were posted from city to city throughout her childhood.
Cotten's father, Brigadier-General Kevin Cotten, currently serves in the Canadian Army. Cotten was born in Brandon, Manitoba, and spent her childhood moving from base to base, living in eight cities including Valcartier, Calgary, Petawawa, Toronto, Edmonton, and Barrie.
She recalls that having her two other sisters for company made the transitions easier and always living on base was added bonus.
"It's kind of cool being in a military neighbourhood and the kids being in a similar situation. It's more understanding, I found," said Cotten.
Her family's posting in Petawawa proved to be one of her favourites as Cotten and her sisters spent the time exploring the outdoors. She recalls not being pleased when the family was told they'd be moving to Toronto, a stark contrast from small-town Petawawa life.
That's when Cotten's mother first looked into the possibility of a track club in Toronto, to add excitement and a bit of an incentive to the move for Cotten.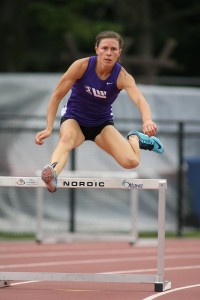 Since then, she took part in track clubs wherever she could throughout different postings.
"It was definitely an outlet and something familiar in unfamiliar places," recalled Cotten.
She continued with the sport through high school, but Cotten says it served as more of a recreational outlet. It wasn't until her last year in high school, when she moved to Barrie, Ontario that she was introduced to coaches with strong track and field backgrounds. Seeing potential, Cotten's coaches encouraged her to take on new platforms, and she made the transition from a mid-distance running high jumper to a heptathlete.
Also that year, the track athlete made a commitment to attend Western University in London, Ontario. The summer before university, she gained crucial experience in the sport when she competed in the PanAm Junior Championships.
Her time at Western University proved to showcase her blossoming career as an athlete. For five years she was part of the Canadian Interuniversity Sports (CIS) competitions. Winning 13 CIS medals, 15 Ontario University Athletics medals, holding the record for the University of Western long jump, and being a two-time FWP Jones Trophy winner as Western's female athlete of the year are just some of the accomplishments of Cotten's university career.
After a successful run at track during her university years and obtaining an Honours Bachelor of Science, Cotten was at a crossroads and had to decide whether to continue as a professional athlete.
Though she made the decision to continue as an athlete, the life of an amateur athlete was not easy, and she recalls making ends meet wasn't always easy. However, lessons learned from her childhood as a military brat help her to face daunting obstacles.

"I see being comfortable with change as a huge advantage because it's not going to go your way all the time.
"I think being an army child is a bit of a go with the flow kind of a situation. A lot of the times you don't have a say in where you're moving or when you're moving. Being adaptable and open to change helps me as an athlete," observed Cotten.
After university, Cotten turned away from competing as a heptathlete and returned to competing in 400m hurdles.
She hopes her years of training will help her to reach the 56.20 standard for the Women's 400m hurdle to make it on the Olympic team.
"People see the Olympics every four years, but there are major competitions every year and training takes place every year, and the Olympics are the pinnacle of that. It's always on a kid's mind when they're doing a sport and starting. The Olympics are the major goal for most sports. And definitely for track, it's a marquee event for sports in the Olympics. It's one of the original sports," noted Cotten.
Upon making the team, Cotten will have less than a month until the opening of the 2016 Olympics in Brazil. She'll be sent to Brazil for training prior to the start of the Olympics, and the athletes will be given time to settle in and focus, especially with all the energy and excitement around.
Cotten is excited at the prospect of making the team and potentially sharing the experience with fellow athlete and boyfriend Damian Warner, a decathlete in the Rio games.
"There's nothing like competing in front of a huge stadium full of people and representing your country is always an amazing thing," said Cotten.
In a way, Cotten can trace the similarities between wearing the Canadian flag on her uniform and the one her father wears.
"It feels similar, the patriotic pride to be from Canada. It's such a cool country and everyone respects Canada. It feels really cool to represent Canada," said Cotten.
The Canadian National Olympic team will be announced from Edmonton on July 11 at 11 a.m.