College Offers Opportunities to Military Community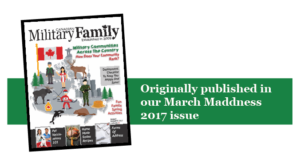 In the last year, Willis College, an employer-led career college, has become a safe haven for the military community thanks to innovative programs and scholarships that have the power to forever transform the lives of veterans and military spouses.
As one of the oldest colleges in Canada, Willis College has a storied history of attracting veterans in the Ottawa Valley for many years. The college decided to take this relationship one step further last spring when they announced the Soldier's Hero scholarship. The programme, which is part of the college's 150th anniversary celebrations, would award $150,000 in scholarships over six years to military spouses.
"At Willis College, we truly believe that military spouses are the strength behind the uniform, really they are our heroes on our home-front. We are proud to dedicate this scholarship to the spouses of those that define our country, defend our country and keep us safe, strong. What better way to express our gratitude and thank you to them [than] to introduce this scholarship," said Rima Aristocrat, CEO of Willis College.
By the deadline of July 2016, the board of trustees had received five scholarship applications, but when it came time to choose one recipient of the first Soldier's Hero scholarship, Aristocrat had a change of heart.
"While I was driving from here [Ottawa] to Petawawa I had an idea. I said okay the board of trustees received five applications, they chose already, it was decided who would receive the scholarship. What if I do something for 150 years and with my statement, that no one is left behind, and say five scholarship applications came in, the board of trustees chose one, and I decided to give all five of them this year," explained Aristocrat.
The change in plans meant that each one of the applicants received a full scholarship of $25,000 in the inaugural year. The scholarship covers the cost of things like tuition, books, and certification.
With three different campuses, in Arnprior, Ottawa, and Smith Falls, the recipients have the flexibility to study business, healthcare, or technology wherever it is most convenient.
One of the recipients of the inaugural Soldier's Hero scholarship, Augustine Charles-Frederiksen, is currently studying business at the Ottawa campus.
Charles-Frederiksen made the deadline just in time last summer after she and her husband were posted from BC to the Ottawa area. To Charles-Frederiksen, the scholarship proves the willingness of Canadian communities to support military families.
"I think it just symbolizes everything we know about being in the military, just how much support there is in the community," said Charles-Frederiksen.
Although all of the $150,000 for the scholarship that were planned to be used over six years were all awarded in the first year, Aristocrat has vowed to stay true to the promise and continue offering the scholarship. The deadline for next year's scholarship applications is September 2018.
The success of the Soldier's Hero scholarship paved the way for the next phase of Willis College's plan for the military community. Earlier this year, the College announced their groundbreaking new program: the Veteran Friendly Transition Program (VFTP).
Designed for and by veterans, VFTP is aimed at assisting Canada's servicemen and women as they transition to civilian careers.
The program was developed in part by veterans like Michael McBride, a thirteen-year CAF veteran who has been studying at Willis College since last year.
"It means the world to me. Anything that can help out another vet is important to me. I struggled a bit, I had my own ups and downs, and I wanted to make sure other veterans like myself are able to transition a little easier. There are lots of people far worse off than me, and I wanted to make sure they had the same opportunities I had," said McBride, VFTP National Ambassador.
Under VFTP, veterans can receive a number of services including career counselling, personal and professional sport and course offerings all in one location.
"It brings everything under one roof. You get support from other veterans and that's one of the things we bring to the table as well. Our veteran coordinator is somebody that will work with the veteran students the entire time they're studying at this institution," said McBride.
The program, says McBride, is a revolutionary way to help military members transition towards their future careers while receiving the support they need.
"There are lots of programs that are out there and they are all great but they don't all host everything in one spot.
"Being able to go to school, learn, concentrate on that and at the same time be able to have the assistance in dealing with VAC or SISSIP or financial issues. That's one of the things that are beneficial, having it one spot instead of all over the city," added McBride.
VFTP is open to all veterans from the CAF, RCMP and Provincial Police.
For more information about the Soldier's Hero scholarship or VFTP please visit www.williscollege.com.