Canada's Contribution to NATO to Eastern Flank
After Russia's unprovoked invasion of Ukraine sent shockwaves in the international community, the North Atlantic Treaty Organization's (NATO) presence in Europe has never been more critical, especially to its member nations.
According to the NATO website, "An important component of NATO's deterrence and defence posture is military presence in the eastern parts of Alliance territory."
To that end, NATO is preparing to bolster its forces in Eastern Europe. On March 24, NATO Secretary-General Jens Stoltenberg announced the organization was planning on adding four more multinational battle groups in Eastern Europe.
Specifically, these battlegroups will be stationed in Bulgaria, Hungary, Romania, and Slovakia. This will bring the total number of battlegroups to eight and extend NATO's eastern flank from the Baltic Sea to the Black Sea in the south.
As the future of the conflict grows more uncertain, several countries have deployed more troops to the region. The United States deployed an additional 400 troops just this week to Europe, while Canada has prepared several hundred additional troops if requested by NATO.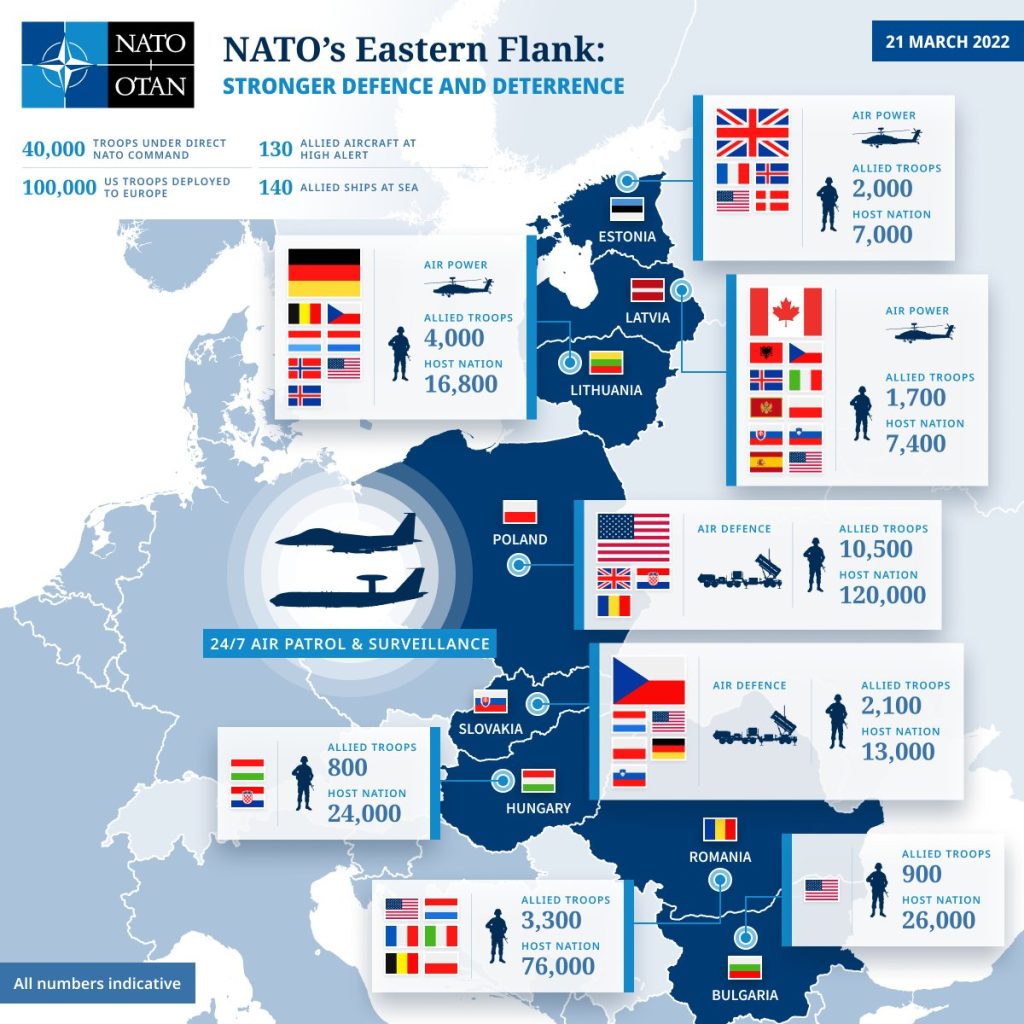 Growing Number of Troops
According to NATO, the organization did not intend to station so many soldiers in Eastern Europe. However, after Russia's illegal annexation of Crimea in 2014, NATO members decided, at the 2014 Wales Summit, to enhance the NATO Response Force by creating the "spearhead force," or the Very High Readiness Joint Task Force. This task force was activated in part after Russia's invasion in a deterrence and defence role.
Since February's attack in Ukraine, NATO Allies have placed thousands of additional troops, along with armoured vehicles, artillery units, ships, and aircraft, at high readiness for the NRF.
In 2016, at the NATO Summit in Warsaw, the allied members decided to enhance NATO's forward presence in the east and southeast of the Alliance territory. This translates today to four multinational battlegroups in various countries in Eastern Europe.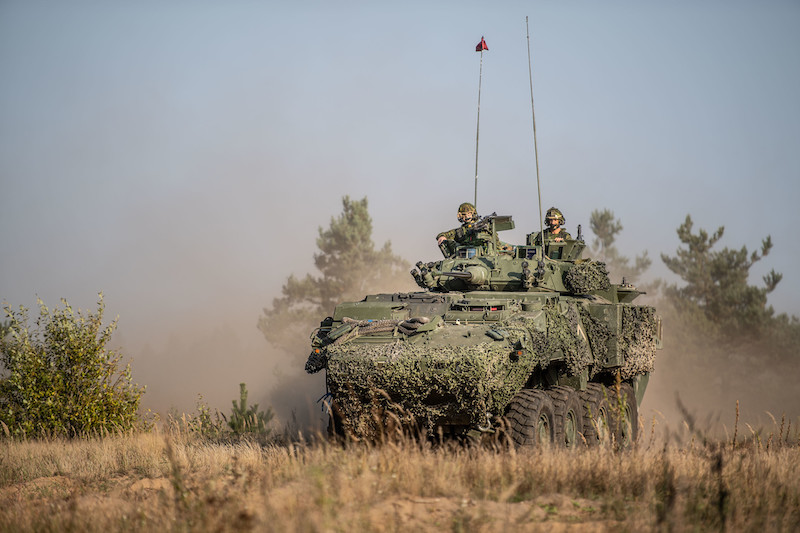 Canada's Contributions to the Eastern Flank
Canada currently leads a NATO battlegroup in Adazi, Latvia, working with Latvian forces. This battlegroup consists of ten countries with a total number of 1,650 soldiers. This battle group forms the backbone of the Enhanced Forward Presence in Latvia and provides support capabilities to Allied forces. It is conducted under Operation REASSURANCE, where personnel work as part of the Latvian Land Forces Infantry Brigade.
Specifically, Canada has contributed 572 troops that include:

1 x Mechanized infantry company with armoured fighting vehicles
1 x Combat support company
1 x Combat service support company
Support elements
Contribution to battlegroup headquarters and Latvian National Armed Forces Mechanized Brigade Group.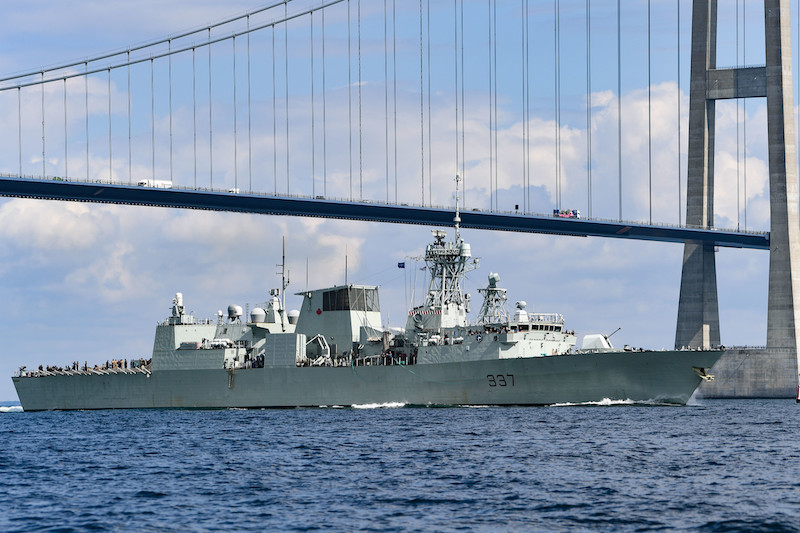 Also, recently, Her Majesty's Canadian Ships (HMCS), Montreal, and Halifax are in the Baltic and Black Sea. HMCS Montreal is with Standing NATO Maritime Group 2, and HMCS Halifax, with its 253 sailors, Standing NATO Maritime Group 1.
Air Support
Previously under Operation REASSURANCE, Canada's contribution to NATO's assurance and deference measures in Eastern Europe, the Canadian Armed Forces (CAF) deployed an Air Task Force to Constanta, Romania, with approximately 140 CAF personnel and 6 CF-188 Hornet to participate in the Block 57 of NATO enhanced Air Policing mission in Romania for three months from 1 September to 1 December 2021.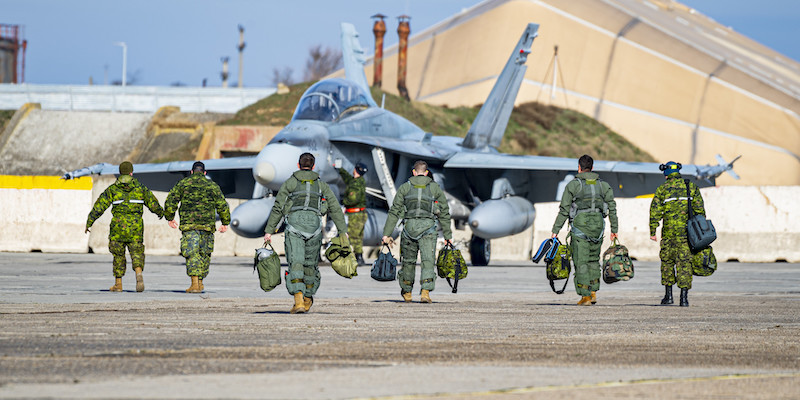 On Feb. 22, the government announced a CP-140 Aurora was assigned to operations in and around Iceland. It is currently operating in the Euro-Atlantic Area.
Operation Unifier: Ukraine
Besides the CAF's Operation REASSURANCE, Canadian military members have spent several years in Ukraine as part of Operation UNIFIER. Under this operation, CAF personnel trained thousands of Ukrainian security forces members. However, all CAF members deployed on Operation UNIFIER have been temporarily relocated to Poland because of the current conflict.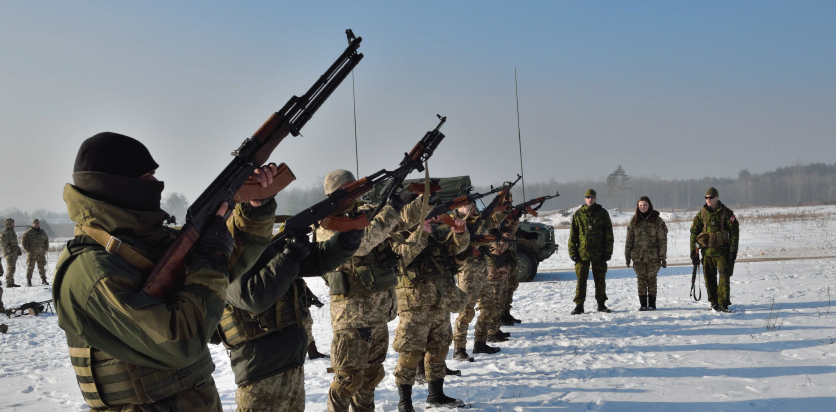 On March 3, Canada announced further contributions of military equipment to Ukraine, including 4,500, M72 rocket launchers and up to 7,500 hand grenades. Plus, $1 million towards the purchase of commercial satellite high resolution and modern imagery.
Additional Battlegroups
Besides the battle group in Latvia led by Canada, three other battle groups are stationed around Eastern Europe.
A battle group stationed in Tapa, Estonia, is led by the United Kingdom. Other countries in this battle group include France and Iceland, with 1,146 troops working with Estonian forces.
Another battle group is located in Rukla, Lithuania. Led by Germany, this battlegroup consists of approximately 1,103 troops from six countries. The participating countries in this battle group are Germany, Belgium, Czech Republic, Luxembourg, Netherlands, and Norway.
The fourth NATO battle group is located in Orzysz, Poland, and is led by the United States. This battlegroup consists of 1,058 troops from the United States, Croatia, Romania, and the United Kingdom.