Standing on Guard: National Sentry Program
T Here are just a few short weeks left this year to spot and admire a sentry guarding the Tomb of the Unknown Soldier.
The National Sentry Program, which began on May 15 of this year, will come to a close on Nov. 10. As per tradition, sentries stand guard of the Tomb of the Unknown Soldier, located in the nation's capital.
"The National Sentry Program (NSP) reinforces Canada's commitment to remember and honour Canadians who served in the twentieth century's major wars, including both World Wars. NSP also honours those who have contributed to Canada's long-standing tradition of military excellence through to the present day," stated a Facebook post from Canadian Armed Forces Operations.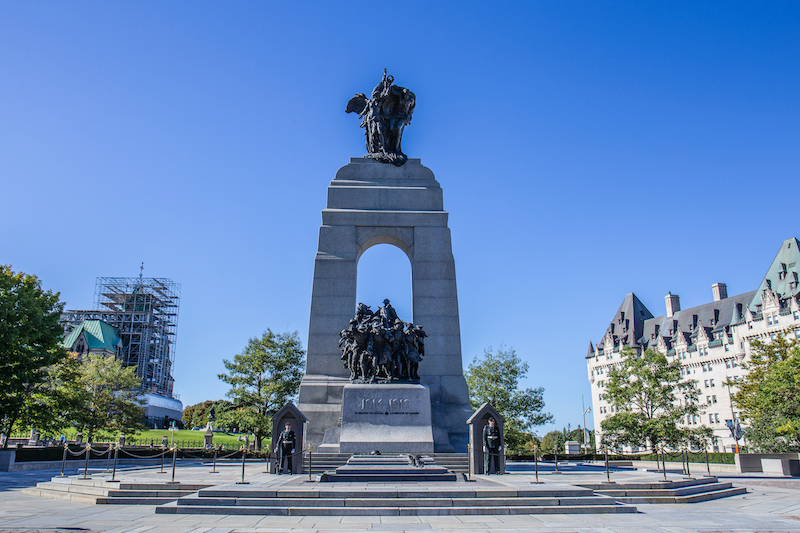 This year's sentries
As in years past, this year's sentries come from across the country and different elements of the Canadian military.
The sentries this year are:
Corporal Tristen Parsons, 2nd Battalion, The Royal Newfoundland Regiment
Corporal Cirrus Pruchnicki, 31 Combat Engineer Regiment (The Elgin's)
Corporal Andrew Rutherford, The Princess Louise Fusiliers
Corporal Ethan Urquhart, The Princess Louise Fusiliers
Corporal Lennox Marshall, The Cape Breton Highlanders
Private Alyssa Mason, 1st Battalion, The Royal Newfoundland Regiment
Bombadier Bea Aldea, 4th Artillery Regiment (General Support)
Aviator Faraz Sheikhhasanabadieikeche
Master Corporal Derek Steffensen
Ordinary Seaman Willem Van Volkingburgh
Corporal David Andre
Corporal Michelle Beechinor
Master Corporal Gabriel Campbell
Private Tamara Centis, 21 Electronic Warfare Regiment
Corporal Ryan Devost, 36 Service Battalion
Corporal Philipe Forest, Canadian Army Intelligence Regiment Detachment Kingston
Master Corporal Tristan Bateman, The West Nova Scotia Regiment
Sergeant Jeff Andrews, 36 Canadian Brigade Group Headquarters
Private Mohammed Karim Ben Ammar, The North Shore (New Brunswick) Regiment
Private William Bergeron, 12e Régiment blindé du Canada
Private Cloe Arsenault, 2nd Battalion, Royal 22e Régiment
Corporal Nathan-Paul Bédard, The Sherbrooke Hussars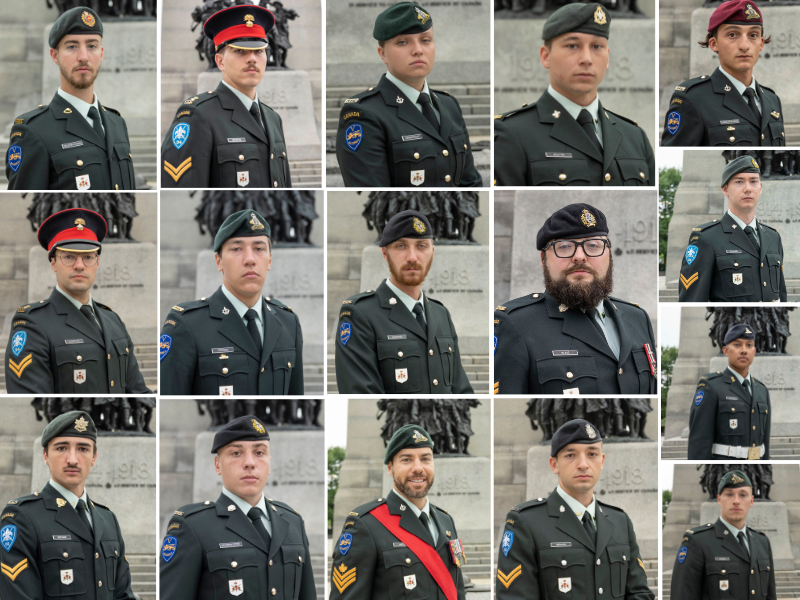 A program 16 years in the making
The Canadian Armed Forces (CAF) has posted sentries at the Tomb of the Unknown Soldier since 2007. However, the program was given a new and special meaning in 2014 when Cpl. Nathan Cirillo lost his life while on sentry duty.

Sentries are chosen from across the CAF every year, including the Royal Canadian Navy, the Canadian Army, the Royal Canadian Air Force, and the Canadian Ranger units.
The Tomb of the Unknown Soldier was erected on May 28, 2000, when the remains of an unidentified Canadian soldier from the First World War were buried in a tomb in front of the National War Memorial in Ottawa. The Tomb became a symbol for all those soldiers from all branches of the CAF who have given their lives in service to Canada.
Sentries stand guard of the Tomb of the Unknown Soldier seven days a week from 9 a.m. until 5 p.m.
To learn more about the program visit here.