Spirit of the Season Fills Madameek Restaurant
In Petawawa and Pembroke today Madameek restaurants offered a free Lebanese meal to members of the community and the Canadian Armed Forces. The shawarma, rice and potatoes were served in memory of fallen Trooper Marc Diab.
Both Madameek locations were opened by Diab's parents, Jihan and Hani as a tribute to him. Trooper Diab loved his mother's shawarma, homemade kebeh, fattoush and tabouleh salads.
"At this special time of year everyone wants to be with their whole family. We want to be with Marc. So, we invite everyone to come together in celebration of him. Today we were with him, his brothers-in-arms and the the community," said Jihan Dias, mother of the late Marc Dias. "He was around all day. Marc loved people and kids, and he really was with us. He saw we are trying to continue his dream."
Throughout his military life as a Royal Canadian Dragoon, Diab dreamed of opening a Lebanese restaurant next to his base in Petawawa.
"The day was busy, yet went very well. Normally I make everything by hand with one assistant, but there was a lot of food to prepare today. We had three stations with cooks here in Petawawa and all of the staff came together as a team to serve. We had some donations from our suppliers too," explained Jihan.
The Petawawa location served 545 free shawarma, and the Pembroke Madameek location served just over 400 shawarma to people who came to reminisce about Trooper Diab, or simply show support to his family.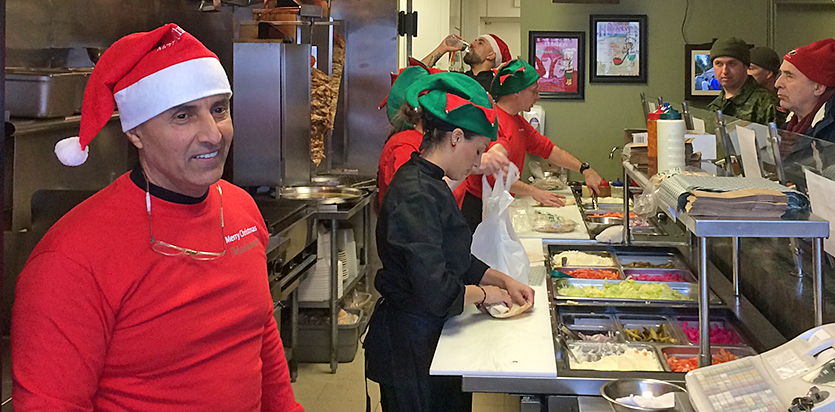 "If we put a smile on one person's face the day was worthwhile, today we put smiles on many people's faces. We are so blessed," said Jihan.
The Diab family lived in the village of Ain-Ebel in southern Lebanon but immigrated to Canada 14 years ago.

Marc Diab fulfilled a lifelong desire to join the military in 2006. After basic training, he was posted to Garrison Petawawa as a member of the Royal Canadian Dragoons' 'D' Squadron.
During his short time in Petawawa, he embraced the community, and his parents travelled from Toronto to see him. During one of their visits Marc told them when he retired he envisioned himself opening a Lebanese restaurant near the base.
Before he could see his dream come true 22 year-old Trooper Marc Diab was killed. An Improvised Explosive Device detonated near his armoured vehicle during a patrol in the mountainous Shah Wali Kot district, north of Kandahar City on March 8, 2009. He had only one month left in his first deployment to Afghanistan.
In August of 2010 the late soldier's family fulfilled his wishes and officially opened Madameek, Garrison Petawawa's first Lebanese restaurant, at 1024 Victoria Street. In 2011 a second restaurant was opened in Pembroke at 244 Pembroke Street West.
To view a menu and learn more about Madameek Restaurant please visit their website www.madameek.com and for more information about Marc Diab, please visit www.marcdiab.com.
Get More! Receive six issues of Canadian Military Family Magazine in your mail box for only $17.95! Click here to subscribe NOW!