Halifax honours fallen sailor
Petty Officer 2nd Class Craig Blake's presence can still be felt throughout Halifax five years after he was killed in Afghanistan. The significant mark he's left on the coastal city is evident in the thousands of votes to name Halifax's newest passenger ferry after this local hero.
"It's a great honour for us anytime people remember Craig. We obviously remember Craig all the time but to know that people haven't forgotten him it's really humbling to see the support we get not just from our friends and neighbours but from the entire city. It's so wonderful to us. It's something the kids will see for years their dad will still be a presence here in Halifax," said Craig's wife, Priscilla Blake.
Blake served in the Royal Canadian Navy for nearly nineteen years starting his career off as a sonar operator. He later changed his field to become a clearance diver. The family packed up to spend a year in Victoria while he trained. After his training, they returned back to the east coast where he spent the rest of his career diving in the Atlantic. He was an expert bomb neutralizer.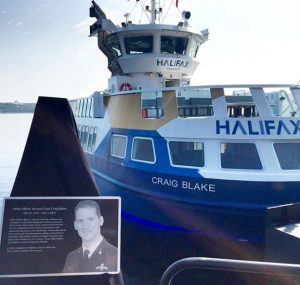 On May 3, 2010, while serving on tour in Afghanistan the 37-year-old was killed by an improvised explosive device only weeks after arriving in Kandahar. He was the first Canadian sailor to die in action in Afghanistan since October 2004.
Halifax has been the backdrop for many important events in Blakes' lives. It's where Priscilla and Craig met after he moved there for work and she for school, it's where their two sons Cain and Tye were born and now it will be home to the ferry honouring Craig.
"He was the kind of guy who always gives something of himself. He was just a really friendly guy happy, passionate about things he cared about and just very kind," described Priscilla.
The family has been surrounded by tremendous support and love from the community. When the search was launched last year to find the perfect name for the new passenger ferry, 500 names were submitted. They were then narrowed down to six finalists and after 11,000 votes from all around Halifax, Craig Blake was selected as the new name. The other finalists were several notable personalities including Vincent Coleman a dispatcher who stopped passenger trains from entering the city just before the Halifax Explosion, former mayor Walter Fitzgerald and poet Maxine Tynes.

"Things like this are really touching, and I think it was mostly because of the kind of guy he was. Because if you knew him, you knew he reached out to so many people," said Priscilla.
A formal ceremony was held on Sept. 3 to unveil the Craig Blake with the mayor and military leadership in attendance.
The ferry isn't the first time Blake has been recognized. In 2013, Montabellow Park in Dartmouth was renamed after Blake.
"My youngest son who was in Grade 1 had been learning about municipalities and came home one day and said he wanted to get something in the city named after his dad… they (the city) approved Craig's name and then the councillor, who is a friend of ours, had the idea of renaming the park, which is right beside where we live," explained Priscilla.
The annual Navy Fitness Challenge was renamed in 2011 to the PO2 Craig Blake Memorial Fitness Challenge in 2011 in honour of Blake's legacy as a cyclist and triathlete. This year's challenge takes place later this week on Sept. 18.
Get More! Receive six issues of Canadian Military Family Magazine in your mail box for only $17.95! Click here to subscribe NOW!