All Welcome at Pte. Tyler W. Todd Memorial Hockey Tournament
Family and friends are hosting the Fifth Annual Pte. Tyler W. Todd Memorial Hockey Tournament April 3 and 4, 2015 at the Plattsville Memorial Arena, twenty-five minutes outside Kitchener, Ontario.
The  Plattsville community pulls together every year to remember Tyler and all fallen Canadian soldiers, while playing some old fashioned three-on-three hockey.
"Thanks to the continued compassion and generosity of the community over the last four years we have raised $105,000. Who knows how much money we'll raise this year? We do know we'll raise a lot of awareness and that's the important thing," said Trevor Baer, tournament organizer and longtime friend of Tyler Todd.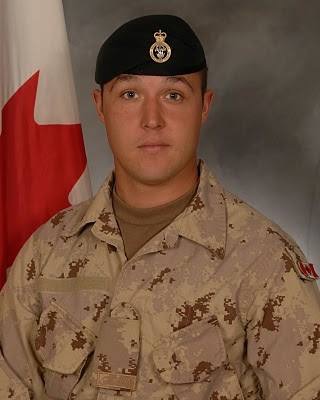 All proceeds from the event are donated to Wounded Warriors Canada in support of their programs and services.
The opening ceremonies of the three-on-three hockey tournament are as anticipated as the actual hockey games.
"Last year the artist David Sofa brought large portraits of the fallen. Kids skated around the ice with them. It was beautiful. We want people to remember the war in Afghanistan may be over for some, but it will never be over for all," said Baer.
Guest speakers, performers, and a piper are on site. Todd's father Brian, mother Bev and sisters are at the rink as well. Bev Todd says the weekend is difficult to get through, but very much appreciated.
"It's an event Tyler would have loved to be a part of," she said.

As organizers prepare for the 2015 event, they are seeking donations for the very popular silent auction that takes place over the tournament weekend. Last year 600 spectators attended the fundraiser and the auction raised a substantial amount of money for Wounded Warriors. Prizes included big-ticket items like autographed NHL jerseys, a trip to Africa and a natural gas furnace.
The hockey teams are created as players register. Each team member indicates, on their registration form, their level of skill on the ice, then teams are put together. Sometimes neighbour plays with neighbour, friend with friend, but often team members have never even met. They are at the rink to support the cause, paying a $60 entrance fee in memory of Pte. Todd.
This year a youth ball hockey tournament has been added to the weekend events. Organizers are in the process of pulling together the details of the ball tournament, and would welcome any volunteer assistance offered.
Pte. Tyler W. Todd lost his life on April 11, 2010 after stepping on an improvised explosive device (IED) while on foot patrol, southwest of Kandahar city, Afghanistan. The soldier was born in Bright, Ontario southwest of Kitchener, and served with the 1st Battalion, Princess Patricia's Canadian Light Infantry, based at the Canadian Armed Forces Edmonton Garrison. Todd was the 142 Canadian soldier killed in Afghanistan since Canada's combat mission began in 2002. Todd grew up on a farm, loved animals, played and refereed hockey. He was a volunteer firefighter, well known and well loved in his community.
To learn more about the Pte. Tyler W. Todd Memorial Hockey Tournament or Wounded Warriors Canada, please visit their website.
Get More! Receive six issues of Canadian Military Family Magazine in your mail box for only $17.95! Click here to subscribe NOW!
Like this? Here's more…