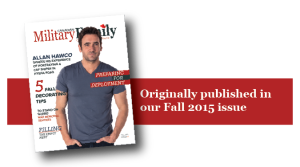 Article by: Aysha Tayab
Networking begins with you. You are accountable for business growth. You are the one who sets your action plans in motion to ignite your success.  The growth of Women Mean Business network is a testament to the power of networking. Six months before its launch in October 2012, Gaby Eaton and Josie Walsh, who is also a military wife of 27 years, have made it a priority to establish their name and business goals in the community. Many hours of logistical planning and networking with key organizations in Kingston brought their brand and network to life. They have never looked back since. Here are their essential networking tips toward business growth and success.
Do Your Research
Take some time to learn about the available resources in your area of interest. This information will help you to explore your community of networking opportunities that will benefit your business. Don't be afraid to be creative and list unlikely connections you'd like to build.
Be Strategic
Be strategic in terms of the money and time you spend on your networking. After attending various networking events, step back and evaluate the opportunities gained from the groups you are interacting with. While all networking groups provide engaging opportunities, consider the business growth that you are actually gaining.
Follow-Up
When you request someone's card, it is your responsibility to be in control of the follow-up. Once you come home, prioritize the contacts that can lead to a higher conversion rate. It is best to follow up within 24 hours. Start with a phone call and leave a short voicemail. Then follow up with e-mail. Be impactful with your words so that you don't become a delete button business.
Stay ACTIVE
In addition to actually staying active, this acronym will keep you motivated as you network. 
A    Accountable for your business growth
C    Communicate
T    build your Tribe

I     Initiate activities
V    Visualize your success
E     Enjoy your success!
Never Give Up
If the idea of giving up crosses your mind, consider how you are delivering your presentations. Are you catering them to your target audience, or are you delivering one generic pitch to all audience members? If the latter situation seems to be your reality, then it's time to revisit your approach and make it a more engaging one. You'll be surprised at the difference you make and the positive response you receive.
Follow these tips to motivate and inspire your successful business growth. It's all about making that initial meaningful contact and relay that first impression. You never know where those connections can take your business. How else will they know about you and your services if you don't take that first step? 
Learn more about Josie Walsh and Gaby Eaton: www.womenmeanbusiness.ca  and www.facebook.com/secondwindevents.