Leasing out your home is an option, but do your research
If you are having trouble selling your house in the market you reside in or don't want to say good-bye to your family home there is always the option to lease your house.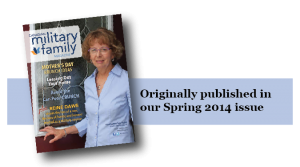 Fortunately for CAF members under the Canadian Forces Integrated Relocation Program (IRP), members can choose to not sell their principal residence and receive the Real Estate Incentive. Members who elect to keep their principal residence receive an incentive equal to 80 per cent of the pre-negotiated corporate real estate commission rate based on the appraised value of the principal residence but it cannot exceed $12,000; and CAF members are entitled to receive 80 per cent of the real estate commission, to a maximum of $12,000, based on the appraised value when they do not claim the real estate commission.
This incentive is paid in to personalized funds. However, there are certain conditions that apply, so members need to consult their relocation representative.
 CAF Public Affairs Officer Lindsay Tessier says it's important to consult professionals when considering leasing a primary residence. "The decision to keep and rent a residence is a personal one and is based on a member's specific situation," says Tessier. "Individuals are able to consult their personal financial advisors as to what would be best for them."
Leasing has its challenges
 However, leasing out your home is not without its challenges. Things to consider are the costs of managing the property while you are away, including: hiring a 'trust worthy and reasonably priced' property manager, property management fees, maintenance fees, finding suitable tenants, getting leases signed, collecting damage deposits and rent.
When Chrystal and Don Flynn (names changed by request) chose to rent rather than sell their primary residence, they thought Don's posting would be no more than a year.  Chrystal never dreamed it would lead to a property management nightmare and costly repairs to the home they loved.
"We were being posted from Ottawa to Toronto," says Chrystal, whose husband Don serves as a combat engineer. "We knew the posting was only for a year and we were positive we'd be coming back to Ottawa. But that didn't happen. We ended up renting our house out for five years."
During the first year the Flynns hired a property manager.  But things with the property manager went sour fast.  "It was a disaster!," exclaims Chrystal.  "The tenants were very demanding and the property manager would call in professionals whenever the tenant wanted. The handyman she used charged ridiculous rates ($300 to replace a light fixture). They called an HVAC guy in the middle of the night because the air conditioner was acting up and it wasn't even a heat wave! The bill was ridiculous. They called a plumber in to get hair out of the drain. We ended up losing a lot of money that year and they left our house a disaster!"
By the end of the year, when the family moved out, the Flynns were out over $1,000 in cleaning bills. So they fired the property manager and managed the property themselves. However, this time they had the opposite situation happen. The new tenants were less demanding but years later Chrystal realized they were neglectful and careless with their home and property.
"We had very nice tenants who were no bother at all," continues Chrystal.  "We kept in touch with them via email and they always paid their rent. They never asked for anything. We thought we'd found the dream tenant. The problem was we weren't able to keep an actual eye on the house because we were living in Alberta by then. As nice as our tenants were, they let the house fall down around them. When they moved out, almost every light bulb in the house had burned out. The grass in the back was knee high. All the plants in the gardens were overgrown. The house was filthy. We had to pay over $3,000 for damages caused by a leaky toilet they never told us about. We had to pay $7,000 to have the house repainted and $3000 in cleaning bills."
Fortunately this couple still managed to make a profit on the sale of their house, but they won't rent out their home again. "I would NEVER do this again," states Chrystal emphatically. "I am far too attached to my home. Watching someone else completely abuse my largest financial investment was very painful for me. I felt absolutely sick when I discovered the state of our house when we wanted to sell it."

Discuss the option with a reliable source
For the past four years relocation specialist Lisa Lance has been helping military members in the Ottawa Valley rent out their homes.  She says it's important to do your research.
"I have been in the rental business for a number of years as a landlord of 25 different types of rental units," says Lisa. "I started this business to make rentals easier for both tenants and landlords. It's important to understand what both parties need to make a rental a success."
She says renting your home at a monthly rate the market will bear is essential.  "You want to get the most for your property without pricing it out of the market.  The goal should be to have a fair price while still making a good return on your property.  The rental market caps off around $1500-1600 (a month).  For a home rental in this area, the average is $1300-1400; anything above that makes renters decide to buy instead."
Finding good renters is also key to being a happy and successful landlord.  Lisa advises people to take their time finding the right tenant. "Each potential renter should fill out an application with as much information as possible, such as previous rentals and job history.  References are important. You need to know if the person you're renting to is reliable and trustworthy."
Lisa says renting is a great option for posted military personnel whose home doesn't sell on time.  But before anyone decides to rent their home they need to 'make sure that they are cut out to be a good landlord'.
"Selling your home and renting are two different games," says Lisa. "When you sell, it doesn't matter who buys it.  When you rent you need to make sure your property is well looked after.  It's not for everyone. It's an investment.  You want a rental that will pay for itself as the market goes up; someone else is paying for the mortgage for you to cash out at the end. You will hear a hundred horror stories about the business but there really are more happy ones than bad ones.  They just aren't as interesting.  If you take the time to do your homework it can have a great payoff in the end."
Click Relocation Directive  or Relocation by Lisa  for more information.
By Jill Kruse
Get More! Receive six issues of Canadian Military Family Magazine in your mail box for only $17.95! Click here to subscribe NOW!