Highway of Heroes Champion Dies
James Frederick Allan (Jay) Forbes, designer of the petition that helped name the Highway of Heroes, died suddenly last Saturday at the age of 30.
The cause of Forbes death has not been determined. His funeral, held in London, Ontario on Saturday, May 2 was followed by a memorial service in the Anderson Memorial Chapel.
When the first Canadian casualties of the Afghan war returned home in 2002, impromptu crowds jammed highway overpasses to observe the solemn repatriation drive.
Forbes started an online petition in the summer of 2007 after reading an article suggesting a section of Highway 401 be renamed for Canada's war heroes.
In less than two weeks, Forbes' petition boasted 65,000 signatures in support of renaming the stretch of road.
The man behind the online petition in support of renaming a section of Canada's busiest highway said at the time he was overwhelmed by the response and had been receiving between 400 and 500 signatures a day in support of the name Highway of Heroes.
"It's truly amazing to see, and it just goes to show how many people do support the troops in Canada," Forbes said in a 2007 CTV News interview. "It's just great."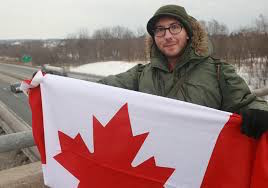 After being presented the petition, Ontario's provincial government consulted the federal government, municipalities along the highway and the Royal Canadian Legion about the name change.
Finally, due to Forbes efforts the 172-kilometre stretch of pavement between Trenton and Toronto was officially renamed the Highway of Heroes. The section of 401 highway did not lose its official designation as the MacDonald-Cartier Freeway, but signs were erected designating the name change.
Shortly after Forbes' accomplishment, he received a Canadian flag flown at Kandahar, Afghanistan for his efforts.
Forbes, a naval reservist and University of Windsor student is survived by his parents Diane and Alexander (Sandy) and sister Heather. According to Forbes' obituary his greatest pride was his initiation of the online petition and the re-naming of Highway 401 to the Highway of Heroes.
Just this past March, Forbes stood with others on an overpass near Cobourg, Ontario to pay tribute to the motorcade carrying the casket of Sgt. Andrew Dorion on the Highway of Heroes.
If desired, memorial donations may be made to Canadian Blood Services, the Canadian Mental Health Association or The Kids Help Phone.
Get More! Receive six issues of Canadian Military Family Magazine in your mail box for only $17.95! Click here to subscribe NOW!