Book Binge Reading for January!
The weather is cold, sometimes snowy, sometimes icy, often windy – and did I mention cold? One of my favourite things to do when the weather is miserable is to cozy up inside with a good book – or three, a cup of tea, a warm blanket, and read. If there's a window seat I can curl up on to watch the weather from my cozy spot, all the better. So here is a list of books to help you pass the cold winter hours until spring finally comes:
The Man Who Ate Everything, Jeffery Steingarten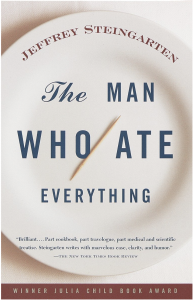 If your too cold to cook, then try reading about it. This is such an interesting book all about food, cooking, fussiness, and trying new things. Steingarten, on being made food critic for Vogue magazine, realized in order to properly do his job, he needed to get over his many food aversions. What follows is a brilliantly written account of Steingarten's attempt to become the perfect omnivore – a person willing to eat and enjoy any food offered. Scattered throughout the book are some excellent recipes, and some entertaining accounts of his testing methods (his poor wife, I think she is a patient person – mind you, the delicious food probably helps significantly). When you finish this one, he has a second book for you to devour: It Must Have Been Something I Ate: The Return of the Man Who Ate Everything. 
Unsheltered, Barbara Kingsolver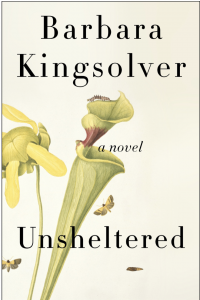 This story is actually two stories, one set in present day, and the other in the past. What these two families in these stories share is that they both live in the same house, though in two different centuries. The story set in present-day revolves around a couple who tried to do everything right, but still lost everything. They lost their jobs, are in debt, and live in a house that is falling apart. Their disabled father-in-law lives with them, as does their daughter. When their son suffers a tragedy, it seems he is to join them as well. In the past, another family is dealing with a different set of troubles. He is forbidden from discussing fascinating new research – that of Charles Darwin – at work, and his extended family are horrified at the thought of a scandal. When he becomes friends with a female scientist and a bold news editor, life in his village threatens to boil over. Award-winning and best-selling author, Barbara Kingsolver, brings us another beautifully told tale of compassion and resiliency. After this book, check out any of her other books, and you will have more than enough wonderfully told stories to get you through the cold nights.
The Subtle Art of Not Giving a [Bleep]: A Counterintuitive Approach to Living a Good Life, Mark Manson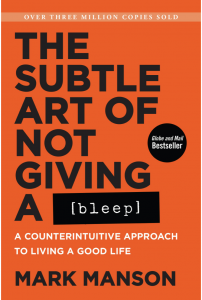 In this self-help book, Mark Manson gives us something to ponder while we wait for the snow to stop. He aims to help people today to accept that life is sometimes crappy, and you just need to move on. Using academic research with well-timed humour, Manson advocates building resiliency, getting to know our limits, and accepting life is sometimes rather difficult. By embracing our fears and faults, we will hopefully be able to have a more contented, grounded life. As he says, there are only so many f**ks that one can give, so we should figure out which ones really matter. In other words, what should we care about, and what should we let go?
The Skeptic's Guide to the Universe: How to Know What's Really Real in a World Increasingly Full of Fake, Dr Steven Novella, with Bob Novella, Gara Santa Maria, Jay Novella, & Even Bernstein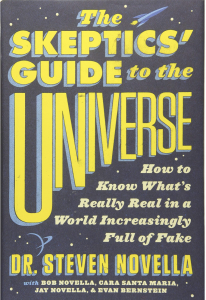 Given the rise of fake news and the prolific amount of information on the internet, this seemed like a good choice for anyone's binge reading list. Dr Steven Novella is not only a podcast host but also a neurologist at Yale University School of Medicine. This book has been described as the "perfect primer for anyone who wants to separate fact from fiction." Thanks to the internet, we have more information available to us than we ever had. The only problem is that anyone can post anything online, whether they know anything about the topic or not. From information bias, echo chambers, myths and deceptions, it can be hard to discover the truth. What should we believe? Are there any reliable sources out there? What is the difference between science and pseudoscience? What about conspiracy theories? This book helps us understand the basics of sceptical thinking, and helps debunk many myths spread today. 
The Secret History of Soldiers: How Canadian Survived the Great War, Tim Cook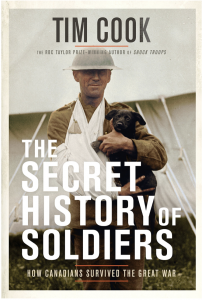 This remarkable book focuses on the everyday lives of the soldiers who fought in the First World War. Using diaries, letters, and oral accounts of over 500 soldiers, Cook provides an interesting insight into life in the trenches. There are examples of trench art, sheet music, skits, and even a soldier produced a newspaper, all helping to round out what we know about how soldiers coped with the violence and horror they encountered in the Great War.

Brief Answers to the Big Questions, Stephan Hawking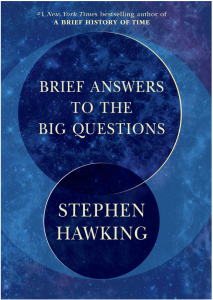 Renowned scientist Stephen Hawking is known for his work on the origins of the universe and black holes. Even though he suffered from ALS, he still managed to communicate with the world around him, advancing knowledge in his field and speaking out on humanitarian and social issues. This book deals with big questions, from the survival of the human race to whether god exists. The book has a forward by actor Eddie Redmayne, who won an Oscar playing Hawking, an introduction by Nobel Laureate Kip Thorne, and an afterword by Hawking's own daughter, Lucy. A brilliant read by a brilliant man.
Uncle John's Actual and Factual Bathroom Reader: Tried & Tested Truths & Trivia No. 31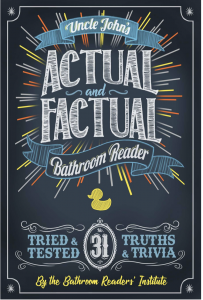 Laugh your way through winter with these books! We have had a number of these books pass through our home over the years, and they have never failed to entertain. Full of all sorts of interesting, entertaining, and sometimes shocking stories on a wide variety of topics, they are perfect for reading in short bursts. Once you start reading these books, you will never stop!
Happy reading – and try to keep warm out there!