Deployment Packages Sports and movie night care packages 
If your loved one isn't coming home over the holidays or deployed at a different time of the year and you want to send them something special to let them know you are thinking about them, there are a variety of different themes to choose from! 
Part two of this series will give you care package ideas that can be sent all year round, if your loved one is a sports fan or movie buff, there are endless possibilities.
STEP 1: Pick a Theme. We are going to explore "Movie Night in a Box" and "Sports." 
STEP 2: Decorate interior of the box (sides, inside flaps, and bottom). Here is some inspiration!
STEP 3: Purchase and collect items that match your chosen theme. Below you will find our ideas.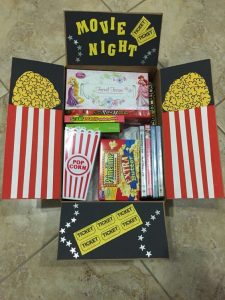 Movie Night in a Box                               
Portable DVD Player

 

DVDs / Blu-rays    

 USB with movies

Bags of popcorn                        

Microwave popcorn
Popcorn flavour packets
Chips
Chocolate
Candy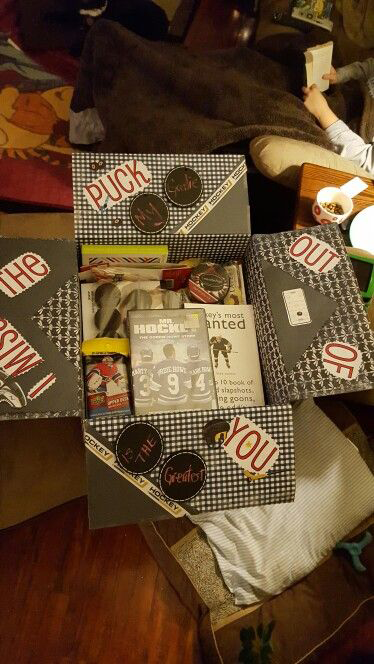 Sports Deployment Box
Favourite Jersey
Collector Cards
Deck of playing cards
Basketball
Softball and mitt
Mini Stick stick and ball
Handheld Game
Sport-related movie
Sport-related Bo

STEP 4: Include personalized items like handwritten letters, photos, etc. 
STEP 5:  Tape box securely closed, tape on the address, make sure it is clearly marked on the package. Write and attach a list of the contents to the parcel.
STEP 6: Take the parcel to your nearest Military Family Resource Center (MFRC) or to Canada Post for free shipping (during the holiday season)!
For more information about mailing care packages visit the National Defence and the Canadian Armed Forces website here
Click here to read about our Holiday care package.