Canada Army Run Pasta Dinner to serve carbs and inspiration
Carbs and inspiration. These two key ingredients essential for gearing up for the annual Canada Army Run can be found at the annual pre-race pasta dinner. On Sept. 17, racers are invited to dine on pasta while listening to the inspirational accounts of Chris Koch and MCpl. (ret'd) Natacha Dupuis.
This year's speakers, Koch and Dupuis, will be sharing enduring tales of overcoming various obstacles in their lives.
After years of battling Post Traumatic Stress Disorder following her second tour in Afghanistan, Dupuis took part in the Invictus Games in Orlando this year.
"While I still suffer from post-traumatic stress disorder, I know that many of my comrades and colleagues suffer silently. If my story can help soldiers seek help and guidance, then I believe I have made a difference," stated Dupuis.
Chris Koch is an inspirational speaker that shares his journey overcoming obstacles through life without limbs.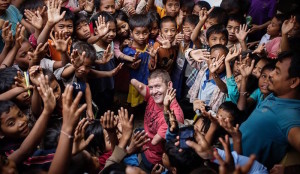 "While I was born with no arms or legs, I never let that deter me from achieving what anyone else could do. My disability is something I take in stride and make the best out of every situation. I love sharing my story and spreading my message of "If I Can". I never have nor will I ever let limitations or obstacles in my life stand in the way of achieving my goals and dreams, and I hope my message can inspire others to do the same," said Koch, founder of If I Can.

Both of this year's speakers will be taking part in the Commander's Challenge, a new feature to the Canada Army Run that requires participants to complete the 5K and half marathon.
Canada Army Run's annual pasta dinner is served military field-kitchen style under tents in Confederation Park and prepared by military cooks. The dinner is served by military leaders and local dignitaries.
The Canada Army Run will take place the following day and will bring together racers from various ages and abilities, both civilian and military. The race features a 5K, half marathon. Also, new this year is the Juno Challenge, an obstacle course for children.
Since 2008, Canada Army Run has raised more than $1.6 million in support of Solider On and Military Families Fund.
The 2016 annual pasta dinner will take place on Saturday, Sept. 17 at 6 p.m.