As I write this, Summer has turned a corner and we are entering the slow trickle into fall. Soon the sun will be setting earlier, the heat will dwindle slowly, and the amount of time I can spend outside before my fingers and toes go numb will grow shorter.  Crisp temperature, magical lighting and beautiful colours are nature's last hurrah. I love it!
Autumn is my favourite season for many reasons, chief among them are Thanksgiving and Halloween, the second and third best décor and DIY (do it yourself) "events" of the year!
I've been crafting and building for a couple of years now, and the onslaught of fall is usually followed by a deluge of projects that need to happen, like, yesterday. It's frustrating and I usually miss something and then I have to wait until next spring to do it. To help you guys out, I've come up with my top 5 décor projects to tackle before the fall.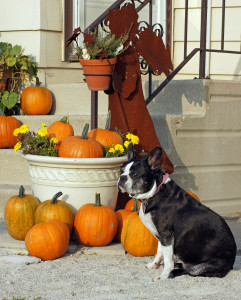 1.    Create a lovely fall vignette on your front step
Whether you're in a secret competition with the neighbours across the way, or you want to create the perfect setting for a family photo, taking the time to create a beautiful vignette on your front step will be well worth it. You can embellish your greenery with seasonal foliage and pumpkins or gourdes, or you can dress up the walk way with some cute lanterns. If you only use wreaths twice a year, fall should be one of them, even if decorating means adding a little scarecrow to a potted plant! Create a cohesive and unifying aesthetic that will greet your guests and set the bar high for the neighborhood Halloween décor.
2.    Refresh a room with a new coat of paint
Take the occasion to perform a deep clean, patch all the holes in the wall and update any art or photos in a gallery wall. Even if you're keeping the same colour as before, a fresh coat of paint will hide all the crayon marks and bits of life that a magic eraser can't remove. Paint will also breathe new life into the room and set you on the right path to a successful march-out if you're posted next spring.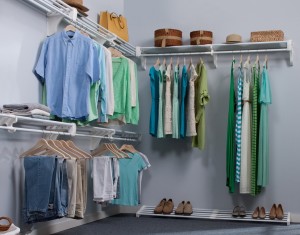 3.    Deep clean and organize your coat closet

Before you know it there will be boots carrying slush and salt in through your front door. It would be nice if there is not still a crust of salt from last winter stuck to the floor of the closet. Upgrade your storage systems, buy more coat hangers and add extra storage solutions. If you take the time to organize and sort the hats and gloves, it will make investing in some fun and colourful baskets less painful.
4.    Frame and hang photos of your summer adventures
A lovely portrait of your kids at the lake at sunset, a nice shot of you and your gal-pals enjoying a beer in the yard, or just a beautiful sunset. Take the time to frame and display those memories in a personal space because they'll carry you through the winter and make promises for next summer.
5.    Host one last dinner party al fresco
September is a great time for a final dinner party outside, or maybe you're one of the lucky ones who can wait until Thanksgiving. Take every chance you get as if it was your last because the winter months are long, and you'll quickly be tired of hosting inside (I don't ever miss the bugs, though, so I guess that's the upside to hosting indoors).  For party décor inspiration, make sure you check out my Pinterest account or peruse the project gallery on my blog for menus and décor ideas. I'm partial to a few key elegant and timeless pieces such as your choice of china and cutlery, but table décor and ambient lighting should always be more whimsical. If you draw inspiration from nature and use changing hues of nature and heartier florals you'll find a greater equilibrium with your surroundings.
The last party we throw will most likely be DH's birthday party, so I've already started putting ideas and a menu together.
By: Ariel Garneau