Deployed soldier surprises family at Toronto Maple Leaf's CAF Appreciation Night
A heartwarming and emotional moment took hockey fans by surprise at the Scotiabank Arena on Feb. 2. 
After playing an emotional video tribute to Canada's military as part of the 13th annual Canadian Armed Forces Appreciation Night, the family of CAF member Cpl.  Jeremy Hillson was asked to be a part of the puck drop ceremony. 
Hillson's wife Jennifer and children Mason and Dakota made their way to centre ice for the puck drop, along with MGen. Omer Lavoie, as Hillson was still serving with the 3rd Royal Canadian Regiment in Iraq. 
As part of the ceremony an emotional video message from Cpl. Hillson was played in the arena. Finally, the moment for the puck drop had arrived. However, there was no puck in sight. As MGen. was trying to figure out the mystery of the missing puck, none other than Cpl. Hillson emerged onto the ice, puck in hand. 
Needless to say, Hillson and his entire family were overcome with a mix of emotions including tears and joy as the family reunited after almost six months of separation.
"It was kind of surreal the experience of having the spotlight on you, and you're in front of thousands of people and millions of people on TV [but] it wasn't even a thought in my head at that point, I wasn't even thinking about it. I was more concerned about seeing my wife and kids, and I couldn't wait to get to them," said Cpl. Hillson.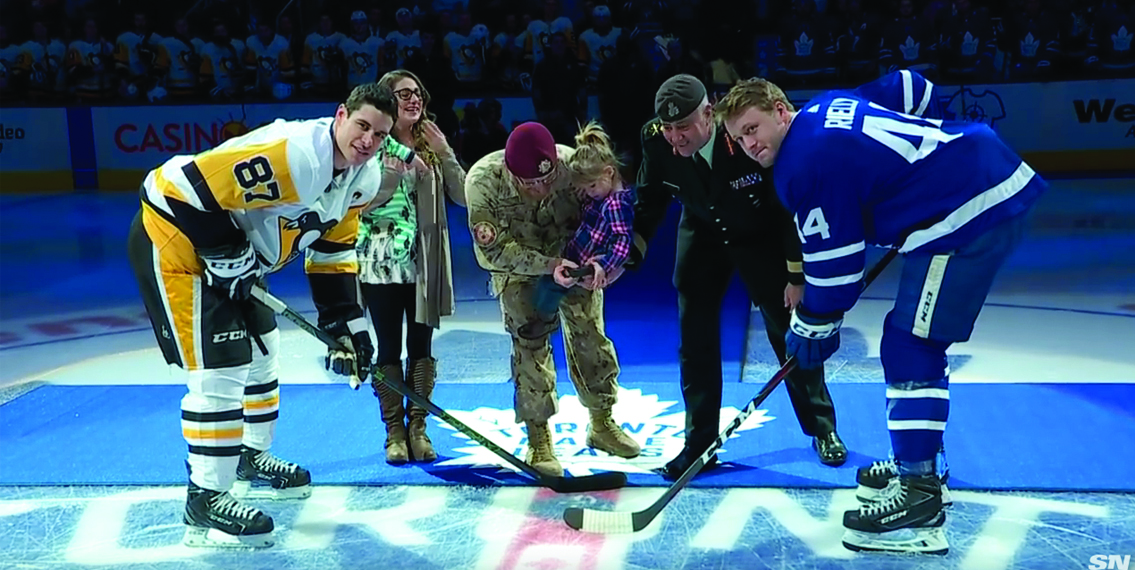 Looking back at the experience, Hillson believes it was well-deserved on the part of his family. His wife, Jen, had given birth only 15 days before he had deployed for Iraq. 
"She had to deal with a lot while I was away: the house, the pets, the car, both the kids, it was a lot for her, and she knocked it out of the park. She was a rockstar. She knew I had a job to focus on over there, so she tried to actually minimize telling me if there were any issues at home. She just dealt with it on her own, so she deserved this whole thing," added Hillson. 
Surprising Cpl. Hillson's family was a significant way in which the Leafs decided to honour CAF members this year. 
"With many members of the Canadian Armed Forces around the world, we also have those who are part of the fight here at home; the families, friends and loved ones of those who are serving abroad. The sacrifices made by significant others can be difficult as they maintain the homefront and deal with long separations away from those they love. We also wanted to recognize and thank the family and friends of our Canadian Armed Forces members for the toll that they take for our nation as well," said Steve Keogh, director of media relations for the Toronto Maple Leafs.