98th Warriors' Day Parade scheduled for this weekend
The 98th annual Warriors' Day Parade is scheduled to take place tomorrow, August 17 at the Canadian National Exhibition in Toronto.
This year, the annual parade will commemorate the 75th anniversary of the D-Day Invasion and the 76th anniversary of the beginning of the Italian Campaign.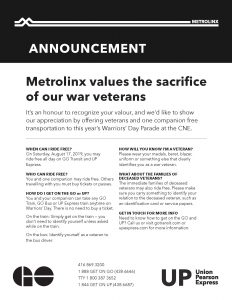 John Hymers, The Warriors' Day Parade Council, says the parade has been an important experience for both participants and spectators. 
"For numerous families, attending the parade has become an important annual tradition, an opportunity to remember loved ones and an occasion where children learn can learn the importance of serving, remembrance and showing appreciation for our freedom," says Hymers.
Hymers says the outpouring of support and encouragement from military organizations and regiment has been excellent. 
He hopes that more participation from various regiments will increase but fully appreciates that resources at times can be stretched. 
The 2019 Warriors' Day Parade is set to begin at 10:30 a.m., and should be noted that parking is limited at the CNE. 

Veterans with Ontario Veteran's License Plates will receive free parking underground at the Enercare Centre. 
"We are very proud of what we accomplish, and we look forward to the 100th anniversary in 2021 with what we hope will be a tremendous turnout from our regiments."